Umbel Ale
| Nethergate Brewery Co. Ltd.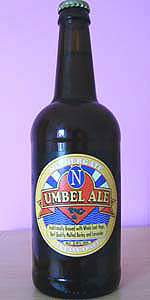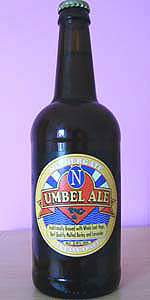 BEER INFO
Brewed by:
Nethergate Brewery Co. Ltd.
England
,
United Kingdom
nethergate.co.uk
Style:
Herbed / Spiced Beer
Alcohol by volume (ABV):
3.80%
Availability:
Year-round
Notes / Commercial Description:
No notes at this time.
Added by canucklehead on 04-03-2003
Ratings: 9 | Reviews: 8
Reviews by EmperorBevis:

3.62
/5
rDev
-3.2%
look: 3.5 | smell: 4 | taste: 3.5 | feel: 3.5 | overall: 3.5
Pours a hazy light brown body with a brassy big bubbled white head.
Prominent nose full of hops and all spice and a hint of rust.
Nice malt mainstay of taste slowly drawing out hoppy notes becoming slightly citrus with a slight tang of grapefruit before big sharp yeasty fangs bite down bitterly whilst all the time the hint (and it is a hint) of coriander lays low and draws out the ephemeral nature of the tastes.
Feather light on the tongue and barely carbonated make a tasty interesting refreshing brew.
510 characters
More User Reviews:

3.5
/5
rDev
-6.4%
look: 3.5 | smell: 3.5 | taste: 3.5 | feel: 3.5 | overall: 3.5
A 500ml bottle with a BB of July 2012. Picked up recently from the B&M store in Leeds (cheap!). The label mentions that coriander was included in the brewing of this ale.
Poured into a tulip pint glass. A golden-amber hue with low carbonation; the colour of a summer sunset. Forms a large head of creamy white foam that lasts for a few minutes before subsiding. Slight sediment suggests bottle conditioning, although the label doesn't confirm this. Aroma of earthy coriander with a distinct herbal quality and hints of tea. Underpinned by subtle caramel malt and dry yeast notes.
Tastes of caramel malt with a herbal character and a dry finish. Notes of coriander, stewed hops and dry yeast. Possesses a herbal quality and a subtle tea-like flavour. Mild bitterness upon swallowing; slightly harsh. Mouthfeel is smooth, dry and tingly, with decent body. Pretty astringent. Aftertaste of harsh stewed leaves and herbal coriander.
Interesting and quite tasty. The coriander gives it an edge - it brings to mind a wit without the orange notes. Not earth-shattering but a cut above the rest. Worth trying if you come across it.
1,126 characters
3.4
/5
rDev
-9.1%
look: 3.5 | smell: 2.75 | taste: 3.75 | feel: 3.25 | overall: 3.5
Two hand-pulled pints in The Cock Hotel, wellington: one on 29th Nov 13, one on 1st Dec 13.
Looked the same but the second pint wasn't as mellow as the first, had more flavour and seemed 'crisper'. Different barrel, or just two days older: should have asked the Landlord I suppose.
Pours an orange/copper colour with a tight white crown.
The aroma was fairly weak on both pints: some floral and light fruit esters with hints of spices.
The taste is far from weak though: full of flavour with the coriander standing out within the blend of bittering hops and mild malts.
Medium bodied and a pleasant change from the light golden cask brews that are flooding the UK market currently.
687 characters
3.83
/5
rDev
+2.4%
look: 4 | smell: 3.5 | taste: 4 | feel: 3.5 | overall: 4
Sampled at the Belfast Beer Festival on 25th Nov 2005.
Poured a golden orange colour... Head was slightly off white and disappeared to a very thin layer almost instantly...
Aroma - Peppery, slight sweetness, coriander notes, nice hopiness, earthy, slight mustiness, lemony notes...
Taste – Slight coriander hints, nice malt and hop notes, some roastiness, spicy, citrusy...
Feel - Quite sharp to start, but gets smoother. Quite light bodied. Medium carbonation...
Overall - A pretty good beer... well worth a try.
530 characters
4.15
/5
rDev
+11%
look: 4 | smell: 4 | taste: 4.5 | feel: 3.5 | overall: 4
The coriander used to spice this ale works remarkably well with the light hops in the brew. The beer drinks remarkably well for a bottled session beer. While the mouthfeel is a little light, the flavour makes up somewhat. It would have seriously benefitted from bottle conditioning, improving the mouthfeel and drinkability.
324 characters

3.65
/5
rDev
-2.4%
look: 4 | smell: 4 | taste: 3.5 | feel: 3.5 | overall: 3.5
This beer pours well in a classic looking dark gold pint with
a wispy head that hangs around long enough. What got my
attention was the spicy dusty nose that combined with a spicy intial flavour to set this beer apart from other milds. There is coriander in this beer which like its stronger relative
Traquair's Jacobite Ale adds to the drinking experience.
I enjoyed the balance and unique flavouring but did feel the
beer a little thin in the midbody which is too bad because
Nethergate seems to be making a quality beer.
532 characters
3.85
/5
rDev
+2.9%
look: 3.5 | smell: 3.5 | taste: 4 | feel: 4 | overall: 4
Poured from a 500ml bottle into a pint glass. Flavoured with coriander, this is not a brown ale, being instead a herbed beer.
Pours an amber colour with a white head that drops to a small piece of lacing over the top.
Smells quite hoppy and fruity almost like an ipa.
Tastes well balanced like a normal bitter but with a strong hint of what I make out as lemon sherbert which I assume must be the coriander.
Quite a drinkable and unique ale.
446 characters
3.95
/5
rDev
+5.6%
look: 4 | smell: 4 | taste: 4 | feel: 3.5 | overall: 4
Coming in a 500ml brown bottle, BB Nov. 08, served cool in a straight imperial pint glass. The ingredients include Challenger and Fuggles whole-leaf hops, Maris Otter and Crystal malts, as well as a trace of coriander.
A: pours a clear dark amber hue with moderate carbonation, topped with a pillowy, off-white foam that retains its texture quite well.
S: the aroma is rich in tangerine-citric hops, biscuity malts, hays and stinky earthiness, as well as an unidentifiable aroma of dried herbs (presumably the corianders!); after a swirl, the different elements on the nose seem to intertwine and result in an almost peach-floral and stinky-earthy aroma, while constantly a slightly sharp edge of lemony sourness stays aside. The sweet malty body carries the exotic hoppiness and herbal scent quite well. Overall, very exotic and rich!
T: the bitter edge of burned caramel and toasted tangerines come on top of coffee-flavoured toffee with a pretty pronounced burned-sugary edge, then the biscuity malt theme goes deep, intertwined with lots and lots of herbal (apparently corianders), hayish and earthy bitterness of Fuggles hops... the hop bitterness comes so rough and deepening, that my tongue can't help keeping chewing it!
M&D: although it's slightly more spritzy for my preference, the mouthfeel remains quite light and refreshing, sometimes even tangy thanks to the good amount of hops used (apparently). The coriander bit is definitely there, though already well integrated into the whole picture. Overall, this ale shows a deeply earthy-hoppy and herbal profile on top of a rich base of lovely crystal malts. It's unique in its own right, and truly "a class apart" - as proudly stated on the front label!
1,715 characters
Umbel Ale from Nethergate Brewery Co. Ltd.
Beer rating:
0
out of
100
with
9
ratings