Brasseurs Et Frères La Trouille
| Brasserie Dunham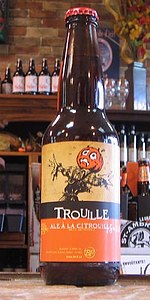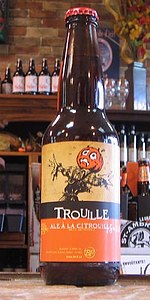 BEER INFO
Brewed by:
Brasserie Dunham
Quebec
,
Canada
brasseriedunham.com
Style:
Pumpkin Ale
Alcohol by volume (ABV):
6.60%
Availability:
Fall
Notes / Commercial Description:
No notes at this time.
Added by biegaman on 11-22-2006
This beer is retired; no longer brewed.
HISTOGRAM
Ratings: 11 | Reviews: 11
Reviews by ReFill31:
3.05
/5
rDev
-12.9%
look: 3.5 | smell: 3.5 | taste: 3.5 | feel: 3 | overall: 1.5
341ml bottle served in a tulip glass.
A : Nice reddish color, almost orange. The foam disappears quickly though.
S : We can smell a little bit of cinnamon but the main smell is vegetables. We can smell squash.
T : Nice first sip, tastes pretty much what it smells, with a sweet side.
M : Not much carbonation, light body.
D : We kind of get tired of the taste after one. I would not be able to drink two of them in the same night.
Overall, it tastes good only with a small sample. I would not drink this all year long neither. Which makes it a season beer...
568 characters
More User Reviews:
4.05
/5
rDev
+15.7%
look: 4 | smell: 4 | taste: 4 | feel: 4.5 | overall: 4
My bottle is 7.5%. 341ml Cost 3.49+tax&deposit.
Forgot to chill it so it's just a bit cooler than room temp after the long walk from the store.
EDIT: Just checked the other reviews and I seemto have rated this considerably higher. Maybe this years is better.
A- Nice, almost clear, dark amber. Very light beige head is pretty dense.
S- Reminds me of a strong Belgian ale. Spicy and musty. A certain ''musk'' to it. Really not much alcohol present especially considering how warm it is. Cinnamon and maybe a tiny bit of raw pumpkin.
T- Tastes good. Sweet. Clove finish. Bitterness and a little bit of the taste. Reminds me of Trois Mousquetaires Kellerbier. A tiny bit of metallic wateriness.
M- Super smooth. Low but sufficient carbonation. Pretty dry.
D-Very good. Where's the 7.5%?
So this is maybe only my second or third Pumpkin beer (St-Ambroise was probably my first) and I don't really see what they're about. They taste good but not like pumpkin. Maybe the US has some better examples.
Anyways, I liked it. A bit expensive to buy again though but it is kind of a special Autumn treat.
1,105 characters

3.33
/5
rDev
-4.9%
look: 3.5 | smell: 3 | taste: 3.5 | feel: 4 | overall: 3
Received in a trade with Goldorak. Thanks again!
Appearance – This beer is a fairly clear orange with a nice amount of bubbly white head. The head dissipates a little but has a good staying power all together. It leaves lacing on the top of the glass.
Smell – I smell pumpkin slightly. This is a pumpkin beer so I was expecting a little more. The other aromas that arise are cinnamon, apple and malts. The smell was a little weak overall.
Taste – This beer has a fairly crisp taste to it. It is slightly sweet with pumpkin flavors arising more prominently than in the smell. There is some cinnamon, ginger and nutmeg as well with the slightest bit of hop. Almost tastes like liquefied pumpkin pie in a way. Although, interesting it is fairly simple.
Mouthfeel – Has a fairly full body and a nice low carbonation the way I like it.
Drinkability – To be honest this wasn't the easiest beer to down in the world. I did like the flavors but something about it made it less quaffable.
Glad I tried it. Something different but not necessarily to my exact tastes.
1,081 characters
3.13
/5
rDev
-10.6%
look: 3.5 | smell: 3 | taste: 3 | feel: 3 | overall: 3.5
Bottle: Poured a deep amber color ale with a big foamy head with average retention and minimal lacing. Aroma of sweet malt with some light cinnamon. Taste is also dominated by some semi-sweet caramel malt notes with some light cinnamon. Spices are not as present as I would have expected and pumpkin is kind of hard to distinguish.
331 characters

3.77
/5
rDev
+7.7%
look: 4 | smell: 4.5 | taste: 3.5 | feel: 3.5 | overall: 3.5
The color is copper with some oranges. Nice head that stays strong until the last sip. It sticks very well to the glass too. The aroma is intense, strong. Cinnamon with typical spices(cloves and nutmeg). Still intense in the mouth. Strong nutmeg presence, maybe a little too much. It would gains in getting more balanced IMO. Medium body beer. The finish is dry. A nice pumpkin ale.
382 characters
2.87
/5
rDev
-18%
look: 4.5 | smell: 2.5 | taste: 3 | feel: 3 | overall: 2.5
Pour a rich cooper with a huge highly carbonated spritzy head that dissipates down to a thin film. Big aroma of spices associated with mince meat pie more than those of those of pumpkin pie, a little overwelming at first but not awful. still, maybe a little to much.
Flavor is a mouthfull of spice with a hint of malt and a dry thin finish. Interresting enough, and likely a very good pairing with a real homemade pumpkin pie, just a little odd on its own.
Would I drink a COUPLE of pints? Not really. It's not a ordinary ale. But interresting enough to give it a try.
570 characters
3.62
/5
rDev
+3.4%
look: 3 | smell: 3.5 | taste: 4 | feel: 3 | overall: 3.5
Brewed October 2009.
Poured from a 341ml. bottle.
Appearance: Orange body with an orange tinged head that disappears way too fast to almost nothing. Body is clearer than i would have thought. Alright but nothing great.
Smell: Pumpkin spice, nutmeg, cloves & yeast.
Taste: Good spice upfront with mix of pumpkin & nutmeg with some cinnamon to round it off. A yeast like feel permeates the taste a little. Lots of spices swirling around without being overwhelming. A touch of mint in the finish.
Mouthfeel: Smooth and a surprisingly light body i found. Low carbonation. I found the feel in the palate was a little too clean and fleeting. Nothing terribly wrong but nothing great either.
Drinkability: Once in a while i think. Not my style by choice but if i wanted a pumpkin ale, i'd reach for this one.
Overall: Wasn't a fan at first but it gradually won me over. Glad to see the rest of the beer was better than its looks. Not outstanding but a good representation of the style. Better than St-Ambroise IMHO.
1,016 characters
3.36
/5
rDev
-4%
look: 2 | smell: 3.5 | taste: 3.5 | feel: 3 | overall: 3.5
Bottle 2009. Nice orangey pour with a ring of foam clinging to the edge of the glass. Big earth and pumpkin aromas coming off this one, some peppery hops and spices too. Peppery taste, good caramel malts very english pale ale with a nice little pumpkin/spice kick. Not much to say about the palate except for: session.
318 characters
3.73
/5
rDev
+6.6%
look: 4 | smell: 3.5 | taste: 3.5 | feel: 4.5 | overall: 4
500 ml bottle.
A- Orange amber colour. Really nice colour actually. Cloudy as expected as it is bottle conditioned. Small off white head. OK effervescence. Head settles to a ring.
S- Spice. Yeast. Alcohol. Not as spicy as I hoped. Some fruity notes behind the rest.
T- Yeast prevalent. Spicy, but not overdone. Maybe a little too simple. Bitter at back of the mouth with some vegetable (pumpkin) mixed in. Alcohol quite present but not exagerated.
MF- Full bodied. Carbonation just right. Very smooth feeling.
D- A pleasant strong ale but not as far out of the ordinary as I might have hoped. I did enjoy it though and may go back to it when the season is right.
677 characters

3.77
/5
rDev
+7.7%
look: 3.5 | smell: 4 | taste: 3.5 | feel: 4 | overall: 4
I was just quick enough to catch myself from pouring the last few dregs of the bottle into the glass. It's a good thing too because this brilliant orange colour is surely better off for it; its complexion, while too dense to be transparent, remains vivid and intensely hued. The misting of white that lays over the top is fine but it crunches up along the trim.
The aroma is a bit of an odd duck: at first impression it seems rather fruity, sugary-sweet with plump notes of mango. Only at the tail end of the inhalation does the impression of a pumpkin start to emerge. Once it does, mind you, the aura is unmistakable and smell alone is enough to conjure up the tough, ribbed skin and gooey insides of the great squash.
I thought I knew my spices pretty well coming into this but apparently I don't know them as well as I thought. That, or this brewery just doesn't much of them (in variety or quantity). The spiciness can be said to be conservative (at best) and no one spice makes itself easily identified. In fact, I wouldn't be surprised if they didn't use any at all.
Indeed, the beer tastes largely of plain old pumpkin, the blandish and not so overly appetizing fruit that it is, and any claims to savory pumpkin-pie should be considered a little far fetched. A commonplace maltiness prevails, one that in other offerings is usually buried in perfume, and whether that works for or against it I've yet to be sure.
I suppose it depends on your notion of a good pumpkin beer. If you like 'em overly effervescent, you'd call this underwhelming. I taste hardly a trace of spice; ginger maybe. There's certainly no cardamon or cinnamon and the beer is so tame and short of savoriness that allspice can definitely be ruled out. On reflection, clove is a candidate but such a minute amount must have been used that it seems negligible.
But when did this turn into a mystery novel? This is a beer review and it should suffice to say La Trouille is a very agreeable, albeit more blandish interpretation of a pumpkin ale, one perfectly suited to those with an objection to strong spicing or anyone still unsure about their fondness for the style. And, most importantly, it drinks mighty fine.
2,199 characters
3.8
/5
rDev
+8.6%
look: 3.5 | smell: 3.5 | taste: 4 | feel: 3.5 | overall: 4
bouteille brune de 500ml.
j'aime bien cette bière avec ses épices légère, canelle, muscade, sans que ce soit trop, elle est bien équilibré, la bière était bonne avant de mettre les épices. elle a une belle couleur orangée, les épices sont tout aussi présentes au nez quant bouche,ce qui est parfait.
313 characters
Brasseurs Et Frères La Trouille from Brasserie Dunham
Beer rating:
3.5
out of
5
with
11
ratings