Pale Ale Américaine
| Brasserie Dunham
BA SCORE
84
good
15
Reviews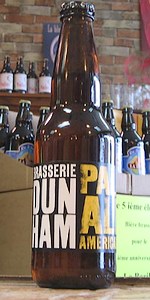 BEER INFO
Brewed by:
Brasserie Dunham
Quebec
,
Canada
brasseriedunham.com
Style:
American Pale Ale (APA)
Alcohol by volume (ABV):
5.50%
Availability:
Year-round
Notes / Commercial Description:
No notes at this time.
Added by Yoonisaykul on 12-26-2010
Reviews: 15 | Ratings: 49

4.06
/5
rDev
+8.8%
look: 4 | smell: 4.25 | taste: 4 | feel: 4 | overall: 4
Nice look, amber color with a nice head
, smell is fruity / hoppy.
Nice feel,fine carbonation.
Excellent taste, hoppy, lightly fruity,
I recommand this american style Pale Ale !
179 characters
4.09
/5
rDev
+9.7%
look: 3.75 | smell: 4 | taste: 4.25 | feel: 4 | overall: 4
Looks like a standard blonde ale without much of a head. Smells way better, lots of hop in the nose with some grapefruit there too. Really feels like it's gonna be an hybrid between an IPA and a pale ale. I wasn't really wrong, really hoppy in the mouth too with a good bitterness. Almost an IPA in itself, definitely not bad.
326 characters
3.53
/5
rDev
-5.4%
look: 3 | smell: 3.75 | taste: 3.5 | feel: 3.5 | overall: 3.5
341 ml no date visible.
A: Hazy orange-brown, very little head.
S: Overpowering floral notes, a bit of mangoey fruitiness / malt in the background.
T/M: Balanced on the palate. Finish is also balanced. Floral notes again with Sharp carbonation, medium body.
Decent pale ale that I would probably buy regularly if available in Ontario. Purchased as a single so may be getting on in age.
389 characters

4.5
/5
rDev
+20.6%
Pours a super hazy burned yellow / orange, huge white lumpy dirty white head with big bubbles and amazing lumpy retention down to the bottom of the glass . Lots of thick soapy lacing.
N: Citrusy floral hops are dominating heavily, faintly tropical, even the smell is bitter, a bit of bready malt in the background
T: Nice aggressive hop flavor for 60 IBU. Nice hop complexity and well balanced. Citrusy hops, grapefruit aftertaste, some bread & cereal, a mild sweetness passes quickly over the center of the tongue.
M: Medium-High Carbonation and average bodied.
O: Big fan of dunham and this is really superb. For 60 IBU, this is almost as aggressive as some imperial IPA's I've tasted. Very very enjoyable with amazing hop characteristics.
747 characters
3.75
/5
rDev
+0.5%
look: 3.5 | smell: 4 | taste: 3.75 | feel: 3.75 | overall: 3.5
341ml bottle, part of the six-pack retail delivery vector here in Alberta, at 5.5% ABV.
This beer pours a rather hazy, medium golden yellow hue, with two svelte fingers of puffy, frothy, and fairly creamy dirty white head, which leaves some streaky dripping paint job lace around the glass as things drop away.
It smells of orange and grapefruit citrus pith, pine forest floor detritus, crackery pale malt, a hint of dry caramel/toffee, subtly spicy yeast notes, and a further lemon floor polish fruitiness. The taste is pretty consistent - a nice crisp citrus and pine bitterness, still pretty non-sweet crackery, bready pale malt, a retreating yeastiness, and some mild leafy soapiness.
The bubbles are nice and laid-back, just takin' 'er easy, the body on the light side of medium weight, and mostly smooth, a small tacky cloyingness the proverbial pea in this instance. It finishes generally dry, the malt apparently not possessing any extra gears, and the hops smugly putting it in neutral.
A pleasant enough APA, for the hopheads out there (full disclosure - who has two thumbs, and is...aww..you get the idea), with the obvious lack of caramel sweetness, this is indeed that particular kind of west coast-style pale ale. In theory, wanks such as myself should love this, but, as I already learned many moons ago, balance is the key, and this one teeters just a wee bit too much.
1,389 characters
4.05
/5
rDev
+8.6%
look: 3.5 | smell: 4 | taste: 4.25 | feel: 3.75 | overall: 4
Wow! Wish we'd bought more...
Pours a cloudy yellowish amber with a respectably lingering white head.
Has a fantastic hop-forward aroma of tropical fruit sweetness with a citrus bitterness. Likewise impressed with the well-balanced taste, enough malts to give it a solid backbone behind the decidedly "west coast" hop focus. That easy drinking sweetness combines well with the bitter finish.
An excellent APA!
413 characters

4.13
/5
rDev
+10.7%
look: 4 | smell: 4 | taste: 4.25 | feel: 3.75 | overall: 4.25
This beer is a little sweet, has a slight fruittyiness to it. For and IPA, it had a little hoppiness. It had a very good flavour. Very nice Llght color. It was at room temperature, being a cask, this would probably been better chilled. Had this ad the brewery, great place for a pint.
284 characters
3.45
/5
rDev
-7.5%
look: 4 | smell: 4 | taste: 3 | feel: 3.5 | overall: 3.5
Poured from a 341ml. bottle, bottled Aug. 1, 2013.
Appearance: Totaly hazy body the color of pineapple, 2 finger creamy head that keeps retention and good draping around the glass.
Smell: Strong aroma, zesty, citrusy, orange, lemon, light
Taste: Bit soapy, pineapple, papaya, catty a bit, tiny bit of sweetness but has an overwhelmingly bitter dryness, lots of citrus fruit that doesn't quite cut the dryness though.
Mouthfeel: Starts creamy but veers midway through the end into a very dry bitterness.
Overall: Not a pale ale for beginners and not completely my cup of tea. It was good but different than what i look for in a pale ale.
641 characters

3.3
/5
rDev
-11.5%
look: 4 | smell: 4 | taste: 3 | feel: 3 | overall: 3
A - Pours a yellow color with golden hues. Large, snow white, rocky head with medium retention but leaving a beautiful lacing. Small particles (hop?) were present in the glass after pouring the second half of the bottle.
S - Good balance of grainy malt and hop (mostly citrusy) with a touch of yeast. There is a nice spiciness into it, almost biscuity. Good smell!
T - Hop is predominant on the palate with resiny and citrusy flavors. I was hopping for a better balance...
M - Medium bodied, this beer has a relatively high carbonation giving a crispy feeling on the palate. Mouthfeel is quite clean and hop bitterness, heavy.
O - An average APA in my opinion. Really good aromas which are unfortunately different from the flavors. Would benefit from a bigger malt character to balance the hop and a smoother feeling.
821 characters

3.79
/5
rDev
+1.6%
look: 3 | smell: 4 | taste: 4 | feel: 3.5 | overall: 3.5
Served in a riedel magnum red wine glass
centennial, cascade and amarillo hops
A: Pours a slightly troubled light gold color
S: Nice, hoppy, on grapefruits, apricots and orange peels aromas.
T: Pretty rich, hoppy, with a dry finish. A bit yeasty, but still pretty good.
O: A regular go-to IPA sold pretty cheap in 6-packs, I prefer this version to their english IPA and belgian IPA
386 characters

3.43
/5
rDev
-8%
look: 4 | smell: 3.5 | taste: 3 | feel: 4.5 | overall: 3.5
12 oz bottle into a pint glass.
Pours crystal clear gold, with several fingers of rich, bright-white head. This retains with a big ole' frothy dollop of foam in the middle of the glass, which coats the sides with heavy swathes of sticky lace. The aroma smells grassy, spicy, and a bit piney, with some bright lemon zest thrown in, and an underlying bitter leafiness. A bready sweetness hangs on the edges of the nose and helps pull the hops back a bit.
The taste is strong up front with spice, pithy rind, and resins, which then gives way to more of a tart lemon character. Like the nose, the malt presence here has a sweet graininess to it that is barely balancing things out on the edges of the profile and mostly keeps the focus of this on those hops, which finish this HARD with pine, spice, and a steady earthy bitterness. The mouthfeel is medium bodied, with a soft crispness and overall smoothness to the feel. This feel keeps this about as drinkable as you're going to get here with a 6.5% ABV and the overall aggressiveness of the hops.
This wasn't bad but just came on a little too strong with the assertiveness of the hop profile. This is just a little too dry, bitter, and piney to be fully enjoyable but I will say that the ease of the body does help this out a good deal. This is decent if you can look past the hops and I'd be probably be willing to give this a second look down the line.
1,416 characters

3.33
/5
rDev
-10.7%
look: 3.5 | smell: 3 | taste: 3.5 | feel: 3 | overall: 3.5
12oz Bottle
Appearance – The beer pours a yellow colour with an average size foamy white coloured head. There isn't a whole lot of carbonation to be seen, and there is some decent lacing going on. The head hung around for around 5 minutes.
Smell - Malts, hops, caramel, lemon
Taste & Mouth - The beer has an average amount of carbonation and I can taste malts, caramel, and a fair amount of hops. There is also a decent dose of citrus, mostly lemons. It finishes with a citrus and hop aftertaste.
Overall – There is definitely some potential here.. I'm not sure how fresh my bottle was, but there was some sediment on the bottom. There are shades of a great IPA in the citrus and hop taste, but it seems to be lacking on the malt side of things and the mouthfeel.
771 characters
4
/5
rDev
+7.2%
look: 4 | smell: 4 | taste: 4 | feel: 4 | overall: 4
Bottle: Poured a bright yellow color ale with a nice foamy head with good retention and good lacing. Aroma of citrus and hoppy notes is quite refreshing and enjoyable. Taste is a nice mix between some floral notes with nice fresh citrus notes and a light hoppy bitter finish. Body is quite full for style with good carbonation and no apparent alcohol. Very well brewed with nice used of citrus hops.
399 characters

3.23
/5
rDev
-13.4%
look: 4 | smell: 3.5 | taste: 3 | feel: 3.5 | overall: 3
Beer color is copper, slightly golden notes on the edges and slightly veiled. Nice white foam head. Aroma is all hops. Fruity, citrus. Medium intensity. Would have guess a more intense aroma here. It is american in the hops smell. Taste is more intense. It is very dry on the finish. Some woody notes that I get in all beers from this brewery. Easy to drink. A good to average beer.
382 characters
3.55
/5
rDev
-4.8%
look: 4 | smell: 4 | taste: 3 | feel: 3.5 | overall: 4
Into Sam Adams Perfect Glass.
A- Hazy light brown has a bight of stuff floating about... hop matter I'm guessing. Ordinary dirty-white head leaves the right amount of lacing to complete the decent presentation.
S- Wow right from the bottle opening... smells good. Perfect mix of pine and grapefruit.
In the glass, I notice a lttle bit of the waxy, hand lotion-y smell I noticed in their IPA Anglaise. The hops smell so good though. A bit of bubblegum.
T- Bitterness right from the start. But... damn... boiled veggie in the finish. Rest of hop taste (start and middle) is good : A nice grassiness and pine when aerating. Alcohol is well concealed.
M- Medium carbonation. Full body. Dry.
D- Good, like most american IPAs.
Beautiful hop flavor (pine, bubblegum, grapefruit) marred by horrible boiled veggie. Why!?
832 characters
Pale Ale Américaine from Brasserie Dunham
3.73
out of
5
based on
49
ratings.