Twisted Creek Wheat
| Crabtree Brewing Company
BA SCORE
82
good
15
Reviews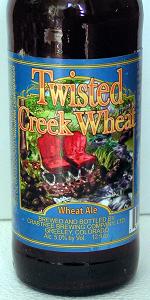 BEER INFO
Brewed by:
Crabtree Brewing Company
Colorado
,
United States
crabtreebrewing.com
Style:
Hefeweizen
Alcohol by volume (ABV):
5.00%
Availability:
Year-round
Notes / Commercial Description:
"Twisted Creek Wheat is a unique wheat ale brewed to traditional Hefeweizen standards. Using only the finest malted barley, white wheat, three unique hop varieties, and traditional Hefeweizen yeast, this unfiltered ale will bring delight to your senses. "
Added by gbontrag on 06-19-2006
Reviews: 15 | Ratings: 26

2.46
/5
rDev
-29.7%
look: 4 | smell: 3 | taste: 2 | feel: 2 | overall: 2.5
A - Light yellow, good clarity. Thin soapy head that disappears quickly, tries to leave lacing but fails for the most part.
S - Smelled of bright citrus, soap and some spice. A little funk to it.
T - Really big lemon and dish soap, tasted artificial to an extent. Had an off aftertaste that took a while to wash away.
M - Crisp and clean. Light-Medium body, true to the style.
O - Something about this just didn't sit right with me, came off a little artificial and overly astringent. I would be hard pressed to drink any more than the sample 4oz I had.
557 characters
3.45
/5
rDev
-1.4%
look: 4 | smell: 4 | taste: 3 | feel: 3.5 | overall: 3.5
Pours a clear, straw color. One inch head of a white color. Great retention and great lacing. Smells of sweet malt, slight yeast, citrus hops, lemon, wheat, and slight pale malt. Fits the style of a Hefeweizen. Mouth feel is sharp and crisp, with an average carbonation level. Tastes of slight sweet malt, wheat, hint of pale malt, hint of lemon, and a hint of citrus hops. Overall, good aroma and appearance, but the body is lacking.
434 characters
3.78
/5
rDev
+8%
look: 4.5 | smell: 4 | taste: 3.5 | feel: 3.5 | overall: 4
Pours a grainy yellow hue, slightly golden and a bit less sediment and more clarity than your average hefewiesen. Nice solid white head, a good finger high and leaves incredible lacing especially for the style, thick rings.
Belgian yeast banana esters waft lightly from this one coupled with a good wheat twang and slightly grainy backing. Some hints of clove, a bit of new car smell too, pretty good.
A little more like a witbeer than a hefewiesen in style, more orange peel and clove flavors than banana. Not peppery but consistent wheat twang and solid toasted grain malt base. Dries well leaving a grainy flavor in the mouth.
Medium body for a wheat beer but active carbonation fades as the beer warms, loses some of it's crisp feel after that.
Redemption in my books for Crabtree Brewing, this beer may not be up to style but it doesn't prevent it from being enjoyable and an especially good beer for the start of summer. If only they could be consistent across the board.
981 characters
3.15
/5
rDev
-10%
look: 3.5 | smell: 3.5 | taste: 3 | feel: 3 | overall: 3
"When a twig grows hard it is difficult to twist. Every beginning is weak."
--Irish proverb
Furious rivers of bubbles boil off the bottom of the glass, race upward through amber colored liquid, and slam into the underside of a massive crown of beige froth that develops a gentle rockiness as it melts. Lace is underwhelming.
The nose is more clove spicy than banana fruity. Otherwise, a mild tang of wheat malt combines with pale malt that smells untoasted. Not a bad aroma for the style, but it's nothing special either.
Twisted Creek Wheat is fair-to-middlin' beer if you're in the mood for an American-brewed hefe that can't hold a candle to the German classics. No major faults and no major bright spots sums things up nicely. The scores will most likely be average from here on out.
The pale and wheat malt base is on the skimpy side, but isn't bad, all things considered. Tartness is right where it should be and is balanced acceptably well with sweetness and bitterness. Clove still outpaces banana... which will be granted a hefeweizen banan-o-meter score of 2.0/5.0.
The mouthfeel isn't as crazily bubbled as feared. It seemed fine in the first few ounces and is now beginning to lose its mojo, which leads to rapid deflation on contact. Not exactly a sensory blockbuster.
After several good brews (Ginger Bee Beer and Golden 8), Twisted Creek Wheat brings my impressions of Crabtree down another peg. They should strive for consistency throughout their entire lineup, which is a hallmark of the best craft breweries.
1,533 characters

3.65
/5
rDev
+4.3%
look: 3.5 | smell: 3.5 | taste: 3.5 | feel: 4 | overall: 4
Poured into a Weizen glass.
A: Appropriately cloudy and mildly carbonated apricot. A fluffy white head slowly withdraws to a thin film. Leaves spots of lace.
S: Very fruity. Lemon and orange dominate. A hint of cloves and sourdough bread provide balance. The distinctive banana aroma associated with the Hefe style listed on the label is sadly absent.
T: Mild but balanced. A light biscuit flavor is followed by a clove bitterness. Orange joins in at the mid way point. Finishes with a lingering biscuit quality.
M: The fine carbonation has just enough vigor. The body is light and slightly grainy.
D: The light body and low ABV make for an easy session. It's not the best local wheat out there, but matched well with the warm night I drank it on.
752 characters
3.82
/5
rDev
+9.1%
look: 3 | smell: 3.5 | taste: 4 | feel: 4 | overall: 4
A - Poured out a clear, fizzy, pale, golden-yellow color with a white, bubbly, one-finger head. It left little to no lace.
S - It smelled of lemon, wheat and clove.
T - It had a nice blend of sweet wheat and caramel malt flavors, slightly bready. It had a good spicy clove bite.
M - It was crisp and very sharp with a somewhat dry finish. A light-bodied, sessionable wheat ale.
D - I liked this wheat beer. It claims to be brew like a hefeweizen but it definately is an American Pale Wheat Ale. It lacks the banana flavors of a true hefe.
543 characters

4.05
/5
rDev
+15.7%
look: 4 | smell: 4 | taste: 4 | feel: 3.5 | overall: 4.5
A: Clear yellow/gold color. Poured a 1 finger white head that dissipated to a skim. Laced in thin sheets. Decanted continually.
S: Lemon citrus and cloves. With warming, the wheat malt was more prominent.
T: Citrus zest, grapefruit and green apple up front. Light fruit and wheat malt in the middle. Citrus hops and crisp fruit in the finish.
M: Light side of medium body. Ample carbonation. Crisp and refreshing.
D: Very easy to drink. Nice flavors and good balance.
472 characters

4.04
/5
rDev
+15.4%
look: 3 | smell: 4 | taste: 4 | feel: 4 | overall: 4.5
12 oz bottle
A - Pours a dark and hazy golden color. Head is light white and fairly thick. Slow it dissipate. There is a lot of yeast floating around inside from the bottle conditioning.
S - A spicy yeast smell dominates the nose - with some esters related to more of a german wheat. Little malt scent.
T - Starts off with a light spiced flavor. Develops some sweetness as it goes midstream. Finishes with a clove/banana yeast flavor. Must be fermented with a healthy hefeweizen strain. Something akin to coriander on the aftertaste.
M - More thick bodied than some of the other american wheats. Creamy. Doesn't leave much for a film on the tongue.
D - Very easy to drink. Refreshing. By far would be an excellent summer outdoors beer. ABV is 5.0, so that is easy enough.
Great beer. Will have to try more from this brewery.
830 characters
4.03
/5
rDev
+15.1%
look: 4 | smell: 3.5 | taste: 4 | feel: 4.5 | overall: 4.5
Pours a hazed straw color with 3 fingers of ivory colored head. Very good lacing & above average head retention
S: Cloves, lemony hops
T: Cloves, grassy & lemony hops, appleskins, & grapefruitty hops up front. Jammy apples & apricots follow as this warms. Finishes fruitty with nice citrus hops, almost pulled a 4.5
MF: Juicy with medium body & low carbonation
Drinks pretty easy, I thought this was a good stab at the style & could even pass itself as a hefe. So far I'm fairly impressed with this brewery's offerings!
524 characters
3.33
/5
rDev
-4.9%
look: 3.5 | smell: 3 | taste: 3.5 | feel: 3 | overall: 3.5
This is the beer that I heard people talk about at the 2008 Colorado Brewers Festival in Fort Collins. I bought some of this fresh from the Greeley brewery in 12oz bottles and gave it a try. Classic wheat taste. Even had some on tap at the brewery. Somewhat funky wheat aroma but tasted great cold on a hot Colorado summer day. Don't let the lack of reviews fool you. This brewery just started up less than 2 years ago but is starting to get some good attention locally. I easily finished off this tasty wheat beer and was glad I bought extras of this.
552 characters
4.03
/5
rDev
+15.1%
look: 4.5 | smell: 4 | taste: 4 | feel: 4 | overall: 4
Cloudy orange color with a smaller foam. Nice purity in the nose which shows a lot of hearty wheat and malt characteristics. Also some notes of banana and clove. Flavor is really spot on, rich and hearty for the style. Lots of yeast character and true weizen notes. Banana, vanilla, clove, spice. Even a great mouth feel. An impressive hefeweizen.
347 characters
2
/5
rDev
-42.9%
look: 3 | smell: 3 | taste: 1.5 | feel: 2 | overall: 1.5
Crabtree doesn't distribute as far up and west as Leadville, so I was looking forward to picking up a bomber of a relatively new Colorado brew.
Twisted Creek Wheat, like Crabtree's other bomber offering--Downtown Nut Brown--suffers from a fatal flaw: a stomach-churningly bad aftertaste that undermines all of the good aromas (true hefe) and looks (dark golden, good head retention) that this beer has.
It has a respectable, smooth mouthfeel, but the initial sweet flavors are undone by a muddy, vegetal, dry finish.
Could it be something in their water? This is a drain pour.
586 characters
3.53
/5
rDev
+0.9%
look: 4 | smell: 3.5 | taste: 3.5 | feel: 3.5 | overall: 3.5
12 oz bottle. Pours a hazy golden amber with a creamy white head that retains and laces the glass.
The aroma is traditional hefe - yeasty bananas and cloves with some wheaty malts.
The flavor is sweet and spiced bananas with some yeast funk leading to a light hop finish. The mouthfeel is medium bodied with some sharp carbonation.
Overall, a decent hefe (not my favorite style). It is pretty similar to the Haystack by Lefthand, but a tad more adventurous.
466 characters
3.77
/5
rDev
+7.7%
look: 3 | smell: 3.5 | taste: 4 | feel: 3.5 | overall: 4
Presentation: 12 oz bottles - purchased a 6 pack at Daveco for about $6.50 or so. No freshness info.
Appearance: Claims to be brewed in the hefe style - and there was a bit of sludge in the bottom of the bottle. Pours a murky reddish brown, very thin head. Something about the color is a bit less appealing than the average hefe (or wheat).
Smell: Nice aroma - some cloves and banana, with the typical smells I would expect.
Taste: Nice balance of wheat taste and spices - maybe a bit of coriander, and the cloves and banana come through here too.
Overall impression: I wonder if they have changed this beer since the original review - this seems much more like a typical hefeweizen than a pale american wheat. The flavor was well balanced and enjoyable.
766 characters

3.88
/5
rDev
+10.9%
look: 4 | smell: 3.5 | taste: 4 | feel: 4 | overall: 4
Pours a hazy scorched yellow. Nice white froth holds tight.
Smells like a whole white wheat flour sour starter. It's earthy with a hint of faded herbs.
Nicely spicy, though subdued. Tastes like an old, empty spice cabinet smells; shadows of spice. Tastes like fresh wheat buns. Quite pleasant wheat malts coat the tongue, with a little earthy herb. This is a plain American wheat ale, not spiced, but delightfully flavored. It's simple and satisfying. Oh hell, go ahead and put a slice of lemon in there....
510 characters
Twisted Creek Wheat from Crabtree Brewing Company
3.5
out of
5
based on
26
ratings.