Chunkin Pumpkin
| Crabtree Brewing Company
BA SCORE
82
good
12
Reviews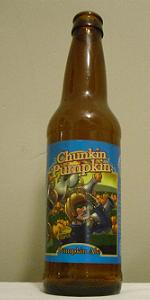 BEER INFO
Brewed by:
Crabtree Brewing Company
Colorado
,
United States
crabtreebrewing.com
Style:
Pumpkin Ale
Alcohol by volume (ABV):
5.70%
Availability:
Fall
Notes / Commercial Description:
Our Serenity meets sweet and savory with this scrumptious seasonal beer. Real CSA locally grown pumpkins are baked, chunked and thrown directly into the mash tun with a cornucopia of spices. Perfect on a fall day when the leaves begin to change. Loving this beer is as easy as pie!
Added by falloutsnow on 09-17-2011
Reviews: 12 | Ratings: 29

3.81
/5
rDev
+7.9%
look: 3.75 | smell: 4 | taste: 3.75 | feel: 3.75 | overall: 3.75
Poured from the bottle into a glass.
Murky, slightly see through orange/yellow color.
Nice white head; nice lacing.
Cinnamon pumpkin nose; pumpkin pie notes abound.
Medium thin mouthfeel.
Pumpkin pie flavor, but a touch more watery than the nose suggested. Not bad, but forgettable.
291 characters
3.45
/5
rDev
-2.3%
look: 3.5 | smell: 3.5 | taste: 3.5 | feel: 3 | overall: 3.5
This is an introduction beer to those seeking to have a pumpkin beer. It's a subtle pumpkin beer in that the spices aren't over the top and the pumpkin is subtle. It looks alright, an off orange with white foam. Kind of looks dull. Head doesn't last
Aroma and flavor have many things in common. Some nutmeg, cinnamon (?) and yeastiness. Hints of pumpkin, some orange rind. What hurts this beer, though, is the carbonation...or lack thereof. Just seems boring. If you enjoy pumpkin beers, try this, but I doubt it will impress. For those wondering what pumpkin beers have, this would be a good start
599 characters
3.67
/5
rDev
+4%
look: 3.5 | smell: 4 | taste: 3.5 | feel: 4 | overall: 3.5
12 oz bottle. Pours slightly hazy copper orange with a smallish head that quickly goes to a very thin collar.
The aroma is pumpkin and a great blend of spice. It dissipates a lot as it sits.
The flavor is rather subdued compared to the draft version. Sweet malts with some pumpkin and lots of pumpkin spices. The mouthfeel is pretty full bodied with low carbonation.
Overall, this is one of my favorite pumpkin beers. On draft, I liked this better than DFH Punkin in a side by side comparison. This bottle is a bit more subdued than remembered though.
554 characters
3.97
/5
rDev
+12.5%
look: 3.5 | smell: 4 | taste: 4 | feel: 4 | overall: 4
A - Poured a clear, burgundy color with a one-finger, khaki colored head of foam. It left sudsy trails of lace on the glass.
S - It smelled of nutmeg, cinnamon, all spice and pumpkin.
T - Great balance of spices and pumpkin. Spices are strong but not overdone. Sweet pumpkin with a touch of maltiness adds balance.
M - It was crisp, sharp and smooth. A medium bodied ale with a dry, clean finish.
O - This is a really good pumpkin ale. Crabtree continues to impress.
470 characters
3.47
/5
rDev
-1.7%
look: 3 | smell: 3.5 | taste: 3.5 | feel: 3.5 | overall: 3.5
Pours a clear, maize/amber color. 1/5 inch head of an off-white color. Decent retention and slight lacing. Smells of ginger, pumpkin, sweet malt, and a hint of hop. Fits the style of a Pumpkin Ale. Mouth feel is sharp and crisp, with an average carbonation level. Tastes of pumpkin, strong spices, hint of ginger, sweet malt, and a hint of hop. Overall, decent aroma, blend, and body.
384 characters
3.65
/5
rDev
+3.4%
look: 3.5 | smell: 3.5 | taste: 4 | feel: 3 | overall: 3.5
A burnt orange, color and really almost no suntaining beer head. Smells of pumpkin and a little pumpkin pie spice. The taste is really strong with pumpkin and not necessarily pumpkin pie and spices, but pumpkin. I get less spices.
I find the beer beer to be medium to thin bodied even a little watery with a low carbonation. I usually like more carbonation for pumpkin beers myself.
Good beer that goes with the song Autumn Leaves performed by Bobby McFerrin & Chick Corea from their cd 'Play'
496 characters
3.65
/5
rDev
+3.4%
look: 3.5 | smell: 3.5 | taste: 3.5 | feel: 4 | overall: 4
a better than average pumpkin brew, and one of crabtrees finer offereings. pours a clear orangey copper color, fairly light in appearance, but heavy on smell. lots of spice, with cinnamon being the most dominant. allspice and clove are also present, and so is a pretty good sized malt body in the english style. it tastes a little lighter than it smells, and is not overly spiced at all. but the pumpkin itself is kind of hidden. mouthfeel is really nice, big and creamy, feels rich, decadent. carbonation is above average too. this is a good beer all up, my only regret is that its sold in 4 packs instead of sixers.
617 characters

3.48
/5
rDev
-1.4%
look: 4.5 | smell: 4 | taste: 3 | feel: 3.5 | overall: 3.5
Rosewood in color with a small hint of creamy head that quickly dissipates.. Notes of maple vanilla, cinnamon nutmeg,
Solid malt base, some carrot cake and pumpkin pie flavors blasting off the tongue with note. A bit heavier body than most pumpkin ales bouncing around the market today, which is refreshing.
I like it and would recommend it to others as a light party beer.
On a different note, I'm unsure on way pumpkin beer is always being hated on by around 1/2 of beer drinkers. Obviously thats a made up number but if you are beer social in any way you know at least one person who hates on them. So I'm here to stand up for the pumpkin. 1 its seasonal, 2 usually it is spiced and has interesting flavors many beers don't boast, 3 it is a great style to age on rum like Avery or put into Bourbon barrels, like Uinta, 4 its historical, pumpkin and other gourds were used to brew even back before the civil war era. Viva la Pumpkin
939 characters
3.23
/5
rDev
-8.5%
look: 3.5 | smell: 3 | taste: 3.5 | feel: 3 | overall: 3
Thanks to leschkie for this beer.
A: Pours a nice burnt orange, with hues of amber. Thin white head that dissipates quickly. Almost no lacing left on the glass as it drinks.
S: Smells of pumpkin pie spice, nutmeg, cinnamon, etc. Typical pumpkin beer.
T: Starts of sweet, then it shift to the pumpkin spice. The sweet and spice mingle and it finishes with a little funk.
M: Medium bodied beer. Finishes dry.
O: This is a pretty decent beer. Not exactly something I'd return to often, but its nice.
501 characters

3.7
/5
rDev
+4.8%
look: 3.5 | smell: 3.5 | taste: 4 | feel: 3.5 | overall: 3.5
A: Deep orangish brown and slightly hazy with a quickly dissipating head--leaving a thin film on top; not much lacing
S: Some pumpkin but mostly I get spices: nutmeg, cinnamon, cloves, allspice, coriander, pepper with faint raisins on top of a subtle bready malt base; the pumpkin is there but it sure is masked by a battery of spices--almost making this just smell like Christmas wassail
T: The spice is definitely there but it isn't nearly as sweet as I thought it would be; actually dry and pleasant--albeit spicy--the bready base is much more prevalent; I like this
F: A touch thin but with moderate body
O: A decent pumpkin beer and great for watching the leaves fall; wow, my burp just tasted like pumpkin pie...mmm
725 characters

2.77
/5
rDev
-21.5%
look: 2.5 | smell: 3 | taste: 3 | feel: 2 | overall: 2.5
Pours a cloudy copper cooler with not much head.
Strong smell of candy sugar, combine that with some and a healthy dose of cloves and cinnamon. Reminds me more of a spice cake than anything to do with pumpkin.
Sweetness on the palate with spice. The pumpkin is there but subdued.
Mouthfeel lacks carbonation.
314 characters
3.77
/5
rDev
+6.8%
look: 3.5 | smell: 4 | taste: 3.5 | feel: 4 | overall: 4
Bottle from Hy-vee in Omaha, NE
Poured into a standard US pint glass.
Pours a 1cm, off-white head with medium-sized bubbles. This rescinds in less than a minute to a ring around the glass. Lacing is minimal, with small spots quickly sinking back into the body. Body is a brownish-garnet color, transparent, and with visibly active carbonation.
Aroma of cinnamon, cloves, and allspice. Somewhat dark malt contribution is noticeable, balancing this out nicely. Hops are not present, in that I don't detect any bitterness or other compounds they would leave behind. I would appreciate a slightly darker, more noticeable malt presence, but this is still pretty good.
Taste is similar to scent: cinnamon, cloves, and allspice with a nice malt backbone, somewhat like a spiced brown ale. Taste is just bordering on cloying, but doesn't get there. I don't pick up the baked pumpkin flavor (and I eat pumpkin puree nearly every day) that the brewery mentions, but this may blend into the brown ale-like flavors I'm perceiving. Aftertaste is of toasted malt and subdued pumpkin pie spices.
Mouthfeel is medium-bodied and very creamy, a good mimic of pumpkin pie filling. Carbonation is noticeable, but not aggressive, and blends with the malt body well. Finish is somewhat dry, but not overly so.
This was a satisfying pumpkin ale, with a good balance between the pie-type spices and malts used. The pumpkin adds to the body and the sweetness, and outside of carmelizing the pumpkin, I don't know how to get more out of one. A solid pumpkin ale, one worth seeking out.
1,577 characters
Chunkin Pumpkin from Crabtree Brewing Company
3.53
out of
5
based on
29
ratings.