Sono Distrutto

High & Mighty Beer Co.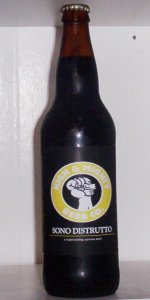 Rate It
Beer Geek Stats
| Print Shelf Talker
Style:

ABV:

4.5%

Score:

86

Avg:

3.77

| pDev:

8.75%

Reviews:

11

Ratings:

From:

Avail:

Retired (no longer brewed)

Wants

Gots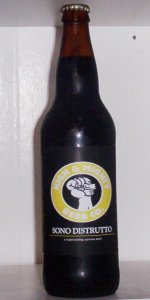 Notes:
mountdew1 from New Hampshire
3.01
/5
rDev
-20.2%
look: 4.5 | smell: 3.5 | taste: 2.5 | feel: 3 | overall: 3
Poured into an imperial pint glass. Color was a dark opaque brown, with a light brown creamy head. Head lasted a while, and clung to the sides very well. Aroma started off a little sour, then shifted to a lactose sweet, then finished with a bit of coffee. Taste was sour with a smidgen of coffee that finished it up in the back of the mouth. Was a mixed bag in the mouth. Had a bit of coat to it, but also seemed to be thin at the same time. A bit of carbonation felt well balanced. Overall was a bit of a disappointment. Not much in the coffee tastes, and the taste was reminiscent of a cheap stout.
Aug 18, 2012
Flounder57 from Massachusetts
3.7
/5
rDev
-1.9%
look: 4 | smell: 4 | taste: 3.5 | feel: 4 | overall: 3.5
22 oz bottle was poured into an imperial pint glass.
Appearance: The beer poured a one finger mocha head. Head has reduced now to a thin layer. It is pitch black sights of tiny bubbles coming up the side of the glass.
Smell: roasted coffee, mocha, bready and some sweet malts. Smells good.
Taste: The flavors are all there, but they seem light on the palate. Can't expect much with a low ABV stout. Still tastey though.
Mouthfeel: dry, medium carbonation, smooth, light bodied, some bitterness from the coffee, and a little chewy.
Overall: This is a nice session stout that I could revisit from time to time. Happy to have stumbled across it's path.
Jun 06, 2012
Daktyls from Massachusetts
3.55
/5
rDev
-5.8%
look: 4 | smell: 4 | taste: 3 | feel: 3.5 | overall: 4
A: Pours a deep black-brown, impossible to see through. Head is about 3 fingers thick during the pour, with a nice hazel coloration with fairly large bubbles. Very nice looking head which dissipates to a fine lacing around the glass.
S: Smells deeply of mocha coffee, a chocolate espresso scent. Definitely a scent of roasted coffee beans followed faintly by some maltiness and citrus aromas.
T: Immediately the taste of citrus is apparent, with what appears to be a mild lemon flavor most apparent. This effectively masks the espresso and chocolate flavors of the brew and was actually quite surprising to have that be the first thing I tasted.
M: Feels nice on the tongue, a little carbonated with the right amount of slickness and creaminess. Definitely on the sour side though.
D: Very drinkable. Would likely have another if I had enjoyed the very upfront citrus taste.
I should clarify that the citrus/sour taste was not *bad* but unexpected. If one was expecting that amount of citrus-ness, this would be a very enjoyable beer.
Jul 07, 2010

SFLpunk from Vermont
3.2
/5
rDev
-15.1%
look: 3 | smell: 3 | taste: 3.5 | feel: 3 | overall: 3
I'm sitting here late night watching the replay of the UK vs US in the World Cup and I'm digging through my fridge looking for something lower in alcohol to drink when I discovered a gem that my boss set me up with - a bottle of High & Mighty Sono Distrutto Espresso Stout (4.5%) bottled July 30th 2008!
Now, normally I would never have aged this on purpose. It breaks two of my cardinal rules for cellaring beers: First, it's lower than 8% ABV, and Secondly it's a coffee beer. I've never had much luck ageing coffee-infused beers. I feel like the acidity from the coffee winds up breaking down the hops and making the beers loose and messy.
All that being said, this accidentally-aged brew isn't half bad! It has very little carbonation and smells like cherry-infused coffee. The palate is surprisingly bright and crisp, with very little bitterness. Lots of coffee flavor, but very little mouthfeel and light bodied at best. I'm impressed with its ability to hold up for almost 2 years, but do not think that it's better for the journey. As it warms, more of that coffee bitterness comes out and helps the mouthfeel. I'm just surprised that it hasn't fallen completely apart. Well done, Will Shelton!
Jun 13, 2010
jlindros from Massachusetts
3.88
/5
rDev
+2.9%
look: 4.5 | smell: 4 | taste: 4 | feel: 2.5 | overall: 4
Had this baby on tap @ Armsby Abbey.
A: Fluffy dark colored thick head of 2 fingers fades slowly over almost pitch black colored beer.
N: Lost of roasted dark malts, chocolate and crystal malts too. Lots of fresh roasted espresso beans and freshly ground coffee beans. A little sweet and bitter roast as well.
T: Lots of light roast, quite a bit of coffee flavor, but still light and watery. A little chocolate malt, crystal malts, and lots of roasted barley. More fresh espresso beans, a little acidity, and earthy roasted and slight dirty tasting fresh ground coffee beans. Some bitterness.
M: Light and airy mostly, lighter body with good carbonation.
F: Bitter with lots of roasted malts finish, more lingering coffee and fresh roasted coffee beans, espresso again, roasted malts, a little watery on the finish as well. A little earthy bitter dirt taste comes through on the finish as well. It also finishes pretty dry.
THis beer had some really nice coffee, freshly roasted espresso beans, earthy bitter tastes, and nice malts to go with it. The only problem is that it had no substance, mouth was nowhere to be found, it was watery, etc. I can see that they want to keep the abv low, and I love the fact that they are trying to do that. I can drink this a lot more, but the body and depth of the beer are sacrificed too much in this instance.
Jun 05, 2010
ppoitras from Massachusetts
4.37
/5
rDev
+15.9%
look: 4 | smell: 4.5 | taste: 4 | feel: 4.5 | overall: 5
22oz bottle purchased as a single from Spirit Haus, Amherst, MA. Stamped bottled on Aug 27, 2008.
Poured into an imperial pint glass, formed a 1/4" burnt tan head over the opaque dark brown/black brew. Head fades down to a covering of small bubbles, with lasting lace. Aroma is dark malts and black coffee. Taste starts with coffee and dark malt sweetness, with the malt powering on in the middle, and the coffee lingering through the close. Both flavors show a give and take throughout. Mouthfeel is soft and smooth, and drinkability is excellent. Session espresso stout is where it's at!
Dec 29, 2008
IBUnit63 from Massachusetts
3.65
/5
rDev
-3.2%
look: 4 | smell: 4 | taste: 3.5 | feel: 3.5 | overall: 3.5
Bottle date 8/27/2008 into Alpine mug...
Pours deeper than a 4.5% would expect to...deep dark espresso color - nice maple/ginger head that's thin but sticks around.
Good solid scent of dry coffee beans. Deep, dark, roasted chocolate malt w/a little unsweetened cinnamon and gingerbread in there...dilutes a little bit but still good.
Well, hell...All good so far but first taste is a little light...coffee's there - not a lot of hops - maybe some pine...malt is very mild...overall a little astringent - even a little horseblanket...over time it opens up a bit but still a bit diluted.
Palate gets dry from the astringent nature of this deal - some dried dark fruit on the back of palate...still tightens from the horse blanket.
This one started off with a fair amount of promise...it's not the worst stuff but doesn't quite fulfill. Wondering if there's something iffy going on here. Probably not, 'cause it's still rather clean and drinkable.
Nov 16, 2008

lordofthewiens from New Mexico
4.2
/5
rDev
+11.4%
look: 4 | smell: 4 | taste: 4.5 | feel: 4 | overall: 4
A 650ml bottle, with bottled on Jul302008 stamped on the label. Poured into a pint glass, the beer was a very dark brown, almost black color, with a thick tan head. It had a strong coffee aroma. The coffee aroma translated into an espresso taste, with, I think, just the right amount of bitterness. I felt it to be rather assertive in the mouth. Would easily drink more of these.
Oct 11, 2008
Hautacam from Connecticut
4.18
/5
rDev
+10.9%
look: 4.5 | smell: 4 | taste: 4 | feel: 4.5 | overall: 4.5
Had a few of these at OctoBARfest in New Haven.
Super dark..almost black, with a nice , rusty , foamy crema head.
Smells much like it tastes..dominant flavor is espresso,and roasty malts...some hints of lemon rind, dark dried fruits and chocolate.The right amount of bitter. A really nice complex combination of what I want in a coffee stout. I was glad to hear that the coffee beans came from Esselon Cafe in Hadley, MA....absolutely my favorite place anywhere for a perfect espresso.
The mouthfeel on cask was pretty close to perfection....silky and full.
At 4.5% I could put down a lot of this...of course I would be pretty buzzed by the caffeine !
Oct 02, 2008

Brad007 from Vermont
3.95
/5
rDev
+4.8%
look: 4 | smell: 4 | taste: 4 | feel: 3.5 | overall: 4
Pours a thick black color with a thin brown head that fades after a minute or so.
Smooth and creamy aroma with a nice hint of espresso bean and chocolate in the nose. Bitterness seems minimal.
Bitter coffee flavor shows up in the taste. A bit of astringency but nothing too serious. The creaminess isn't too noticeable at first. A pronounced coffee flavor basically dominates.
Mouthfeel is the same, but with a little bit of creaminess and bitterness from the coffee.
Starts out great but I feel it falls a tad bit flat in the mouthfeel department. More potential for creaminess and stronger coffee flavors that just doesn't show. The rest of this stout is spot on for what it is. Drinkability is still solid.
Aug 30, 2008

fitzy84 from Massachusetts
3.82
/5
rDev
+1.3%
look: 4 | smell: 4.5 | taste: 3.5 | feel: 4 | overall: 3.5
Saw this bottle at R & P Liquors. No date on the bottle. Very dark appearance with a dark coffee color head than thins away to patchy lacing. Aromas are a strong, bitter coffee/esperro smell with a definite roasted coffee bean texture. The taste was a little thin, but still retained a sort of creamy stout sweetness mixed with that coffee bitterness. Mouthfeel was ultimately good, making it a lightly creamy and milky drink. Overall, not too bad.
Aug 23, 2008
Sono Distrutto from High & Mighty Beer Co.
Beer rating:
86
out of
100
with
18
ratings