Coyote Moon
| Snipes Mountain Microbrewery & Restaurant
BA SCORE
83
good
14
Reviews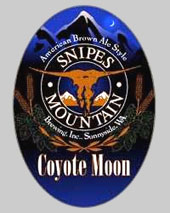 BEER INFO
Brewed by:
Snipes Mountain Microbrewery & Restaurant
Washington
,
United States
snipesmountain.com
Style:
English Dark Mild Ale
Alcohol by volume (ABV):
not listed
Availability:
Year-round
Notes / Commercial Description:
No notes at this time.
Added by stirgy on 05-17-2002
Reviews: 14 | Ratings: 18

1.48
/5
rDev
-58.5%
look: 1 | smell: 3 | taste: 1 | feel: 1 | overall: 1
There was heavy, thick sediment in the bottle. It pours a very foamy head with half the glass full of head.
The aroma is dirt, chocolate and nuts.
The taste is sour.
The texture is super fizzy.
I may be a bad bottle. I will try to find another to compare.
256 characters
3.85
/5
rDev
+7.8%
look: 3.5 | smell: 3.5 | taste: 4 | feel: 4 | overall: 4
Not sure why this is listed as a APA, the brewery calls it a Brown Ale, and this beer is clearly brown, not pale. Served in straight pint glass. Poured a clean, clear brown with over an inch of medium tan head that had good retention and lacing.
The aroma is malty and roasty with just a touch of sweetness in the background. The flavors follow that profile as well, with the roasted notes taking the forefront more on the tongue than in the nose.
The body is nice, full, smooth and curvy. Drinkability was also very good, a trademark of this brewery. Overall, a good take on this style, worth trying.
603 characters

3.25
/5
rDev
-9%
look: 3.5 | smell: 3.5 | taste: 3 | feel: 3 | overall: 3.5
Poured from a 12oz.
Agree that the head on this thing is almost Soda like. Head fizzes up very aggressively and the body itse;f is a nice dark amber, with dark cherry colours at the edge of the glass. Darked than I expected.
Smells are hidden a little due to effervescene, but there is some dark malt notes in there. Little chocolately and wild grass.
Taste is suprisingly stingy and acidic upfront,almost like a lemon tart. This gives way a little later to some maltiness that you'd think would be present due to the smell. A little aftertaste of Fig.
Mouthfeel is light and bubbly, but the tartness of this turns me off having too many, especially if I was in the mood for a brown ale
690 characters
3.23
/5
rDev
-9.5%
look: 3.5 | smell: 3 | taste: 3 | feel: 3 | overall: 4
Poured from a 12oz bottle, and it doesn't sound like the same beer other reviewers have tasted. First off, there's a huge, fizzy head. Not a creamy head, more like a rootbeer float kind of effervescence. Color is nice, a deep mahogany, a little opaque.
I don't taste any of the roasted, malty notes that other reviewers have mentioned until well into the aftertaste following a swallow. Instead, the dominant flavor is a thin, tart citrus. Very surprising given the coloring, I really expected more of a chewy beer.
516 characters
3.48
/5
rDev
-2.5%
look: 4 | smell: 3.5 | taste: 3.5 | feel: 3 | overall: 3.5
It has a dark cola like opaque colored body. There is a lot of tan head and the lace moves in unison with the head so I will have to get back to that at the end of this beer. It has a sweet wood and grape finish to the taste. It is very malty and roasty flavor for the most part. The aroma is more malt and nut like than anything. The mouthfeel is average. The head has great staying power as does the lace.
407 characters
4.07
/5
rDev
+14%
look: 3.5 | smell: 4 | taste: 4 | feel: 4 | overall: 4.5
I was served from the tap at the Brewpub in Sunnyside, WA.
A: I was very suprised that this was considered a APA since it poured a very dark brown. It had an overall appearance more like a Porter than an APA. It had a modest light tan head with very little lacing.
S: It had an aroma that initially leaned heavy toward the toasted malts but it was followed by a floral hop aroma that balanced the malts and gave the brew a nice pleasant smell.
T: The flavors make this more of a dunkel APA rather than a standard APA. The malts are sweet and toasted witih an almost smokey and caramel flavors. The citrisuy and floral hops give the brew a nice back bite that is pleasant and not to dominant. It finished clean with a bit of lingering sweetness.
M: This brew has little carbonation giving it a smooth and light body profile. It was very refreshing and had a clean aftertaste.
D: This is a unique APA. It was smooth, had a low ABV, and exhibited unique flavors that make it an APA worth trying and easy to consider for a session beer.
1,039 characters
3.6
/5
rDev
+0.8%
look: 3.5 | smell: 3.5 | taste: 3.5 | feel: 3.5 | overall: 4
I'm a bit taken back by the professed ABV content of just 3.9%. Though that's very consistent with the mild brown ale category, I take it for granted that most American brewers chose to put a bit more muscle in their beers. Personally, I'm more than happy to drink low alcohol beers and it bugs me sometimes when brewers and drinkers alike mistake strength for quality.
So while the low ABV was unexpected, I found it did nothing to detract from the beer as a whole. Coyote Moon is deep mahogany with rapidly ascendant bubbles and a light head. It is medium bodied with a faint brown sugar aroma and customary balancing with a slightly nutty wash. A modest beer by design, it is none too challenging to drink. If it seems a bit boring to some, just remember, it's English.
A good lunch beer.
799 characters

3.33
/5
rDev
-6.7%
look: 4 | smell: 3.5 | taste: 3 | feel: 3.5 | overall: 3.5
Pours a two finger light brown head that fades to a shallow layer and leaves a good lace. Almost black with faint mahogeny color. Light carbonation and medium bodied. Malty nose. Starts sweet but balanced with the hops, nutty flavor, slight hoppy bite at finish, good brown. $1.39 for a 12oz bottle from John's Market Tigard, Or. Not an APA.
341 characters

3.98
/5
rDev
+11.5%
look: 4 | smell: 3.5 | taste: 4 | feel: 4 | overall: 4.5
Appearance: clear burgundy / brown color with a fluffy 2" head that slowly falls to a thick surface foam. Thick lacing develops.
Smell: caramel and some nuttiness are detected.
Taste: caramel, bread, mild bitterness, some nuttiness, and a bit of black pepper spice. Surprisingly flavorful and fulfilling.
Mouthfeel: smooth throughout. Very short caramel and bread aftertaste. Medium bodied brew.
Drinkability: definite session beer. I found this beer to be very satisfying and easy to quaff.
504 characters
2.73
/5
rDev
-23.5%
look: 2.5 | smell: 2 | taste: 3 | feel: 3 | overall: 3
Aroma is very hard to pick up. No getting any malt sweetness or anything really cept some hops. Deep brown color with a thin diminishing head. Fore is a bit watery...not thin...just watery tasting. Then some nice malt flavor comes in a slow progression of nutty toasty malts. Actually get some mild coffee/porter flavors in the finish.
335 characters
3.97
/5
rDev
+11.2%
look: 3.5 | smell: 4 | taste: 4 | feel: 4 | overall: 4
NOTE: This is not a Pale Ale! Look at it's avatar for God's sake!
12oz bottle purchased at Huckleberry's in Spokane for $1.29. I also had this on tap the other night at Far West Billiards.
This beer pours a very dark brown, almost black color. There is a very small tan head that drops quickly. Very little lace.
The smell is odd, for a brown ale. This is very roasty. It's not unlike the level of what one would expect from a porter or stout, but not this style of beer. There's also a scent of brown sugar..
The roasty flavor hits first, and it never really lets up.There's a brown sugary flavor to the proceedings. This really does taste like a porter-brown ale hybrid. Weird, but, frankly, rather tasty.
This is a little thin for a stout, so this characteristic, at least, resembles a typical brown ale.
An odd but satisfying beer, as I enjoy both of the styles this seems to straddle. It's not as heavy as a stout or porter, but it's roastiness might be a little much for someone who's looking for a brown ale, especially if they're a fan of the Newcastle variety.
1,077 characters

3.74
/5
rDev
+4.8%
look: 3 | smell: 4 | taste: 4 | feel: 4 | overall: 3
Picked up a bottle of this at the market - was pleased to see Snipes in the neighborhood.
Poured a deep brown but with a surprising clarity. There is absolutely no carbonation, thus no head. Too bad.
The aroma is great. Beautifully smokey, like you'd get from a scotch. But unlike scotch, the ale is very smooth, and the sweetness that balances the tart, coffee flavors. Its quite pleasing despite the absence of carbonation, but it doesn't make for seconds.
464 characters
4
/5
rDev
+12%
look: 4 | smell: 4 | taste: 4 | feel: 4 | overall: 4
Appearance – This poured a very dark brown with a smallish tan head, almost like a stout or a porter.
Smell – There's a big burnt flavor that comes off first from this one. It is a very tight smell, almost like the burnt outsides of a steak on a very hot gas grill. A good hop aroma follows closely behind followed by the malt balance.
Taste – The hops come out much more dominant in the taste. The smoked flavor is very light on the tongue. The hops themselves have a very slight citrus flavor and provide a nice dryness to the ale. The malt flavor underscores the body as does a tinge of dark nuttiness.
Mouthfeel – Little carbonation and very smooth and refreshing.
Drinkability – I've never tasted a smoky pale ale before, but this one went down quite well.
Comments – The bottle labels this a, "brown ale," and it would seem to fall a little bit more in line with that definition. For this reason, I'm not rating this one on style confirmation.
975 characters
3.93
/5
rDev
+10.1%
look: 4 | smell: 3.5 | taste: 4 | feel: 4.5 | overall: 4
(at brewery, from notes) Nice amber color. Sweet malt flavors balance well with hops. Really smooth going down. My second favorite beer of theirs, the top being their ESB.
173 characters
Coyote Moon from Snipes Mountain Microbrewery & Restaurant
3.57
out of
5
based on
18
ratings.