Berliner Kindl Weisse Mit Schuß Schwarze Johannisbeere
| Berliner Kindl Brauerei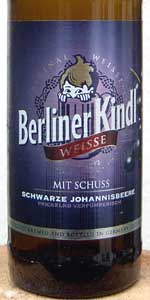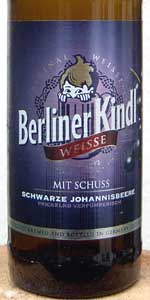 BEER INFO
Brewed by:
Berliner Kindl Brauerei
Germany
berliner-kindl.de
Style:
Berliner Weissbier
Alcohol by volume (ABV):
3.00%
Availability:
Year-round
Notes / Commercial Description:
No notes at this time.
Added by ALESwhatCURESya on 12-10-2008
HISTOGRAM
Ratings: 9 | Reviews: 5
Reviews by ALESwhatCURESya:
3.35
/5
rDev
+16.3%
look: 3 | smell: 3 | taste: 3.5 | feel: 3.5 | overall: 3.5
My brother-in-law picked up a few bottles of this while he was in Berlin for 2 weeks. From what I know, this uses their straight Berliner Weiss beer blended with Currant flavoring. The addition is very evident on the pour as it comes out a hazy, blood red color with off-pink lacing. High carbonation and suspended pectins make it appear like a carbonated juice or soft drink. The aroma is nice and tart with a soft berry nose and candy sweetness. Big notes of tropical fruits and ripe tart apples. The taste is similar to the aroma in terms of tartness and sweetness. The finish on this s very similar to Red Bull in terms of texture and taste. Sort of reminds me of Wittkerke Rose (ugg) but in a positive light. Definitely has the body of a true Berliner, but the sweetness surely takes away from it. This is much like a flavored malt beverage and would probably aim to market at the younger crowd or women. Great experience with a fresh Berliner Weiss and unlike my usual offerings. Not bad to try, but one will suit me quite well.
1,034 characters
More User Reviews:

2.31
/5
rDev
-19.8%
look: 3.5 | smell: 2.5 | taste: 2 | feel: 3 | overall: 2
Pours sharp dark red with pinkish foamy head that slowly fades. Aroma is sweet artificial black currant.
Taste is mostly sweet syrup with sharp and biting sourness, the combination feels too artificial and is not enjoyable, even slightly repulsive towards the end of the glass. Mouthfeel is light-medium with moderate carbonation.
Overall, I did not enjoy this beer at all, it was too sweet and too artificial even for Weisse with shot, the other two are way better.
468 characters

2.48
/5
rDev
-13.9%
look: 3 | smell: 2.5 | taste: 2.5 | feel: 2 | overall: 2.5
12 oz bottle my friend brought to me from south Germany. I asked for some Berliner Weissbier and he hauled several flavors from this brand back to me. Thanks Moritz!
This one is in my beer mug.
Appearance: This is a light purple looking beer. The head is slightly pink and settled quickly to a ring around the edge. I have never seen a beer this color before. Lacing sticks around for a little bit
Smell: I have never smelled a beer like this one before. One of the other reviews says this one is the berliner weissbier with currant flavor added. I can easily pick out some sort of fruit juice in the smell but that is about it.
Taste: This drink has sort of a dual character. to it. At first I taste the currant and the juice. After that, a note of more traditional beer flavors is hinted at briefly. The juice is the main flavor here. It is a little syrupy and sweet for my liking.
Mouthfeel: To go a long with the sweetness and syrupy taste is a syrupy body. Not an overly heavy body, is just seems to cling a little too long.
Overall: Maybe I should have tried the straight non-currant one first. I will be sure to review it here also.
1,145 characters
3.04
/5
rDev
+5.6%
look: 4 | smell: 2.5 | taste: 3 | feel: 4 | overall: 3
Big thanks to Koelschtrinker for the trade on this one. 12oz bottle poured into a matching Berliner Kindl weisse bowl. This brew pours dark purple in color and quite clouded. This looks pretty much like a grape juice cocktail with a finger of purple stained fluffy head. The cap slowly fades leaving a webbing of lacing effect all over the glassware.
The smell of this brew is peculiar. It smells like candy gummy bears with an artificial smelling candy character. As it warms up, it gets a medicinal touch about it that is somewhat herbal and even a bit grassy. All of the typical berliner weisse aromatics have been devastated by the syrup addition in this offering.
The taste of this brew has a bit of a cereal grain sweetness that carries with it a fruited character that is familiar to a type of candy but I cant quite put my finger on it. At times it is almost grape-like with a very minor greek yogurt appeal to it in the finish. This brew is quite sweet, more-so than any other berliner weisse I have ever had (even more so than having ordered one at a bar where they accidentally dumped too much syrup into it.) The sweetness is not cloying though and it is held back just enough that a light tartness is evident throughout.
This is a light bodied brew with a modest level of carbonation that at times is lively in the mouth. The syrup addition in this brew is just too over the top and really distracts from what a berliner weisse is. I understand the reasoning behind adding the syrups to this style of beer to make them more approachable but in this case the syrup completely dominates all of the aspects of the beer and makes it drink like a fruit cola than a beer. Perhaps I would have enjoyed this more if the fruited character seem more natural but as-is it just seemed like an artificial addition that was not entirely enjoyable. Regardless, I am grateful for the opportunity to try this. Thanks again Roman.
1,929 characters

3
/5
rDev
+4.2%
look: 3 | smell: 3 | taste: 3 | feel: 3 | overall: 3
2.96
/5
rDev
+2.8%
look: 4 | smell: 3 | taste: 2.5 | feel: 3 | overall: 3.5
I drank this a few times while I was studying abroad in Berlin--it's Weisse with currant flavoring, and it has a nice deep red color with pink lacing.
Yes, it's more like a soft drink than a beer, but sometimes that's nice. The currant flavor gets a little old for me a little fast--I would rather drink a Himbeer or Waldmeister than this, by far--but it's still done nicely, with a soft fruity nose and tastes of apple and citrus in addition to the (rather tart, sour--I love Weisse ohne schuss!) currant. Mouthfeel is pretty soda-like, and a little syrupy.
Next time I'm in Berlin I'm going to review Kindl's other bottled versions, which are tastier in my opinion, but which I don't actually have a description of right now. Alas.
736 characters
Berliner Kindl Weisse Mit Schuß Schwarze Johannisbeere from Berliner Kindl Brauerei
Beer rating:
2.88
out of
5
with
9
ratings