Pale Ale
| Amber's Brewing Co.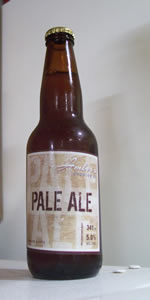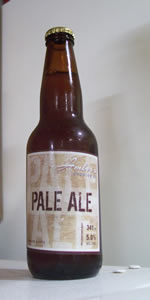 BEER INFO
Brewed by:
Amber's Brewing Co.
Alberta
,
Canada
ambersbrewing.com
Style:
English Pale Ale
Alcohol by volume (ABV):
5.00%
Availability:
Year-round
Notes / Commercial Description:
No notes at this time.
Added by IronDjinn on 04-17-2009
This beer is retired; no longer brewed.
HISTOGRAM
Ratings: 4 | Reviews: 4
Reviews by stagger:
2.51
/5
rDev
-16.1%
look: 3.5 | smell: 2.5 | taste: 2 | feel: 3 | overall: 3
A brand new beer from a newish local company. I did enjoy their Bub's Lunch Pail Ale, so how could I pass this one up?
A careful pour brought a fizzy and only lightly fluffy 3/4" head up, which for the most part dissipated reasonably quickly and left no lacing. A modicum of head did stay with the drink throughout. The beer itself is a bright golden colour, almost alarmingly so. In all, it looks like a very premium macro ale or a micro aimed straight at the middle of the market. I'm not an enemy of this kind of beer, necessarily; a pleasant pale ale can get you through a summer.
But it all starts to go downhill with the smell. I asked my wife to identify its peculiar signature, and she pegged it: those old-style permanent markers that kids used to sniff to get buzzed. The taste is less solvent than that -- the dominant note, after a burst of toffee sweetness, is melting PVC. There are days at work that I get a good dose of that smell, and the last thing I want is to drink it when I get home. (A disconcerting note: about half an hour after my last sip of Amber's Pale Ale -- and I do mean my last -- I had a nice little burp, and a strong fresh waft of melting PVC came with it. Yikes!)
Mouthfeel is a little light, but consistent with the lower end of the style. and for all that the nose and taste are unpalatable, it's a pretty drinkable brew. If that strong note of magic marker/melting plastic weren't there, this would be a solid B-.
1,457 characters
More User Reviews:
3.4
/5
rDev
+13.7%
look: 4 | smell: 4 | taste: 3 | feel: 4 | overall: 3
This beer pours a clear medium pale orange copper, with a few fingers of soapy, puffy white head, that dissipates after a few minutes, leaving a bit of lace around the glass. It smells of sweet malty grain, a smell that reminds me of west-coast BC ales, with a little floral hoppiness as well. The taste is kind of metallic, with a floral maltiness in a decently solid body, that leads to an off-dry finish, with a mild carbonation. The sweetness is a wee bit cloying, so after a few, I'm ready for something else.
514 characters
3.11
/5
rDev
+4%
look: 4 | smell: 3 | taste: 3 | feel: 2.5 | overall: 3.5
Amber's, Amber's Amber's. Hmm. Let's see.
a- Glass poured from a keg. Appearance is golden yellow with sparse lacing. Good for the style.
s- it almost reminds me of that classic smell that all the Wild Rose beers have. Very distinctive, yet I can't quite pin it down. I like the nose of this one better than the WR SOB or IPA. Sweet, grainy, a little floral.
t- not really what I hoped. A little rickety. Comparing it to cutthroat, this one is not nearly as complex, but has a very accessible flavour. Would definitely be better with a brighter finish, IMO. Something hangs around into the aftertaste which is not entirely pleasent.
m- light bodied
d- drinkable, but not a seriously pensive pale ale. Drinkable, but don't make an evening out of it. I would suggest the Bub's as a nicer alternative, although, the Pale Ale kegs are hella cheap, better tasting and more ethical than any "domestic" kegged beer out there. But again, why not step up to Bub's?
It would be nice to see this brewery branch out a bit more and do some bolder brews!
1,046 characters
2.93
/5
rDev
-2%
look: 3 | smell: 2.5 | taste: 3 | feel: 3.5 | overall: 3
Poured from a bottle into a pint glass; no obvious best before or brewing date.
A - light copper-golden color. Clear, with a fair amount of carbonation initially which dissipates fairly quickly. A moderate sized head with resolves quickly without any lacing.
S - unusual, with a bit of sour berry and moss over a mild toasted malt. Not getting much for floral or hoppy notes.
T - not quite as strong as I was expecting, but still moderately flavorful. Touch of caramel and malt, though overshadowed by a sour aftertaste.
M - decent mouthfeel; not overly carbonated and light. Lingering sour aftertaste detracts a little from the experience.
D - ok drinkability, but not outstanding. Light enough to be a decent session beer, but not very memorable.
Overall I'm a little sad with this one as it's a local beer from a new brewery; I was hoping for a bigger hops punch which didn't materialize.
897 characters
Pale Ale from Amber's Brewing Co.
Beer rating:
2.99
out of
5
with
4
ratings