Jack Hammer High Gravity Lager

Melanie Brewing Company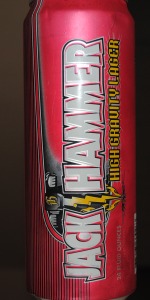 Write a Review
Beer Geek Stats:
Style:

ABV:

11%

Score:

Avg:

2.47

| pDev:

22.67%

Reviews:

7

Ratings:

From:

Avail:

Year-round

Wants

Gots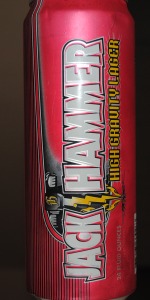 Notes:
Reviews by FreshHawk:
2.53
/5
rDev
+2.4%
look: 3 | smell: 2.5 | taste: 2.5 | feel: 2.5 | overall: 2.5
A - Extremely clear, light gold color. Very foamy, bubbly, light, medium sized, white head. Disappears pretty fast with no lace.
S - Apple cider vinegar straight up. That's pretty much it unfortunately. Maybe a touch of fresh tart apple as well. Overall very appley.
T - Just like the nose, the flavor is dominated by apple cider vinegar. Some light cooked vegetable and malty flavor as well. Alcohol is very well hidden. After sipping it for awhile it starts resembling standard cheap light lagers.
M - Thin with a lot of carbonation. Very watery with a slight drying finish.
D - I'm going to be honest, I'm only going to drink this to get drunk. I know that's usually said about most malt liquors, but I think this about more than other malt liquors. It doesn't taste horrible, but it is nowhere close to appealing.
Notes: Well I paid 62 cents for a 24 oz can of this and overall it was probably worth that for what it is, a very cheap drunk drink. Pretty much a mix of apple cider and apple cider vinegar. Some maltiness on the taste. Very easy to drink fast and doesn't taste like a high alcohol malt liquor. After a few sips you get acclimated to the taste and it drinks more like PBR. Final words... It is what it is and if you only expect that and you won't be disappointed.
1,286 characters
More User Reviews:
1.64
/5
rDev
-33.6%
look: 3.5 | smell: 2 | taste: 1 | feel: 1.5 | overall: 2
I bought a threesome of malt liquor while visiting a beer aka liquor store in West Virginia this was one of three that I've never seen before. No alcohol by volume listed on the 24 ounce can, pours a highly carbonated streaming bubbled carbonation. Pale light golden clear, white foaming head. Aroma falls flat with metallic notes time to sample and compare the three pack I picked up. Some tart apple and cooked veggies become apparent as I continue to sniff this ungodly offering. Flavor hides the alcohol very well, from a well respected malt liquor fan site I got this alcohol. It's well hidden but let's face it this is shitty as cheap malt liquor, why the apple cider vinegar edge I don't know. Mouthfeel is not heavy how do they make this ferment out to 11% abv? Harsh after taste carbonation lays flat fizziness fills the gut with belches, weak offerig, one of the worst but easier to drink terrible high abv offerings. Vision may get blurry with consumption of a full can.
981 characters

3.02
/5
rDev
+22.3%
look: 4 | smell: 2 | taste: 3.5 | feel: 3 | overall: 3
My local CANTrader, tone77, apparently traded for this with cpolking and got one to pass on to yours truly in support of the ongoing madness known far and wide as The CANQuest (TM). My thanks to you both!
From the CAN: 24 Fluid Ounces of Melanie goodness in a recyclable aluminum CAN from the Ball Corporation. God bless America!
I love the way that the jackhammer on the CAN is depicted as a bolt of lightning! It may be indicative of the way it will hit my brain housing group in a little while. My late Pops was "Jack" or "Daddy Jack" and if memory serves, there was a '70's porn star named Jack Hammer. I wonder if he was a beer drinker.
The Crack & Glug produced a Greg Koch Special - a fizzy yellow beer that was definitely NOT for sissies. The head fizzed and fizzled until it was gone, leaving behind a glassful of golden-yellow beer with NE-quality clarity and loads of CO2 bubbles. The nose smelled of dish detergent, hand soap, maybe even dry cleaning plant. It was hard to really tell with the overlay going on. It reminded me of the Palmolive commercial in which the beauty parlor customer was told by Madge that she was "soaking in it." I am simply drinking it in the hopes of smooth skin and a beautiful glow. One sip and I felt like I had been visited by the Mighty Thor, God of Thunder, as Mjolnir rained blows upon my head. Actually, it was deceptively pleasant, somewhat sweet with a nice malty flavor going on the tongue, belying the nose. I was incredulous that I typed that and so I went for a second swig. I still agreed with my initial assessment - it actually was palatable. That may be damning with faint praise, but this kind of beer is not usually marketed to a discerning audience. Finish was bone dry, as high gravity beers are wont to be. I did not taste a lot of adjuncts, but I did feel it starting to take 'hold pretty quickly. This will definitely get the job done and in one quick hurry, if that is what you are after. Me, I may need a lay-down.
1,984 characters

2.03
/5
rDev
-17.8%
look: 1.5 | smell: 1.5 | taste: 2 | feel: 2.25 | overall: 2.75
Only five ratings? Well, here is number six.
I've never seen this before, anywhere. Visited a new liquor store and there it was. I believe the cans I purchased have been sitting around for quite some time as this is nothing new based on my research of the brand. In my experience when you find an oddball malt liquor at an oddball liquor store.... well, there's a sucker born every minute.
A: Looks like ginger ale. Golden straw color. Very clear. Active bubbles rising to the top are champagne-like. Small ring of foam around the edge of the glass that stays throughout.
S: As with all super high gravities this has a grape scent to it. Grain. Very metallic.
T: Surprisingly light, super light, based on my experience with this style. As with the smell there is grape in the taste. A fragile sugary sweetness. Watered down apple juice? A little bitterness lingers. Malt liquor flavored carbonated water. Actually impressive for the claimed 11% ABV. Half the taste of Coors Light, almost 3x's the alcohol.
M: Watery. Tight, strong carbonation. Jack Hammer could actually stand to be more substantial. I can't believe I'm saying that about this style of beer.
O: Not something I would buy again, but not intimidating like Camo, Earthquake, or Stack. The light beer of super high gravity lagers? I don't buy the 11% ABV. I'd guess about half of that.
1,358 characters
3.25
/5
rDev
+31.6%
look: 3.5 | smell: 3.5 | taste: 3 | feel: 3 | overall: 3.5
This is the final beer to review from a recent package sent by cpolking, thanks, man. I'll admit I was a bit skeptical before cracking this can. Due to the combination of Melanie Brewing, 11% abv, and the previous reviews, I wasn't sure if the proper glassware was this mug or a shot glass. Anyway I was pleasantly surprised.
Poured from a 24 oz. can. Has a golden color with a 1 inch head. Smell is of apples, slightly sweet. Taste is crisp, more apples, some malts, alcohol is well hidden. Not a great flavor but better than expected. Feels light in the mouth and drinks like a 7 or 8 % malt liquor. Overall one of the better offerings I have had from this brewery.
667 characters

1.98
/5
rDev
-19.8%
look: 2 | smell: 1.5 | taste: 2 | feel: 2 | overall: 2.5
A - Drank it from the can so I don't know.
S - Grapes, fusel alcohol.
T - Quick shot of rice, quick shot of grapes, slight alcohol. The taste disappears as quickly as it comes.
M - light watery body with light to moderate carbonation.
O - Overall, I'd have again at a party. Goes down easy enough and is moderately poundable.
329 characters

2.84
/5
rDev
+15%
look: 3 | smell: 2.75 | taste: 2.75 | feel: 3 | overall: 3
Consumed out in Missouri. Typical malt liquor color (Pale straw). Winey smell and taste. Very slick on the tongue. I had never seen this one before and decided on a beer buying excursion I'd get some.
200 characters
Jack Hammer High Gravity Lager from Melanie Brewing Company
Beer rating:
2.47
out of
5
with
7
ratings