Raasted Vinter

Raasted & Randers Bryghus A/S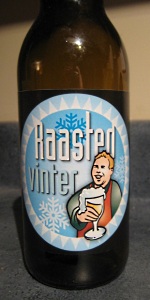 Rate It
Beer Geek Stats
Style:

ABV:

5%

Score:

Avg:

3.93

| pDev:

3.82%

Reviews:

7

Ratings:

From:

Avail:

Year-round

Wants

Gots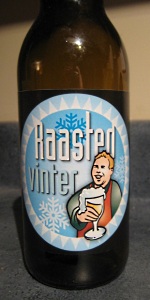 Notes:
ChrisCage from Canada (AB)
4.15
/5
rDev
+5.6%
look: 4.5 | smell: 4.5 | taste: 4 | feel: 4 | overall: 4
A- Pours an almost solid dark brown/black color and there's just a slight brownish light seen around the edges. The head starts out thick and marshmallow like, is tan colored and takes its' time settling down to a reasonable puffy layer over the brew. The lacing is sticky, forming large swaths of foam around the glass.
S- Very much of roasted chocolate malts, and there are distinct aromas of damp earth, cocoa, coffee bean, and charred wood. After these smells surround my nose, I detect more molasses like sweetness and a hint of hop cones on the finish.
T- This is similar to the aromas, and it is on a softer level. The flavors change to wet coffee grounds, baking chocolate and charred old wood. The finish is very different, not really having any bitterness, but rather a smoked character and is gamy. The flavors that linger on my palate confirm the smoky charred meat flavor that I tasted during the swallow.
M- This is soft, smooth and medium bodied. The carbonation is average I'd say but is creamy. I don't smoke but I'm guessing the rich bold flavors would go well with a cigar.
D- Do I like this...yes. Would I have lots of this in a given sitting...probably not...on it's own. I would like to enjoy this with a steak dinner or with smoked sausage as I think it has lots of potential to be a great meal beer. This is my first Schwarzbier and I like the uniqueness of it. I would buy this again for sure!
Sep 16, 2010
elricorico from Canada (AB)
3.86
/5
rDev
-1.8%
look: 4.5 | smell: 3.5 | taste: 4 | feel: 3.5 | overall: 4
Dark brown, cola coloured really, with a three finger thick creamy beige head. Takes a couple of minutes to start receding, and leaves a bunch of lacing as it does. Quite nice looking.
Roasted malt dominates the nose. Bakers chocolate and smoke impressions.
First taste is really quite chocolaty, lots of sweetness at the front. Roasted flavour fills out the middle and a somewhat earthy astringency makes the finish. Smoke lingers after the swallow. Pretty tasty.
Theres a fair amount of body to this beer with average carbonation. Not bad.
Pretty full flavoured, and reasonable easy drinking. I like it.
Sep 15, 2010
Sammy from Canada (ON)
3.8
/5
rDev
-3.3%
look: 4 | smell: 4 | taste: 3.5 | feel: 4 | overall: 4
My lack of Danish caught up with me again, looking for a spicy winter bier. Nothing black on the label - help me out fellows. I smell roast, I see dark with lots of lovely soapy flowing head. A creamy fuller mouthfeel. Satisfying though drying finish.
Thanks Presaario.
Aug 27, 2010
Dawkfan from Canada (AB)
4.08
/5
rDev
+3.8%
look: 5 | smell: 4.5 | taste: 3.5 | feel: 4 | overall: 4.5
I reviewed this one last week on a snowy May day, seemed fitting!
A- Poured into a standard pint glass. The body isn't quite black as it has some red tinges on the edges. 2 fingers of slight off white head that just lasts forever, finally settling to a nice creamy looking cap. Lacing is exceptional as well, I'm very impressed with the look of this one.
S- Roasted malts, bittersweet chocolate and a touch of smoke. I really like where this one is headed.
T- Basically like the nose, but everything is dialed down. There's a slight minerally/earthy type taste in the end.
M- Lighter body with fairly aggressive carbonation. Rolls over the tongue nice.
D- Haven't had many Schwarzbiers and I found this to be the best yet. Maybe my mood had something to do with my enjoyment of this one, but I really wish I had some more.
May 12, 2010
biboergosum from Canada (AB)
3.68
/5
rDev
-6.4%
look: 4 | smell: 3.5 | taste: 3.5 | feel: 4 | overall: 4
As 'vinter' seems to have finally gasped its last, best I send this offering away with it...
This beer pours a total, light-sucking black - no edges, no highlights - bupkis. It does gives up a whole lot of frothy, foamy tan head, which melts away quickly, leaving some sparse webbed lace around the glass. The aroma is musty roasted malt, and a bit of dry coffee and chocolate. The taste is pretty representative of the nose - lightly roasted malt, dry chocolate, old coffee, and some musty, earthy hops. The carbonation is average, the body medium weight, smooth, and soft, and it finishes dry, that dry, dusty character predominating.
Definitely a beer to hole up in a warm basement rec room with, amongst the endemic forced air and low light.
Apr 24, 2010

Shadman from Canada (AB)
3.91
/5
rDev
-0.5%
look: 5 | smell: 4 | taste: 3.5 | feel: 3.5 | overall: 4.5
Best looking Schwatz I've sampled hands down...Thick, foamy head that took eons to settle considered I poured it straight from the fridge ( bad, I know) Jet black colour except for a few reddish chestnut hints of colour along the edges. Lacing is great as well.
Hints of roasted malts, coffee, & chocolate with just the slightest hint of smoke.
Roasted malts with not as much coffee/chocolate as I maybe was expecting from the aroma. Finishes with a dry, slightly metallic bitterness.
Found this beer to be just a bit of the thin/overcarbonated side.
A nice Scwhartz...but 'spensive as hell $5.00/cdn per 330ml bottle
Mar 27, 2010

IronDjinn from Canada (AB)
4.03
/5
rDev
+2.5%
look: 4.5 | smell: 4 | taste: 4 | feel: 4 | overall: 4
From a 330 ml brown bottle, baby blue label with a couple snowflakes on it.
Pours out a deep dark black, opaque except for slivers of chestnut highlights along the extremities. Tall creamy and chunky off-white head with great retention, slowly settles to a chunky cap, lots of lacing.
Smooth toasted and nutty notes in the aroma, light coffee and hints of smoke.
Clean roasted malt up front in the flavour, nutty and toasted, clean almost metallic finish and aftertaste, faint smoke in the aftertaste after a while.
Medium-bodied mouthfeel, smooth and crisp.
Nice to have a serious schwarz available around here as an option, enjoyable, and nails the style pretty well.
Mar 12, 2010
Raasted Vinter from Raasted & Randers Bryghus A/S
Beer rating:
3.93
out of
5
with
7
ratings