La Garce
| AMB - Maître Brasseur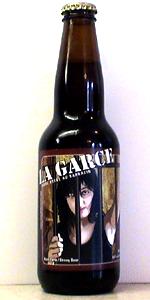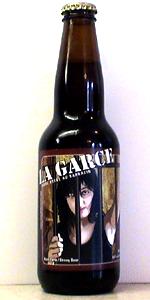 BEER INFO
Brewed by:
AMB - Maître Brasseur
Quebec
,
Canada
Style:
Belgian Strong Dark Ale
Alcohol by volume (ABV):
6.50%
Availability:
Year-round
Notes / Commercial Description:
No notes at this time.
Added by JOaikido on 04-29-2007
This beer is retired; no longer brewed.
HISTOGRAM
Ratings: 8 | Reviews: 7
Reviews by Quej:
3.9
/5
rDev
+8.3%
look: 3 | smell: 3 | taste: 4.5 | feel: 4 | overall: 4
A - Murky red brown with a little lace head and heavy visible carbonation.
S - Some light Belgian yeast smells and a decent whiff of apple cider, cloves and cinnamon. Some nice buckwheat scents.
T - Slightly sour tastes of green apples and apple pie. Very reminiscent of cognac and brandy with its fruity berry flavours and the bready body of buckwheat. Along with the balancing bitterness provided by the hops, Belgian yeasts cover this beer from start to finish.
M - Nicely carbonated and quite lingering.
D - Quite drinkable, I could easily have a few.
555 characters
More User Reviews:
4
/5
rDev
+11.1%
look: 4 | smell: 4 | taste: 4 | feel: 4 | overall: 4
Great opaque dark-amber colour with an equally great, dense and creamy off-white head. Some decent lacing.
Astringent citrus, caramel, yeast; bready and lactic. Nice full, thick smell.
Some nice buckwheat right up front (tastes a little like shredded wheat). Is the malt made of buckwheat? The buckwheat and malt taste like one taste on its own; buckwheat malt. I don't know if this exists. Quite sweet but well balanced with a moderate hop presence. There are some Belgian-style spices in there but I can't pick out exactly what they are; I taste the tiniest amount of spicy heat on the finish, like a bit of hot pepper or something. There's also a solid bitterness on the finish. 6.5% is nowhere to be found. Nice and smooth despite the intense flavours.
Medium bodied with lots of small bubbles feeling exciting on the tongue.
4s across the board. This is an interesting, drinkale beer. I'd say that I could even session this, even though it's a pretty strongly flavoured beer to be sessioned. This doesn't rank with my favorite beers ever but I would buy this again. Worth checking out for its uniqueness if not for its deliciousness.
1,146 characters
3
/5
rDev
-16.7%
look: 3 | smell: 3 | taste: 3 | feel: 3 | overall: 3
Bottle: Poured a medium brown and hazy color ale with a small foamy head with minimal retention. Aroma of light buckwheat malt is interesting but maybe a bit weak. Taste is also dominated by some dry buckwheat malt with some very subtle spices. No yeast characteristic or spice presence produce an average beer.
311 characters
3.72
/5
rDev
+3.3%
look: 3.5 | smell: 4 | taste: 4 | feel: 3.5 | overall: 3
341 ml brown bottle. Labled as a strong Belgian buckwheat beer (Bière Belge au Sarrazin, Bière forte). From the layer of yeast at the bottom I deduce that it is bottle conditioned.
A- Dark amber/light brown with red-orange highlights. Very cloudy. Nice looking moderat sized orange-tinged head. Geed effervescence.
S- Malt (with some caramel coming through), grain, some citrus. Bit of yeast.
T- Strong buckwheat grain flavour. Faint citrus fruit notes. Alcohol noticeable but not excessive. Yeatiness to it. Some bitter-burnt flavours in the finish.Pleasant and slightly different flavour that I enjoyed.
MF- Refreshing without being thin. Good overall. Carbonation a bit high.
D0 OK but not exceptional. Interesting flavour, but not something I'd take in large quantities or very often.
805 characters
3.19
/5
rDev
-11.4%
look: 2.5 | smell: 3.5 | taste: 3.5 | feel: 3 | overall: 2.5
Pours out a cloudy brown with a decent sized, foamy off-white head that doesn't go away.
Smell of buckwheat, malt, yeast, maybe a slight citrus.
Tastes of buckwheat, slight malts, yeast, a slight unidentifiable spice tinge to it at the end. No real hops taste to speak of.
Medium to heavy body, well carbonated, maybe a little too much.
Overall, not a bad beer, but not something I'd be looking to drink often. The smell and taste are a bit unexpected, and frankly, just not something I'd want to drink much of, but something I'm glad I tried, and something I would encourage others to try.
594 characters
3.61
/5
rDev
+0.3%
look: 3 | smell: 4.5 | taste: 3.5 | feel: 3.5 | overall: 3
bouteille brune de 341ml.
présentation plus agréable que les autres produits maître-brasseur.
couleur brune-orangée, pas de mousse, très trouble. nez caractéristique du sarrazin, goût prononcé, très long, sarrazin, beurre d'arachide, pas très raffiné mais définitif.
280 characters
3.35
/5
rDev
-6.9%
look: 3.5 | smell: 3.5 | taste: 3.5 | feel: 3 | overall: 3
Pours a cloudy brown with a yellowish head with some floaties which I'll say is from a careless pour. Head is thick and rocky. Nose is fruity with some herbal notes, chalky earth, citrus. Flavour is buttery with spicy/herbal notes and a significant acidity. Hints of apple and pear, and light caramel and an odd graininess which I guess is buckwheat. Astringent, moderately heavy body. Drinkable, but not a go-to brew.
418 characters
La Garce from AMB - Maître Brasseur
Beer rating:
3.6
out of
5
with
8
ratings