La Scottish
| AMB - Maître Brasseur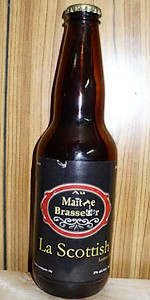 BEER INFO
Brewed by:
AMB - Maître Brasseur
Quebec
,
Canada
Style:
Scottish Ale
Alcohol by volume (ABV):
5.00%
Availability:
Year-round
Notes / Commercial Description:
No notes at this time.
Added by rodenbach99 on 11-29-2007
This beer is retired; no longer brewed.
Ratings: 10 | Reviews: 9
Reviews by ReFill31:
2.19
/5
rDev
-25%
look: 3.5 | smell: 2 | taste: 2 | feel: 3 | overall: 2
341ml bottled poured into a Au Maître Brasseur glass.
A : Golden brown color, looks pale for a scotch ale. The head goes off fast after the pour.
S : To be honest, I had difficulty smelling anything at all from this beer. I had to concentrate myself really hard to distinct something that wasn't that particular.
T : Same as smell. Doesn't taste much, but the aftertaste is bitter (not in a good way) and I did not like it at all.
M : Pretty watery
D : I had difficulty finishing it and I was not able to take another one.
Overall, it is pretty disapointing, and I think it does not fit the type at all...
615 characters
More User Reviews:
3.75
/5
rDev
+28.4%
look: 4 | smell: 4 | taste: 3.5 | feel: 3.5 | overall: 4
Bottle from Quebec trip. Not as bad as I thought, perhaps aided by ageing for a few months. Pours dark brown with amazing cloud of a head, that lasted! A little roasted aroma. Creamy mouthfeel, some grinded beer. some smoked malt taste. Good drinkability.
255 characters
3.4
/5
rDev
+16.4%
look: 3.5 | smell: 3.5 | taste: 3.5 | feel: 2.5 | overall: 3.5
Bottle: Poured a clear deep brown color ale with a medium size foamy head with limited retention and no lacing. Aroma of light caramel malt with some dry hops. Taste is a mix between some light caramel malt with a light dry hoppy finish. Body is definitely too light with some medium to low carbonation. Not too bad overall but maybe a tad too dry.
348 characters

3.13
/5
rDev
+7.2%
look: 3.5 | smell: 3 | taste: 3 | feel: 3 | overall: 3.5
Color is dark caramel with a light veil. The head looks like soap foam. The aroma is caramel malts with some burnt notes. Not very inviting. On the taste, it is slightly metallic (something I hate very much)... however it fades away and burnt caramel takes place. The finish is all bitter. Not something I'm very fond of... however it is not very bad, just not good... Average beer.
382 characters
3.18
/5
rDev
+8.9%
look: 3.5 | smell: 3 | taste: 3 | feel: 3.5 | overall: 3.5
The color is closer to a red ale then to a scotch ale, not much effervescence and it has a little stoutlike "torrefied malt" taste at the end. Not bad all in all actually, but quite far away from what I expect from a scotch ale. No toffee or caramel taste whatsoever!
267 characters
2.4
/5
rDev
-17.8%
look: 2 | smell: 2 | taste: 2.5 | feel: 2 | overall: 3
Poured a light, slightly translucent red-brown, way to clear for a Scottish Ale. Nice sized foamy off-white head.
Smell of light caramel malts and light, dry hops, but both are fairly faint.
Taste is light malt and a crisp hop finish.
The body is far too light and the carbonation is quite a bit high.
It's still strangely drinkable. Not sure how, but the sum of the parts works out better than any single part comes across. Wouldn't recommend it to someone looking for a Scottish Ale, it's a poor example of the style, but still wouldn't poo-poo it for someone looking for more of a red ale.
596 characters
2.71
/5
rDev
-7.2%
look: 3.5 | smell: 2.5 | taste: 2.5 | feel: 3 | overall: 3
Poured from a bottle into a glass.
A: Dark brown. Thinish white head. Moderate lacing.
S: A little sweet, a little alcohol... something a little funky, too. I'd put it down as a skunked bottle but they've all smelled a bit like this.
T: The funk is actually a bready taste. Carbonation is palatable. Sort of watery, a bit sour, a bit bitter. Not sweet.
M: Carbonation, but not nearly as much as a soda. Thin.
D: Meh, it'll do. Good for a warm day.
This beer is distinctly average. I'm not terribly impressed, although I wish I were. The beer simply needs to be a bit more bold. Au Maitre Brasseur is ambitious; they just need the follow-through, and a good place to start would probably La Scottish.
701 characters
2.12
/5
rDev
-27.4%
look: 4 | smell: 2 | taste: 2 | feel: 2 | overall: 2
bouteille brune de 341ml.
la bière se présente sous un bel enrobage cuivrée, mais ensuite le nez offre des odeurs bizzares de pomme verte, et que dire du goût ? tout aussi bizzare de fruits et de légumes, un peu de malt, vraiment peu agéable comme bière.
264 characters

3.08
/5
rDev
+5.5%
look: 3.5 | smell: 3 | taste: 3 | feel: 3.5 | overall: 3
this is an average beer.for the potential of Pascal's brewery. amber with a tiny head
the smell is not strong so is the taste.
The taste is not what we could expect for that kind of beer.
theres a tiny final of caramel
but there is something not usual about the taste
I,ll give it a chance maybe later
307 characters
La Scottish from AMB - Maître Brasseur
2.92
out of
5
based on
10
ratings.