Belge Ambrée
| AMB - Maître Brasseur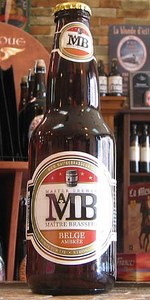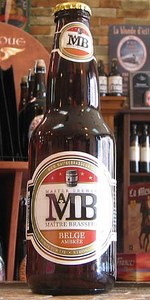 BEER INFO
Brewed by:
AMB - Maître Brasseur
Quebec
,
Canada
Style:
Belgian Strong Pale Ale
Alcohol by volume (ABV):
8.50%
Availability:
Year-round
Notes / Commercial Description:
No notes at this time.
Added by Yoonisaykul on 06-14-2010
This beer is retired; no longer brewed.
HISTOGRAM
Ratings: 9 | Reviews: 5
Reviews by Molson2000:
More User Reviews:

4.02
/5
rDev
+15.5%
look: 4 | smell: 4.5 | taste: 4 | feel: 4 | overall: 3.5
A- Bright rotten orange. Nothing exceptional about this white beigeish head. It's thick and slightly grotesque. Died slowly enough and a 2mm layer as well as an small mound are left. I was pleased by the (is this a weird choice of words?) sufficient and porous lacing.
S- Surprisingly hoppy. A musty caramel malt. Very good.
T- Soft and sweet. IIPA-like with alcohol in the front then pine, mandarin and litchi or some other tropical fruit with an earthy background. Slight vegetation is present and stops this from being delicious. Maybe a bit too sweet (kind of warm now).
M- Very soft, full with low carbonation. Dry but the sweet stickiness gives it a very balanced general feel.
D- Pretty good. Easy to drink because of the good taste and mouthfeel but that damn hop vegetation always turns me off.
Another taste of the new AMB. This is good enough to be a year round brew. Would drink it again. Would recommend it.
EDIT: Had this with a triple crème Jean de Brie which I found tasted a lot like a chèvre log (especially the crust) but creamier. Really brought out the sweetness in the beer without being sickening. Good pairing.
1,145 characters
3.95
/5
rDev
+13.5%
look: 4 | smell: 4 | taste: 4 | feel: 3.5 | overall: 4
Hazy peach coloured body topped with a rocky finger of off-white head. Decent lacing but retention could be improved.
Definite Belgian character on the nose, with lots yeast, light roast, minerals, lemony citrus, candy malt, alcohol and a hint of smoke. Nothing wrong here, smells good. Almost a little like a Unibroue.
Not as complex in the mouth as I hoped but pretty well balanced and flavourful. Moderately roasty malt with balanced candy sweetness, touch of smoke, orange zest. Traces of spice in the background, too light to pick out anything specific. Alcohol is just a bit too noticeable but not really a problem. Seems something like a respectable homebrew clone attempt at Maudite, to make a simplified comparison; along the lines of something like Maudite but rough around the edges.
The finish is a little too drying and carbonation quite a bit too foamy. I'd rather see both toned down but it's really not too bad. I don't usually find overcarbonation in Belgian styles to be quite as distracting as it can be with others. Medium body.
This is definitely one of the top offerings from AMB, really quite a big step above the majority of what I've tried from them. That said, I wouldn't necessarily say that it's one to seek out...though I'd gladly drink another.
1,282 characters

4
/5
rDev
+14.9%
look: 4 | smell: 4 | taste: 4 | feel: 4 | overall: 4
12oz bottle poured into a pint glass
Appearance - The beer pours a murky amber colour with a medium size foamy white head. I can see a lot of carbonation and the bubbles are rising quickly to the top of the glass. There is also some good lacing and the head lasted for a long time. There was also some murky sediment near the bottom of the bottle.
Smell - I can smell lots of malts, hops, and caramel. There is also some citrus notes.
Taste & Mouth - The beer has a nice mouth feel, there is an average amount of carbonation which leaves it feeling both light and velvety at the same time. There is lot of sweet malt taste at first followed by citrus and then a bitter hop finish and after taste. The alcohol is barely noticeable.
Drink - Another nice effort from Master Brewer, definitely worth a try if you happen to see it at the store.
844 characters
3
/5
rDev
-13.8%
look: 3 | smell: 3 | taste: 3 | feel: 3 | overall: 3
Best before November 2011.
Pours a very dark, hazy amber color, closer to what I would expect an IPA to look like, rather than a Belgian SPA. Nice amount of tick white head that leaves a nice amount of sticky lacing on the glass.
Caramel malts are fairly obvious from the nose. A hint of spice.
Alcohol is fairly apparent here, and is one of the first things I noticed. It mellows out a bit as it warms up. Beyond that, there is a caramel malt flavor that is somewhat mellow. Also some light fruity character. Finishes somewhat dry.
Overall, fairly straightforward. Nothing bad, but nothing really standing out or making this memorable.
640 characters

3.83
/5
rDev
+10.1%
look: 4 | smell: 3.5 | taste: 4 | feel: 3.5 | overall: 4
poured. apricot color, hazy, big beige headfoam, lots of laces on the glass. High carbonation
smell: apricot, banana, mild sweet fruit smell
taste: a mix between apricot and alcohol, little bit acid. fruity yeast signature.
mouthfeel: very active carbonation, texture is smooth, round. dry with an after-taste of fruit acidity, alcohol at the end.
drinkability: pretty good. it respect the style, stay in the boundaries. its not aggresive
easier the drink than an unibroue, but little bit less personality than a Duvel or so..
530 characters
Belge Ambrée from AMB - Maître Brasseur
Beer rating:
3.48
out of
5
with
9
ratings