Dismiss Notice
Dismiss Notice
Bear Paw Honey Lager
| Whistler Brewing Company
BA SCORE
81
good
15
Reviews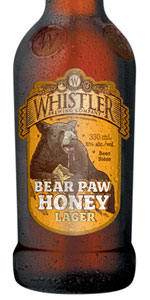 BEER INFO
Brewed by:
Whistler Brewing Company
British Columbia
,
Canada
|
website
Style:
American Adjunct Lager
Alcohol by volume (ABV):
5.00%
Availability:
Year-round
Notes / Commercial Description:
Our honey lager is fresh-brewed and fermented with 100% organic BC honey, so you can actually smell the honey aromas and taste silky smooth honey on the finish. It's a very unique lager experience.
Added by joemcgrath27 on 09-11-2011
Reviews: 15 | Ratings: 66
4.05
/5
rDev
+17.7%
look: 4.25 | smell: 3 | taste: 4.75 | feel: 3.25 | overall: 4.25
Had it on tap at Whistler in Vancouver. Should've written this review earlier as my memory likes to escape me. However, I do remember that the taste was quite good. Enjoyed the very present honey flavors and the smoothness of the beer.
★
235 characters

3.58
/5
rDev
+4.1%
look: 3.75 | smell: 3.75 | taste: 3.5 | feel: 3.5 | overall: 3.5
Bottle.
A: Moderate malt aroma with some honey evident in the finish.
A: Clear Copper color with a white frothy head of micro-bubbles.
T: Moderate malt flavor with a slight sweet floral honey flavor. The beer finishes semi-dry.
M: Med-light bodied with moderate carbonation.
O: The beer balances the honey flavor with out being cloying. The beer could be a little crisper and finish a bit drier, but all in all pretty good.
★
431 characters

3.73
/5
rDev
+8.4%
look: 3.75 | smell: 3.75 | taste: 3.75 | feel: 3.5 | overall: 3.75
Had from the bottle from LCBO West coast taster pack. I actually quite enjoyed this beer. Good appearance, aromas are floral and with a bit of nice honey undertones, pears, and bready malts.
Taste is a bit too sweet and bready to start but lots of the honey and fruity floral notes start to come through and it dries up a little bit toward the finish, toasty bread with honey, still quite malty on the finish, but its clean.
M light, refreshing, a bit sweet and grainy, honey adds some earthy notes, and there is some nice dryness to the finish.
Definitely more flavourful than your average lager, nice balance and honey incorporation, drinks well, just a bit sweet.
★
669 characters
3.27
/5
rDev
-4.9%
look: 3.5 | smell: 3.25 | taste: 3.25 | feel: 3.25 | overall: 3.25
If I was to compare this to other adjunct lagers, it would be world class. The honey gives this beer a nice balance, like adding flavoured sweetener to a shitty cup of coffee. I wouldn't want to drink a lot of this beer, but it would certainly have its place, apres ski in the place it is brewed.
★
296 characters
3.25
/5
rDev
-5.5%
Pours deep amber color. Like maple syrup.
Smells of honey and caramel
Tastes-Strong honey flavor followed by some malts so it's almost like eating honey flavored bread.
Mouthfeel- smooth with a tiny bit of carbonation.
Overall-Decent beer for honey enthusiasts.
★
266 characters

3.55
/5
rDev
+3.2%
Bear Paw Honey has a considerable amber hue meaning either the brewery included more malt than I was ready to give them credit for or they've used a darker, richer style of honey than I was expecting. Either way, this is a positive start; despite regrettable memories of Whistler's Premium Export Lager, I'm surprisingly optimistic about this offering.
My sudden enthusiasm may be unfounded after all; there's nothing in this aroma to support either of my immediate assumptions. It smells neither significantly malty nor like they splurged on anything too expensive or fancy from the local BC farmer's market. In fairness, I would likely also complain were it notably overt either way - too bready or too sweet - so let's just move on...
In fact, having had a few sips, the honey flavour is appropriately balanced in my opinion - and it's considerably rich too. While I was initially quick to dismiss the honey's dimension as merely superficial - all too ready to liken it more to Billy Bee than any of the local, unpasteurized offerings currently in my pantry - there is, all considered, quite a developed honey flavour.
By "all considered" what I mean is that there's also a fair amount of malt to contend with. Most of the fruity or floral or earthy nuances the honey itself might offer are severely muted by a toasted, grainy, itself somewhat sweet maltiness. Which may be just as well: I've drunk beers that have used honey and taste simply, solely like honey - it's no good.
If you've followed the flip-flopping of my review this far it should be apparent that I'm of mixed feelings about Whistler's Bear Paw Honey Lager. One the one hand, it doesn't offer me, personally, much excitement to grasp onto; on the other, it may be among the best Canadian honey beers I've tried (certainly better than BC's other: Grizzly Paw's Grumpy Bear Honey Wheat). Maybe it's best to buy a bottle (or several) and see for yourself where you stand.
★
1,951 characters

3.55
/5
rDev
+3.2%
355 ml bottle for about $ 2.25 CDN. Part of the BC craft brewers sampler pack. Served cold into a Keith's pint glass.
Appearance - the beer poured a clear honey brown color capped by a finger go white head which dissipated quickly. Minimal lacing and little activity from the bubbles.
Smell- significant amount of honey, maybe a dash of caramel but not a lot else. Aroma is fairly strong, so some points for that.
Taste - a nice honey drizzle over some fresh baking kind of hits the tongue first before fading. That's tasty enough but there's nothing to replace it or counterbalance thee sweetness. Just a very faint bitterness to cap it all off. Definitely a tasty beer, hardto sense the adjuncts due to the big honey presence. Adjuncts do become more noticeable as the beer warms.
Mouthfeel - light bodied, sprightly carbonation but on the whole it's a little thin feeling.
Overall - any criticisms her are fairly minor, this is a very tasty lager, more of a red or amber lager than an adjunct one, that you can't really tell due to the generous but appropriate use of honey. Certainly much better than most other adjunct lagers out there and even most craft adjunct lagers. I could see myself picking this up again.
★
1,224 characters
3.59
/5
rDev
+4.4%
look: 3.75 | smell: 3.5 | taste: 3.5 | feel: 3.75 | overall: 3.75
330 mL bottle, part of this year's BC Craft Brewers Guild sampler (which is now available at the LCBO); bottled March 20 2014. There was a time (early on) in my beer-drinking career where I was a big fan of honey lagers - including staples like Sleeman's Honey Brown and even Lakeport's shoddy substitute. It'll be nice to revisit my roots. Served well-chilled.
Pours an attractive, clear amber colour, topped with just over one finger's worth of soapy, off-white froth. It seeps away steadily over the next few minutes, leaving behind a thin film and narrow collar. The aroma is very sweet - honey and red licorice candy come to mind, with notes of caramel and corny cereal grains. For the style, this is well-above average at this point.
A decent honey lager, but still a little too sweet for my tastes. Pale malts, corn grits and caramel complement the marked honey sweetness, which remains fairly dominant into the aftertaste. On the lighter side of medium-bodied, with a creamy mouthfeel accented by the moderate carbonation levels. This is a supremely drinkable lager, although due to its sweet nature I don't know if I'd be able to tolerate it all night. Fans of Sleeman's Honey Lager will have little trouble adjusting to this one.
Final Grade: 3.59, a B grade. Bear Paw Honey Lager is not a stellar beer, but it's drinkable enough and a fair substitute for any mass-produced red lager - e.g. Rickard's or Keith's Red. This is really more of an amber than an adjunct lager, although technically speaking honey *is* an adjunct, so I'll just snip that tangent in the bud right there. One of the best adjunct lagers I've ever had, anyway. I could see myself drinking this once in a while if it were available in ON, but it would depend on the price point.
★
1,765 characters
3.74
/5
rDev
+8.7%
look: 3.5 | smell: 3.75 | taste: 3.75 | feel: 4.25 | overall: 3.5
A- Pours a clear yet robust golden honey color, and there is a good bit of big bubbly carbonation throughout the liquid. The head is a mixture of bristly large bubbles and smooth dense foam....the head looks really unsettled as it dissipates into a somewhat thick-ish layer. The lacing is interesting....watery yet oily looking, and not a whole lot of foam clings to the glass.
S- Very much of honey....this is by far the dominant aroma going on here. Other than this it doesn't offer much else to the nasal cavity....clean grainy smells, modest malt and perhaps some corn/rice. It is a sweet smelling lager, of course due to the honeyed quality but is very reminiscent of a lager aroma wise anyways...
T- More of the same happening here, with a very dominant honey flavor....now this isn't a bad thing...Whistler does a very good job of making this the primary character of the beer, there just isn't much else to talk about here. It's cleanly flavored, and the finish does have a modest bitter taste that helps to balance out the palate for the next taste.
M- This is quite a smooth creamy lager if I do say so! The carbonation is deceiving by looks, as it the bubbles aren't zesty at all on the palate, but provide a complimentary burst of honey flavor. The body isn't full by any means but definitely leans towards medium. Overall this category doesn't disappoint!
O- Overall this is a very decent honey lager that delivers on the primary flavor that they were going for, and I've tried several similar type of beers that don't go as far as this one does. I would buy this again, and think this makes an excellent dessert brew and would do well with a spicy Asian dish to help balance things out.
★
1,704 characters

3.33
/5
rDev
-3.2%
look: 3.5 | smell: 3.5 | taste: 3.25 | feel: 3.25 | overall: 3.25
Whistler has been making a big splash in Alberta with its great looking packaging and fantastic tasting beers. This is among the most popular ones.
It's not everyday that I see an adjunct lager and say that it's well made, but this is such a case. It pours a brilliant brown colour with a relatively quickly dissipating head. There's a good hit of honey in the aroma, as well as malt and a little corn.
The taste is really pleasant - you notice the honey in the beer very suddenly and you experience a little bit of corny aftertaste, but it's not really unpleasant at all. However, it is really one dimensional, as all I can make out is sweetness from this beer. That's not to say it's bad, but it isn't very exciting either. The feel is smooth and you have a nice hit of carbonation in your throat.
To the average beer drinker, they likely won't notice the adjunct taste. More experienced drinkers will likely pick it up. However, unless you're so adamantly against drinking anything with adjuncts in it, you likely won't be put off by it. Not bad, but but not very outstanding. Still, it is tasty enough for me to recommend it.
★
1,133 characters

3.81
/5
rDev
+10.8%
look: 4 | smell: 3.5 | taste: 4 | feel: 3.75 | overall: 3.75
This beer pours a clear golden brown with a moderate head that dissipates quite quickly. You can pick up the scent of honey, and other than that, it smells like, well, lager. I taste mainly the honey, but it's not overly sweet. A bit malty. Medium bodied, not overly carbonated. This is a very pleasant, easy drinking beer that I can easily see becoming a summer favourite.
★
373 characters
3.38
/5
rDev
-1.7%
look: 3.5 | smell: 3 | taste: 3.5 | feel: 3.5 | overall: 3.5
An enjoyable honey lager with a nice copper colour. An easy sipper and enjoyable on a nice summer day. Very subtle hints of honey but blends in well. Enoyable but not overly exciting. The price is right for the quality and is a good representation of the type.
★
260 characters
3.43
/5
rDev
-0.3%
look: 3.5 | smell: 3 | taste: 3.5 | feel: 4 | overall: 3.5
Appearance- Pours a clear light copper colour with a finger width of foamy head. Moderate bubbles are present.
Smell- Sweet aromas of honey, caramel, and a hint of orange zest.
Taste- Mild sweetness of the honey comes through along with malts. Slight hint of brown rice.
Mouthfeel- Light to medium bodied with a light carbonation. A surprising silky smoothness.
Overall- An easy drinking lager by Whistler. Very mild flavours but the sweet honey taste and smooth texture makes this quite enjoyable. I see this as a summer refresher. Could use a little work around the edges but still worth a try.
★
601 characters
2.91
/5
rDev
-15.4%
look: 3.5 | smell: 2.5 | taste: 3 | feel: 3 | overall: 3
330ml bottle. I don't see how this isn't just the normal honey lager all gussied up in mountain lore imagery, but, with apologies to David Coverdale, here I go again.
This beer pours a clear, bright medium copper amber hue, with two pudgy fingers of puffy, thinly foamy, and fizzy off-white head, which disappears slowly and surely before my eyes, leaving some weird Simpson-esque amoebic lace around the glass.
It smells of sweet bready pale malt, a touch of corny grain, and mildly mollifying bland and musty honey, with not a lot going on hop-wise. The taste is bready, of the generally corn-oriented sort, much-lessened earthy honey, a mild dose of weedy, somewhat herbal hops, and a niggling sour tang that does its best Princess and the Pea number on me.
The carbonation is rather sedate, just a wan frothiness throughout, the body medium-light in weight, and arguably smooth, though a slight cloying tingle becomes increasingly hard to ignore. It finishes off-dry, the aforementioned graininess and plain as the day is long honey still running this particular sideshow.
Nothing renamed, nothing gained, I suppose. Another average, run of the mill honey beer - the Canadian beer-scape is littered with such middling fare. Good for only when an apres-ski hook-up invariably depends upon its, erm, 'lubricating' presence. And for that, I salute it.
★
1,358 characters
3.05
/5
rDev
-11.3%
look: 3 | smell: 3 | taste: 3 | feel: 3.5 | overall: 3
A - crystal clear rich copper, finger of head dissipated to a few random islands
S - clear adjunct aroma, mild sweetness with faint hop aromas
T - sugary sweet syrup flavour dominates and tastes fairly artificial, some light molasses maltiness with corn like adjunct
M - medium body with an initial sticky sweet feel, drys out nicely leaving some honey sweetness on the teeth
O - its a good enough honey brew but nothing that makes it stand out from the crowd, I wouldn't turn it down at the pub but it wouldn't be my first choice
★
534 characters
Bear Paw Honey Lager from Whistler Brewing Company
81
out of
100
based on
15
ratings.