Dismiss Notice
Dismiss Notice
Cheakamus Chai-Maple Ale
| Whistler Brewing Company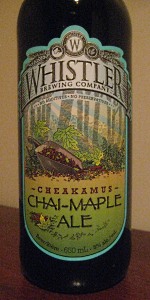 BEER INFO
Brewed by:
Whistler Brewing Company
British Columbia
,
Canada
|
website
Style:
Herbed / Spiced Beer
Alcohol by volume (ABV):
5.00%
Availability:
Spring
Notes / Commercial Description:
A mild ale with all the freshness of maple syrup – and a little bit of springtime spice for good measure. This dark bronze ale is made with real maple syrup, added right to the mash. Then, a trace of chai tea is added during the filtration process. The result is a highly complex, mildly spicy palette structure. One taste, and a simple truth is clear: complexity can be a very beautiful thing.
Added by canucklehead on 04-29-2012
Reviews: 7 | Ratings: 24

4.08
/5
rDev
+5.2%
look: 4.25 | smell: 4.25 | taste: 4 | feel: 4 | overall: 4
Let me lead this off by stating that I am not the biggest fan of chai. Pours a beautiful light brown with red highlights. Great head with good retention and lacing. Aroma is chai and maple which is surprising since maple syrup was added in the mash and should mostly ferment out. Theres a lot to sort out in the taste. Upfront is the chai, followed by some maple and toffee flavor but its certainly not cloyingly sweet. A mild woody hop presence lingers to the finish although a touch of sweetness still remains. The beer is relatively light, and a moderately light carbonation which is probably good as it allows the maple, chai, and other flavors to shine. It's an interesting beer - worth trying once just because you haven't had anything like it.
★
758 characters
4.97
/5
rDev
+28.1%
look: 4.5 | smell: 5 | taste: 5 | feel: 5 | overall: 5
A good, dark-looking ale with deep flavour. Indescribably delicious, and touted by liquor store employees when brought to the counter for purchasing, at least in my local store!
★
177 characters
3.87
/5
rDev
-0.3%
look: 4 | smell: 3.75 | taste: 4 | feel: 3.75 | overall: 3.75
Appearance- Pours a dark nut brown with two fingers of creamy beige head.
Smell- maple syrup, vanilla, nut aroma, cinnamon. Any other chai spices are subdued.
Taste- Prominent flavours of maple syrup, vanilla, nuts with some support from chai spices (cinnamon and cardamom predominantly). Hint of biscuity malts.
Mouthfeel- Medium bodied with moderate carbonation.
Overall- Finally...a beer with maple syrup that you can actually taste. The flavour profile for the "chai inspired ale" is quite good. It would be nice to get more of the aromas of the chai spices.
★
567 characters
3.75
/5
rDev
-3.4%
look: 4 | smell: 4 | taste: 3.75 | feel: 3.5 | overall: 3.5
650ml bottle, apparently only available at Co-op liquor stores in Alberta. Whistler's employment of the word 'palette' in the back label's marketing blurb is done in such a way that I can't quite discern if it is being used correctly, or not. Boo.
This beer pours a clear, I think, very dark reddish amber hue, with three fingers of puffy, thickly foamy, and somewhat creamy beige head, which leaves a bit of spectral wave splash lace around the glass as it rapidly and evenly recedes.
It smells pretty strongly of raw maple syrup and musty, spiced tea (so, 'chai', then) up front, followed closely by a bready caramel malt, and a bit of earthy, bittersweet cola. The taste is much more laid-back, with the semi-sweet breadiness leading the lot, the dry chai tea lagging a touch, and the maple going to ground, getting all native in its wooden, sappy manifestation.
The carbonation is fairly mild, exhibiting but a weak frothiness throughout, the body just on the short side of medium weight, and a little thin in its overall smoothness. It finishes mostly dry, the spiced, savoury tea notes edging out the waning maple for guest ingredient honours.
A tasty enough dark spiced ale, the additional flavours melding well with the sturdy base malt, even if they're a tad inconsistent themselves. The relatively fast fading maple is a mild disappointment - were that the finish mirrored the aroma in that respect. Good to try, but kind of dull by the time the second pour out of this bomber comes around.
★
1,504 characters

4.22
/5
rDev
+8.8%
look: 4 | smell: 4.5 | taste: 4.25 | feel: 4 | overall: 4
650ml bottle, paid $5.75 + deposit, at BC Liquor Store at 8th and Cambie, Vancouver.
Appearance: very dark brown, deep red when held to the light, with about an inch of tan head.
Smell: maple candy, bread, chai. The maple is dominant and the chai is more subtle. Delicious, like French toast made with a sweet spiced bread.
Taste: I figured this might be too sweet, but that wasn't at all the case. Just a hint of maple sweetness, mild bitterness, then the chai finish.
Would I try it again? I liked it, but maybe not so much for this summer. The only reason I can think of for this to be a spring seasonal is that the maple harvest is around March. This beer seems more appropriate for fall or winter, but actually, it's good enough that I'd drink it at any time of year.
★
777 characters
3.6
/5
rDev
-7.2%
look: 4 | smell: 4 | taste: 3.5 | feel: 3 | overall: 3.5
When I first heard about this beer, I was so super excited, I couldn't wait for it to come out in bottles so that I could bring some home and try it for myself.
Appearance - I poured it out into my glass, and the color was pretty great. Very dark brown with dark red hues, and a good inch of light brown head that lingered for a couple minutes.
Smell - At first all I got was bread. Then I could smell the chai. I was hopeful. After that second whiff, all I got was maple.
Taste - I liked it quite a lot for the first 10-15 minutes before it started to get warm. I felt that it tasted far more maple-y than chai, though. As it started to get warmer, it kind of became a sort of cloyingly sweet taste...the kind that gums up all the spit in your mouth and makes it hard to swallow. I finished it off, but it got less and less enjoyable as time went on.
Mouthfeel - I expected this beer to have a bit more body than it did. Overall, it was pretty light. Alright for a warm-ish spring day though.
Overall, I felt that this beer would have been better classed as a light maple ale, and felt it would have been better suited to early fall than to spring. Unfortunately, I probably won't buy this beer again.
★
1,208 characters

3.62
/5
rDev
-6.7%
look: 3.5 | smell: 4 | taste: 3.5 | feel: 3.5 | overall: 3.5
Nice flavours of the maple and the chai that don't dominate the beer or have too sweet a finish. Could have a thicker mouthfeel but all in all a good beer that steps outside the normal taste range. Seems that Whistler is trying to do something different with their seasonals.
★
275 characters
Cheakamus Chai-Maple Ale from Whistler Brewing Company
-
out of
100
based on
7
ratings.