Sigtuna East Coast IPA (Summer IPA)

Sigtuna Brygghus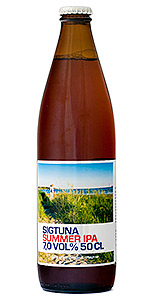 Write a Review
Beer Geek Stats:
| Print Shelf Talker
Style:

ABV:

7%

Score:

Avg:

3.69

| pDev: 8.13%

Reviews:

10

Ratings:

From:

Avail:

Summer

Wants

Gots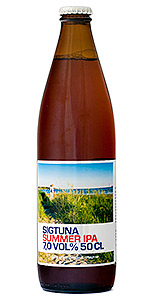 Notes: A West Coast IPA brewed on the Swedish East Cost with hops from both the West (USA) and the East (New Zealand).

Introduced in May 2011 as "Summer IPA". Reintroduced in March 2012 as "East Coast IPA".
Reviews: 10 | Ratings: 15
4.04
/5
rDev
+9.5%
look: 3.5 | smell: 4.5 | taste: 4 | feel: 3.5 | overall: 4
Testing this beer well-chilled from a bottle poured into a tulip glass.
A: A very clear and dark-yellow/light-brown colored beer, when poured into the glass a small foamy and light head is created that shrinks fast and disappears quickly. Twirling the glass creates a new foamy head that also shrinks fast.
S: Very fresh and bitter, exactly what you want to smell from an IPA. The ABV is 7% but the smell i very low on alcohol-notes, the bitter hops are all over the place giving you those sweet notes of nectar and apricot you find sometimes in really hoppy beers. There are some sweet tones from malt as well in the back.
T: Just as the smell tells you, there are a lot of hops put to work here giving you that very bitter and fresh taste. Contrary to the smell that leans towards that sweet apricot/nectar type, the taste is very bitter and no sweet tones to be found. The downside is that little metallic aftertaste you can find.
M: What you can tell from the appearance of this beer, there is not much carbonation going on in this beer. The bitter hops creates a nice mouthfeel, but just as the taste, there's a downside in that metallic aftertaste hanging around.
O: I like this "west coast IPA", now brewed on the east coast in Sweden. Real hoppy stuff going on here with great smell. The downside i find in this beer is the the low carbonation (which i can find nice to start with in an IPA) and the little metallic aftertaste that hangs around.
1,458 characters
3.94
/5
rDev
+6.8%
look: 3 | smell: 4 | taste: 4 | feel: 4 | overall: 4
A: Pours dark copper into the glass. The head is one finger high before it slowly disappears leaving lacings on the glass. I Can hardly see any carbonation in the liquid.
S: Very bitter and hoppy. A lot of dried citrus, dadles, fresh crispbread and some ale yeast. Smells like dried flowers with some hints of alcohol.
T: Starts with dark malts and hints of dry cocoa. Butter and fresh crispbread. Then a lot of orange and mild grapefruit follows. Pine of course. And aprocots. Very bitter but still a lot of oranges at the end.
M: The carbonation is medium to strong. Rather small bubbles that tickles the tongue. It feels a bit oily but in a good way.
O: A very well balanced American IPA which does its job well. I really like the orange and apricots flavors.
767 characters

3.7
/5
rDev
+0.3%
look: 4 | smell: 4 | taste: 4 | feel: 2 | overall: 3.5
Fills my pint glass with an amber almost copper in color, foamy bubbles in a 1/2 cm head sitting on top. It's a fast dying head though, leaving scarce lacing clutching to the side.
S This one sails pass my nose in a light and fruity manner, making me dream of mangos, pineapple and bubble gum. Some soft and gentle hoppy undertones.
T Introduces itself as a malty and caramel sweet beer with flowery and piney flavors. There's also a surypy sap like taste noticeable. Flavoring hops make an entrance in the middle somewhere only to disappear and make way for a sweet and clean finish.
M Light to medium body with ridiculously little carbonation. Enters and leaves very fast.
I'm a big hop and IPA fan and this brew really made my day (or evening rather). A fairly uncomplex IPA (some would say too simple), with a very gulpable blend of caramel sweetness and light stingy hop flavors. The only thing that put me off a bit is the mouthfeel which leaves a lot more to ask for. Perhaps it's my batch of this beer but it lacked almost completely of carbonation, a crucial thing in a hoppy IPA. A great loner beer but I could see food pairings ranging from hearty vegetarian oven baked dishes to a spicy sausage or steak.
1,228 characters
3.65
/5
rDev
-1.1%
look: 4 | smell: 4 | taste: 3.5 | feel: 3.5 | overall: 3.5
500 ml bottle, from Ølkonsortiet, Aalborg. ABV is 7.0%. Amber colour, moderate white (or slightly off-white) head. Lovely aroma of US and NZ hops, notes of tropical fruits and pine, also hints of toffee. The flavour is medium sweet, with distinct hops throughout, notes of grapefruit and pine, very sharp and bitter finish, some dust and metal in the aftertaste.
363 characters
3.8
/5
rDev
+3%
look: 4 | smell: 4 | taste: 3.5 | feel: 4 | overall: 4
Sigtuna Summer IPA, ABV: 7.0%.
500 ml bottle, 31.50 SEK at Systembolaget.
A: The colour of the liquid is golden to orange-like. The head is off-white and gives nice leavings in the glass.
S: A fresh, fruity, hoppy aroma with notes of lemon, tropical fruits (like peach and pineapple), juniper, bread, butter and hints of honey.
T: Bitter hops, grass, flowers, apricots, lemon, pineapple, rye bread and honey.
M: A rather refreshing feel with large bitterness, medium body, noticeable carbonation and a dry aftertaste of grains and hops. A bit sharp, but really drinkable.
O: This is a nice, drinkable, hoppy beer for one of the last Swedish summer evenings on the balcony. Despite the ABV it isn't very heavy. It's also my first Sigtuna beer, and they're off to a good start.
780 characters

3.12
/5
rDev
-15.4%
look: 2.5 | smell: 3 | taste: 3.5 | feel: 3.5 | overall: 2.5
Brown glass nottle served into a Westvleteren goblet in Stockholm, Sweden, at me friend's gaff. Reviewed live.
A: Half finger head of nice cream, fair thickness, and abysmal retention - but then again the ABV is fairly high and I served it in a goblet. Colour is a semitransparent copper-amber (more amber).
Sm: Lots of bright summer fruit ester hops help overcome the rough bittering hops. The bittering hops are still rampant, which turns me off (I usually hate this style for that reason). The scent is mild in strength. I suppose objectively it's appealing.
T: The bright fruit esters actually join with the restrained bittering hops nicely. The summer descriptor really shines through here. I can see the type of refreshing beer they're going for, and it works. There's no cream at all, but also no noticeable alcohol. The bittering hops are limited to the third act, and seem to actually serve a function. Usually I hate IPAs because the bittering hops are present all the way through, dominating the beer for no particular reason. Here, they work with the mouthfeel to encourage the next sip.
Mf: Smooth and wet, at least until the climax, whereupon the bittering hops entre in and coarsen things up. I like this structure because it has a purpose.
Dr: Fairly high ABV, pretty good quality, fairly refreshing, and of high price. I don't like the bittering hops (as always), but they're better handled than most beers in the style. It's certainly worth a go for fans of the style, but stout lovers like meself should stay on our side of the fence.
1,563 characters

3.96
/5
rDev
+7.3%
look: 4.5 | smell: 3.5 | taste: 4 | feel: 4.5 | overall: 4
A: Pour is copper with a tall beige thick head that slowly dissipates into great lacings.
S: Lots of hops, both bitter and floral - citric notes. There is faint smell from sweet malt.
T: Sweet bready malt, caramell with lots of floral hops; red berries and lemon as well as orange sezt. After a little while the bitter hops kick in.
M: Medium body and the carbonation is the same. Aftertaste is long and mostly bitter but also sweet (an almost strawberries/raspberries blend).
O: Not too shabby. A bit unbalanced but still very nice.
538 characters
3.94
/5
rDev
+6.8%
look: 3 | smell: 4 | taste: 4 | feel: 4 | overall: 4
The colour is gold with a tint of red (18 EBC), the liquid clear. The two finger off-white head sinks quickly leaving no lacing.
The smell is very bitter and hoppy. Apricots, citric fruits, cream and (just a slight touch of) butter. Lots of sweet bread and some alcohol. Hints of leather, dried flowers and Peach Melba candy.
The taste is sweet and smoothed, but not as bitter as I had expected. Digestive biscuits, apricots, lemons, limes, tangerines and rose hips and pine. Sweet caramel notes, some cookies and a hint of leather. Medium body. The aftertaste is hoppy and a bit dry-bitter with notes of apricot jam, dried apples and cream candy. The finish is hoppy and dry.
The carbonation is medium strong; the medium sized bubbles are fresh. The liquid is a bit dry.
A fresh American IPA that does what it is supposed to.
834 characters
3.72
/5
rDev
+0.8%
look: 3.5 | smell: 4 | taste: 3.5 | feel: 3.5 | overall: 4
The beer is clear amber, small bubbles, an off-white head that settles slowly, leaving good lacing and some curtains.
The smell is mostly citric, oranges, bitter oranges, red grape-fruit, some grass, wood area.
The taste starts with toffee, some brown bread, then quickly to the bitter register, grapefruit peel, lemon zest, cherry seeds.
Medium carbonation, but rather lively and foamy bubbles, a somewhat coarse dry finish.
Not bad at all, the taste less citric than expected from the smell, and that you can have different views on. But a good mix of hops anyway. The alcohol was well covered as well.
608 characters
3.13
/5
rDev
-15.2%
look: 4.5 | smell: 4 | taste: 2.5 | feel: 3 | overall: 3
Poured from 50cl bottle into a mug.
Bottle says best before 01.16.2012
Really a beautiful beer - poured a dark caramel color with a nice head.
Smelled nicely of pineneedly hops and also some metallic hops.
First sip was overwhelming bitterness, but the caramel-y malts were even shining through on that first sip. Unfortunately the aftertaste was all bitter. Bitter like I ate soap and the taste will not leave.
The bitterness in the sipping evened out after few sips and let the malts and sweetness shine through more, but the bitterness in the aftertaste continued to kill any previous enjoyment.
The mouthfeel was fine - not a ton of carbonation but also not too thin.
While I am quite sensitive to bitter taste, I adore hops and heavily hopped beer. Unfortunately this was a case of too much. Which is really a shame because if they could have lessened the bitter back bite of this beer, I would have rated it very highly. I can't even detect any subtleties in the hops because it is all bitter. =-(
Maybe others who are less sensitive to bitterness will really love this beer. I'm interested to read other's opinions.
1,132 characters
Sigtuna East Coast IPA (Summer IPA) from Sigtuna Brygghus
Beer rating:
85
out of
100
with
15
ratings