Nutty Uncle Peanut Butter Stout

Dead Frog Brewing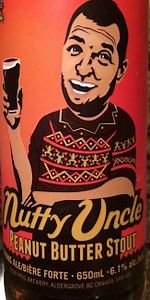 Write a Review
Beer Geek Stats:
| Print Shelf Talker
Style:

ABV:

6.1%

Score:

Avg:

3.84

| pDev:

9.9%

Reviews:

11

Ratings:

From:

Avail:

Winter

Wants

Gots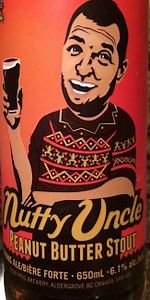 Notes: A creamy milk stout brewed with 6 premium malts , roasted cocoa beans and peanut butter.
Flavours of roasted chocolate and coffee make way for smooth hints of peanut butter and a slightly sweet finish

Hops-east kent goldings , willamette
Malts-pale ale , cara 60 , cara 120 , white wheat , chocolate , black , roast barley , flaked oats
IBU-24
3.38
/5
rDev
-12%
look: 4 | smell: 3.5 | taste: 3.5 | feel: 3 | overall: 3
Pours so dark that almost no light filters through, very dark creamy looking head that dissipates rather quickly. Sweet chocolate notes with a slight hint of peanut butter. Taste is intriguing, coffee and dark chocolate with slight peanut butter notes. Somewhat creamy, but not that much.
288 characters

3.62
/5
rDev
-5.7%
look: 3.75 | smell: 3.5 | taste: 3.5 | feel: 4 | overall: 3.75
Really smooth creamy texture, the peanut butter taste comes across while your drinking it but it is not overbearing at all, and the aftertaste is a mild cocoa flavor. Good beer to start with for sure.
200 characters

3.35
/5
rDev
-12.8%
look: 3 | smell: 3.5 | taste: 3.5 | feel: 2.75 | overall: 3.25
Serving Type: 650 mL Bottle
L- Pours jet black with very little transparency. 1/4 Finger tan head with poor retention. No lacing.
S- Very nutty along with deep, roasted malt. Sweet chocolate.
T- As the name implies, Peanut Butter is very prominent in the taste. Very creamy, Reese-like peanut butter. In addition to the Peanut Butter, roasted malts make an appearance in the form of a semi-sweet chocolate taste. Slight hoppiness on the finish but not enough to really make an impact.
F- Medium Bodied for sure but lacking any substantial character due to an very low carbonation level (maybe my bottle is flat?).
O- I'm not sure whether this was an "off-batch" or what but this beer was lacking quite a bit other than a pretty good aroma and taste. I have my doubts that it's an old bottle due to it being a seasonal brew. I will keep an eye out for another bottle and update this review if the other bottle is different but as it stands, this brew is just okay. Go ahead and grab it if you want the unique experience of a "Peanut Butter Stout".
1,058 characters
4.31
/5
rDev
+12.2%
look: 4 | smell: 4.25 | taste: 4.5 | feel: 4 | overall: 4.25
L: Dark brown almost black with a small brown head that when dissipates leaves almost no head and nothing for lacing down the side.
S: Chocolate and very nutty, reminds me of a Reese peanut butter cup, which im assuming is what they where going for depicting the label.
T: Chocolate right off the front, then it becomes a little more nutty, with a fair amount of creamyness to it which gives it that almost peanut butter feel to it, with a slight bitterness but almost no hop profile. defiantly does remind me of a Reese Peanut Butter cup.
F: Full moth feel, and flavor lasts for a while before it dissapears.
O: A pretty good beer, my friend raved for this so i drove across the city to buy 2 but i wouldn't say its anything special.
739 characters
4.17
/5
rDev
+8.6%
look: 3.75 | smell: 4.25 | taste: 4.25 | feel: 3.75 | overall: 4.25
This is delicious. Just so, so good. Pours almost ink black with a cappuccino head that recedes but leaves some loose lacing. Smells *just* like its namesake, chocolate, chocolate malt, peanuts, peanut butter. Faint coffee and a nice milky creaminess. Taste follows through much the same, albeit dry enough to remind you you're still imbibing a beer--some nice roasty, malty flavours. Balanced carbonation and surprisingly light body.
This is a winner. An absolute gem of a beer.
480 characters

4.16
/5
rDev
+8.3%
look: 3.75 | smell: 4 | taste: 4.25 | feel: 4.25 | overall: 4.25
6.1% abv, 24 ibu, 650ml bottle.
A - opaque black with thin brown head. lacing head.
S - peanut butter & chocolate, no doubt, come front. liquorice, brown sugar, hint of coffee, cream. dried date as it gets warmer.
T - oh my! such creamy mouthful, decent carbonation. tastes like reese, really peanut butter. nutty, sweetness lingering. roasted nut favors, such as pistachio, cashew. not bitter.
O - wow, this is such creamy deliciousness, more than expected! tried couple of dead frog's brews, always not disappointing! unquestionable reese-y taste stout, well blended. enjoy the nutty favor. will get it again!
611 characters
4.59
/5
rDev
+19.5%
look: 4 | smell: 4.25 | taste: 5 | feel: 4.75 | overall: 4.25
A- This has a super darkened caramel colored head that is about two fingers thick to start and it is fizzy, but it settles nicely into a cloud like top over the liquid...very puffy and nice! The beer itself is black....heavy and black in color....lacing is modest at best with very small clumps of protein sticking to my glass, before slipping back into the beer!
S- Deep roasted malts, and super nutty....peanuts in particular that are covered in very dark chocolate....this is spooky dark in aromatic character! There are hints of Reese peanut butter cup, dry oat tones, sweet lactose and dark roasted mocha. Awesome....none of it is overwhelming either!
T- This is splendid on the palate! Initial heavy peanut butter, which smooths out after a few tastes....creamy dark chocolate Reese PB cup, and the finish is of the wafer portion of a Coffee Crisp bar due to the Lactose! Fresh, deep roasted peanuts and perhaps cashew even in terms of the nutty aspect....the finish is chocolate and coffee....just great flavors!
M/O- Full creamy body that is borderline chewy! The carbonation is velvety smooth on the palate and this makes a push for one of, if not the best dessert-y milk stout I've had to date! I would be most happy to enjoy this after dinner in lieu of cake or cookies etc....this has it all! The alcohol is well hidden and I could probably enjoy two of these in a sitting....worthy of the 2015 Gold Medal it received and I look forward to getting this again if given the chance!
1,503 characters
4.03
/5
rDev
+4.9%
look: 4 | smell: 4 | taste: 4 | feel: 4.25 | overall: 4
650ml bottle - I was (sort of) waiting for the first new ugly Christmas sweater label of the season to show up, and it's finally here. Oh, and for some reason, my brain wants to call this Uncle Nutter Butter Stout.
This beer pours a solid black, with rather bare basal cola edges, and two chubby fingers of puffy, finely foamy, and somewhat creamy brown head, which leaves a bit of ragged cloudy lace around the glass as it gently sinks out of sight.
It smells like chunky peanut butter, bittersweet chocolate, subdued grainy, and lightly toasted caramel malt, and very little else - so, bang on, then! The taste is bready, kind of grainy caramel malt, a bit of free-range roastiness, mushed and kind of sugary peanuts (ok, 'peanut butter'), a more subtle dark cocoa powder thing, untethered lactose, bland dark fruity notes, and maybe a hint of not so kid-friendly boozy-booze.
The carbonation is quite low-key in its generally plain frothiness, the body a decent medium-heavy weight, and actually (if not really all that surprisingly) smooth, with an attendant creaminess (natch). It finishes off-dry, the cocoa and caramel malt holding their own, with the creamed peanut thing keeping 'er between the ditches, vis-a-vis the moderately elevated ABV.
Overall, a splendidly rendered (I asked a local brewer if you can even add peanut butter to the brewing process, and his answer was 'well, you CAN...') stout brewed with the titular non-standard ingredient. Yeah, I'm impressed, I was expecting a whole lot less, and Dead Frog up and wowed me, so mea culpa. Anyways, if you like the idea of peanut butter in your already sturdy milk stout, take this weird-ass uncle for a spin.
1,687 characters
4.15
/5
rDev
+8.1%
look: 4 | smell: 4.5 | taste: 4 | feel: 4.25 | overall: 4
Sampled from 22oz bottle.
A — Pours a deep dark brown out of the bottle into the glass. There's a nice tan colored head on it that leaves behind some nice lacing.
S — Smells quite roasted and slightly sweet, lots of cocoa, coffee, little bit of a nutty undertone, really not sweet overall like I expected.
T — Tastes of fresh cocoa and bitter coffee, some sweet peanut butter character as well.
M — Medium bodied beer, lingering finish.
O — Very good overall, I expected this to be much sweeter, this is great.
529 characters
3.99
/5
rDev
+3.9%
look: 3.75 | smell: 4 | taste: 4 | feel: 4 | overall: 4
A - Pours pitch black with a thin layer of mocha head, little retention and no lacing.
S - Dark cocoa, sweet burnt chocolate, and toasted peanuts.
T - It is actually reminiscent of a peanut butter cup with sweet milk chocolate notes, toasted peanuts, burnt cocoa and sugary sweetness lingering.
M - Medium bodied, smooth and a touch of dryness.
O - Unique and certainly a flavor profile that will appeal to a select few. I'm definitely one of the few, and I thoroughly enjoyed this offering.
493 characters
3.74
/5
rDev
-2.6%
look: 4 | smell: 3.75 | taste: 3.75 | feel: 3.5 | overall: 3.75
Dead Frog Brewery 'Nutty Uncle Peanut Butter Stout' @ 6.1% , served from a 650 ml bottle purchased for $5.50 , digging the label (looks like a Reese peanut butter cup)
A-pour is a dark cola brown from the bottle to a near black in the glass with a small beige/tan head leaving a spotty lace film along the pint after every sip
S-sweet cocoa
T-creamy smooth chocolate start , peanut butter lingers on the palate & it isn't the Xmas cookies
MF-seems to have a lots of carbonation , big medium body
Ov-ok beer , not as good as I hoped
prost LampertLand
551 characters
Nutty Uncle Peanut Butter Stout from Dead Frog Brewing
Beer rating:
87
out of
100
with
33
ratings