Toasted Coconut Wit

Dead Frog Brewing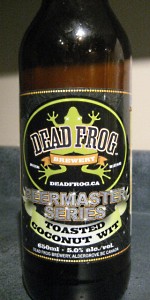 Write a Review
Beer Geek Stats:
| Print Shelf Talker
Style:

ABV:

5%

Score:

Avg:

3.66

| pDev:

5.19%

Reviews:

9

Ratings:

From:

Avail:

Summer

Wants

Gots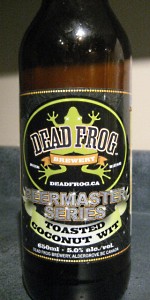 Notes: A traditionally unfiltered, fresh, lightly spiced wheat ale infused with coconut toasted to perfection in the oven of the Island Goddess.

5 IBU
3.37
/5
rDev
-7.9%
look: 3 | smell: 3.5 | taste: 3.5 | feel: 2.5 | overall: 3.5
650ml bottle. No dating.
Quote from the bottle: " We bestow upon you the finest beer in the universe!" Thanks. good to know.
A: hazy like unfiltered apple juice. Head disappates quickly.
S:apple juice, grapefruit, touch of coriander, clove. No coconut as far as I can tell.
T: full,lots of body and flavour but nothing jumps out. Lacks crispness or twang. can't detect any coconut. Wish it was crisper and more fresh. Maybe needs more carbonation...Long lasting flavour. Some bitterness in the finish.
M: very full but I wanted more zip from a wit.
O: a nice beer but I really don't get any toasted coconut in the nose or taste. Maybe drinkers aren't supposed to. Maybe Dead Frog is just capitalizing on the coconut water fad.
727 characters
3.46
/5
rDev
-5.5%
look: 4 | smell: 3 | taste: 3.5 | feel: 4 | overall: 3.5
Props to my bro for this treat...
A - Pours a hazy pale straw colour, finger of head with solid retention and some sporadic lacing.
S - Mild on the nose but sweet lemon rind dominates, touch of clove and a wheaty finish.
T - Mild flavored, the lemon rind and wheat flavors dominate, the coconut is tough to decipher, and I certainly wouldn't be able to point it out otherwise. I do like the citrus presence though.
M - Medium bodied, smooth and a touch of dryness.
O - A tasty wit, refreshing, but mild. I enjoyed how the citrus complemented the wit, but it could certainly use some oomph! The coconut could've been a clever marketing ploy for all I know, because it was terribly difficult to detect.
705 characters
3.84
/5
rDev
+4.9%
look: 4 | smell: 5 | taste: 3.5 | feel: 3 | overall: 3.5
I've seen this in the store for a while now and I'm glad I got it before it was discontinued. It is the second Dead Frog Brewery beer I've had (the first being the disappointing Christmas Beeracle). I got a pair of 650 mL bottles (5% alc) on sale for $3 each.
I poured it cold with a white fluffy head. It gradually reduces with lots of lacing. The body is cloudy white or pale-yellow. The aroma has citrus orange, wheat, and a chocolate-vanilla smoothness. That smoothness is betrayed in the taste by a spicyiness (corriander, cloves). There is definitely some coconut in the taste but it is not strong. Oddly enough, I also taste simple sugar, like from a bubble tea. Maybe I've had too much coconut bubble teas in the past. I find it to be a light wit beer with average-to-high carbonation, and a very good balance of malt and hops.
Overall, I was hoping for more coconut since I love coconut. While I didn't care much for it, I recognize that it is actually an OK witbier. I've had better witbier, though.
1,013 characters

3.57
/5
rDev
-2.5%
look: 3.5 | smell: 4 | taste: 3.5 | feel: 3 | overall: 3.5
Bottle shared by Jason, 650ml into a tulip.
Clear, golden orange with a white head. Mild lacing and light retention. Nose has some spice and a bit of floral/citrus coming through. A bit of witbier yeastiness, generally sweet with perhaps a touch of wheat. Sweet again but drying flavour, coriander and typical wit spicing. Some lemony citrus. Coconut comes through more prominently in the finish. Light but decent consistency, aftertaste is undesirable I thought. An OK wit, but not something I'd revisit.
507 characters
3.83
/5
rDev
+4.6%
look: 4 | smell: 3.5 | taste: 4 | feel: 3.5 | overall: 4
A - a swampy yellow, respectable white head dissipated and retained well at about half a finger
S - gentle fruity and spicy aroma with some nuttiness
T - sour citrus and banana, spices, grainy malt, then a subtle hint of coconut leeks through and adds complexity
M - medium body with a prickly feel throughout, the coconut does add a sense of smoothness to it
O - have to admit that I've been generally disappointed by most of Dead Frog's offerings to date, but this one is a winner with a solid wit beer base with the coconut subtle yet present enough to add some complimentary flavour
586 characters
3.65
/5
rDev
-0.3%
look: 4 | smell: 4 | taste: 3.5 | feel: 3.5 | overall: 3.5
A- Pours a cloudy straw color that for some reason reminds me of pineapple juice. The head isn't exactly what I'd call stellar, being about an inch in thickness, and settling down to a stable looking layer over the brew. There appears to be a fair amount of carbonation permeating to the top and there is a decent amount of lacing that clings to the glass. Decent looking overall I'd say!
S- There is a distinct tropical aroma that enters my nasal cavity, primarily being of the aforementioned tart pineapple, creamy banana and a nuttiness from the toasted coconut. There is also some spice noticeable, consisting of cloves and warm vanilla mainly. The wheat malt is also adding to the liveliness in the smell that I could explain as a blend between pina colada and vanilla ice cream.
T- This is an interesting flavor indeed! I don't necessarily taste the coconut so much, but the spice is much more prominent, and to me, takes on a modest soapy character, due to the more upfront clove taste. There are still hints of vanilla and tropical fruit, but it is drier and more tart than I would have first guessed.
M- It is definitely refreshing and lite bodied, with a fairly large carbonation presence. The flavors are richer than normal for this style and I am reminded of sitting on a beach in the warm tropical sun, so that isn't a bad thing!
O- This is an above average brew, but I wouldn't classify it as anything superb. It's unique and while I have no issues finishing this bottle off, I am good with just one. Maybe this is better with some fresh fruit and/or a dessert with a coconut base. I say give this a try....just not something I can handle in large doses, but then again, I don't go out of my way to eat coconut either...if it's there, so be it!
1,762 characters
3.75
/5
rDev
+2.5%
look: 4 | smell: 4 | taste: 3.5 | feel: 3.5 | overall: 4
22oz bottle, strange time of year to be releasing a wheat ale, but, I'll bite...
This beer pours a cloudy, but still somehow bright pale yellow straw colour, with one emaciated finger of soapy off-white head, which leaves very little in the way of lace around the glass in its wake. It smells of mild, kind of exotic, citrus, pale malt, and a softly toasted earthy character that I guess is the coconut (Malibu Rum, it is thankfully not). The taste is fairly sweet wheat malt, bolstered by further sugary vanilla and lightly roasted coconut notes, decent, but subtle spicy coriander, muted citrus, and an earthy dryness. The carbonation is moderate, a bit zippy at times, the body medium-light, but steady, and agreeably smooth. It finishes off-dry, the sweetness of the wheat and lingering earthy spice more evident than anything in the toasted or coconut vein.
A decent wheat ale, the singed coconut adding an interesting extra angle to this normally plain-ish style. Surprisingly refreshing, and not as out of season as I first inferred. Now, about this Island Goddess, she with the oven? What up?
1,102 characters

3.77
/5
rDev
+3%
look: 3.5 | smell: 4 | taste: 3.5 | feel: 4 | overall: 4
A: Hazy, very pale straw, white head, thin ring of retention, light lace.
S: Initial hit of tropical fruit (pineapple & banana), grapefruit rind, very light spicing, a little toast, but I don't really get any coconut.
T: Vanilla, pineapple, coconut, hints of coriander. The toasting & the wheat gives it a shredded wheat cereal flavour. Very dry, with a hint of tartness.
M: Light body has a dry, crisp finish.
D/O: A nice summer thirst quencher.
450 characters
3.8
/5
rDev
+3.8%
look: 3.5 | smell: 3.5 | taste: 4 | feel: 3.5 | overall: 4
Interesting take on a wit. You usually find coconut in porters and stouts, not something you'd expect in a wheat beer.
Very, very pale gold with a light haziness to it. Tight, creamy white head.
Assorted citrus scent, mild malts and a light, sweet toasty coconut scent. Light spice.
Maltier taste, you can detect the coconut, but it hides playfully in the citrus and light coriander spice. Smooth, dry-sweet finish.
Nice, light carbonation. Pleasant aftertaste. A nice take on a wit, not quite true to the style, but the toasted coconut does add a certain something to it that works.
595 characters
Toasted Coconut Wit from Dead Frog Brewing
Beer rating:
82
out of
100
with
13
ratings