Red Sky Ale
| St. Stan's Brewing Co.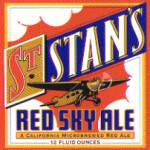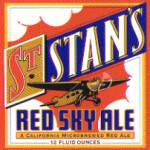 BEER INFO
Brewed by:
St. Stan's Brewing Co.
California
,
United States
ststans.com
Style:
American Amber / Red Ale
Alcohol by volume (ABV):
not listed
Availability:
Year-round
Notes / Commercial Description:
No notes at this time.
Added by Gusler on 02-11-1998
This beer is retired; no longer brewed.
HISTOGRAM
Ratings: 13 | Reviews: 8
Reviews by BeerAdvocate:
3.55
/5
rDev
+9.6%
look: 3.5 | smell: 3.5 | taste: 3.5 | feel: 4 | overall: 3.5
Presentation: 12 oz. brown bottle with a prop plane zipping along a red label. Proudly, "A California Microbrewed Red Ale" proclaims itself at the bottom with the ingredients (wheat malt, barley malt, hops, yeast and water) on the side.
Appearance: Light hues of red and brown, giving rise to a smooth tan head.
Smell: A noseful of fresh malted grains.
Taste: Sharp hop flavours ride on a light champagne style carbonation, followed by a nice mouth feel and smooth malt body. An interesting buttery driness coats the mouth.
Notes: Nice head retention and balance of malt to counter balance the hops.
611 characters
More User Reviews:


3.01
/5
rDev
-7.1%
look: 3.5 | smell: 2.5 | taste: 3 | feel: 3 | overall: 3.5
A very drinkable red. Color is reddish peach. Pepper and citrus are both in here. Light for the style. Nice aroma. A little bit of a pale aleish bite at the end. Then nothing, which i guess is good. Reminds me of Carolina Blonde or a lighter Marzen. Drinkable but not an overwhelming beer by any means...try it if you find it.
326 characters
3
/5
rDev
-7.4%
look: 3 | smell: 3 | taste: 3 | feel: 3 | overall: 3
The beer pours a vaporous red-orange color, the head is mediocre in size, frothy in consistency and the color an off white, lace is a nice sealing sheet. Nose is sweetly malt, almost like cotton candy, fresh and clean with the start quite sweet and malt laden, top is middling in feel to the palate. Finish is biting in is acidity, the hops are purposeful in their spicy bite, dry and somewhat bitter and long lasting aftertaste. A drinkable beer, but nothing special.
468 characters

2.09
/5
rDev
-35.5%
look: 3.5 | smell: 2 | taste: 2 | feel: 3 | overall: 1.5
Crystal clear light garnet hue. Topped by a thin, spotty cream white head that manages roughly textured lace. Orange citrus along with vegetal DMS and wafts of dishsoap dominate the aroma, with a secondary contrast of non descript, sugary caramel. Not at all appetizing aromawise. Burnt biscuit sweetness initially in flavor is superceded by an astringent combination of catty, quinine like hop bitterness and obtrusive, grainy must. Cleans slightly as it breathes, but remains both barbed and musty throughout. Hints of wood and citrus comprise the hop flavor, but are far too understated for saving grace. Crisp, but softly dextrinous mouthfeel is a vestige of what was (but probably never was) a decent beer. Finishes with hints of old, damp citrus pith and soap. Wow. This really sucks. It's just a maltier version of their atrocious amber. Very difficult to finish. This isn't an old bottle either.
903 characters

3.28
/5
rDev
+1.2%
look: 4 | smell: 3.5 | taste: 3 | feel: 3 | overall: 3.5
Appearance: pours a reddish-orange color with a one finger head that slowly falls to a thick surface foam. Some light lacing develops.
Smell: sweetness of caramel candy and overripe fruits are detectable by the nose.
Taste: caramel, plums, red grapes, bits of lemon zest, and a touch of grapefruit provides some citric bite. Nice bitterness mellows out the overly sweet malt profile.
Mouthfeel: very crisp at the start, less prickly and a touch dry at the finish. Medium bodied beer. Aftertaste is very short.
Drinkability: so-so amber ale that is a touch too sweet and too crisp for my likes.
598 characters
4.1
/5
rDev
+26.5%
look: 4 | smell: 4 | taste: 4 | feel: 4 | overall: 4.5
Red Sky Ale –on tap at Heros/St. Stans. Poured in a standard pint, the beer is a hazy, opaque rusty red with an off-white head.
Nice citrus and malt nose. It is very fresh and inviting.
The taste is pleasantly bitter with lots of grapefruit and caramel malts. Well balanced with a bit of toasted bagel and a hint of pepper.
The mouth is sturdy with great low levels of carbonation. This is one easy drinking session beer.
Perhaps they have tweaked the recipe?
472 characters
3.65
/5
rDev
+12.7%
look: 4 | smell: 4 | taste: 3.5 | feel: 3.5 | overall: 3.5
It has a light red hue to it and light head. Initial aroma of hops, then slight malt smell. Lighter beer for a amber/red ale.
127 characters
3.3
/5
rDev
+1.9%
look: 3 | smell: 3 | taste: 3.5 | feel: 3 | overall: 3.5
Reddish brown color. Small head. Aroma is fruity and sweet. A medium bodied amber. Slightly caramelized malts. Slightly hoppy, some malt sweetness. Good balance. Mouthfeel is full and round. Finish is clean. Aftertaste is slightly bitter, some sweetness.
254 characters

4.7
/5
rDev
+45.1%
look: 4.5 | smell: 4.5 | taste: 5 | feel: 4.5 | overall: 4.5
I am not sure why this is listed as "retired" because this is still being brewed and I just had it on tap a little while ago.
Deep copper red, slightly cloudy with a nice, creamy off-white head very slowly shrinking to a foamy ring and a few wisps of lace.
Aroma is rich, toasty-caramelly barley and bread crust, leafy-citrusy hops, caramelized orange and pineapple. It is very nice, not overly strong but full-bodied with some nice complexity.
Taste is very nice, very toasty from start to finish, citrusy, fruity, and caramelly, with a hint of cherry and balanced bitterness and sweetness. It is mellow, but firm, with excellent balance and interplay of the various elements, good complexity, and very clean, with nice firm feel, zesty and lively. It is excellent and exceedingly drinkable, being mellow and smooth yet interesting and full-bodied, an excellent balance of elements.
886 characters
Red Sky Ale from St. Stan's Brewing Co.
Beer rating:
3.24
out of
5
with
13
ratings