King's Pontiac Porter
| King Brewing Company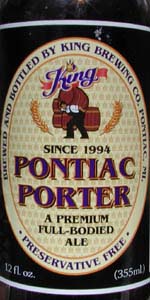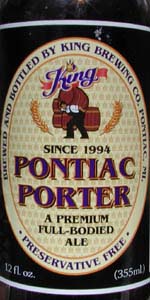 BEER INFO
Brewed by:
King Brewing Company
Michigan
,
United States
kingbrewing.info
Style:
American Porter
Alcohol by volume (ABV):
5.80%
Availability:
Year-round
Notes / Commercial Description:
No notes at this time.
Added by proc on 04-03-2004
This beer is retired; no longer brewed.
HISTOGRAM
Ratings: 13 | Reviews: 13
Reviews by proc:

4.67
/5
rDev
+21.3%
look: 4 | smell: 4.5 | taste: 5 | feel: 4.5 | overall: 4.5
This is an outstanding Porter.
Pours out to a black color in the glass with a decent sized head. Aroma is that of roasted malt. The taste is absolutely fantastic and puts itself amongst the best porters I have ever tasted, on par with Great Lakes' Edmund Fitzgerald, which is a heady compliment. Roasted malt gives way to a creamy and slightly hoppy aftertaste. The balance is near perfect, but the intensity of the roasted malt brings the flavor out in a remarkable way.
An excellent porter.
498 characters
More User Reviews:
2.96
/5
rDev
-23.1%
look: 2 | smell: 3.5 | taste: 3 | feel: 2 | overall: 3
Originally reviewed on December 31, 2005. 12 Oz Bottle. Pitch brown black pour, with a thin greasy head of fast fading tan. Aroma of smoky chocolate, honey and brown sugar. Flavor is a sugary and watery diluted caramel, light coffee and hint of hersheys. Caramel and toffee show through stronger in the back end. Overall, highly unimpressive. Palate is watery and salty.
370 characters
2.7
/5
rDev
-29.9%
look: 3.5 | smell: 3.5 | taste: 2.5 | feel: 2.5 | overall: 2
Poured from a 12oz bottle into a La Chouffe tulip.
A: Dark black with a tiny brown head and no lace. Noticed how thin it looked upon pouring.
S: Decent enough aromas of burnt malt, roasted coffee, and chocolate.
T: If the taste had followed the smell we'd be in business. Unfortunately I'm greeted upfront by the flavor of bitter cough syrup. Some mild flavors of toasted malt and hops make a weak appearance towards the finish, but, too little-too late.
M: Thin, watery, and too bitter. Not very enjoyable.
D: Yikes, not so much.
545 characters
4.1
/5
rDev
+6.5%
look: 4 | smell: 4 | taste: 4 | feel: 4 | overall: 4.5
12oz bottle obtained via trade with CRJMellor. Thanks for the opportunity.
Poured into an imperial pint glass, formed a dense 3" brown head over the oh-so-dark brown brew. Head fades nice and slow, with sporadic bits of delicate lacing. Aroma is roasty coffee with a tad of underlying sweetness. Flavor shows balance between coffee bitterness and chocolate sweetness, with the bitter winning in the aftertaste. Mouthfeel is a bit thin, which is the way a porter probably should be anyways, with very easy drinkability. Seems I've been on a streak lately with nice porters.
575 characters
4.52
/5
rDev
+17.4%
look: 4.5 | smell: 5 | taste: 4.5 | feel: 4.5 | overall: 4
I saw this beer at a local beer store and decided to give it a chance (gotta support your state right!) Well I am shocked not to have heard more about this brewery. This was a thourougly impressive beer. The pour left a dark, dark black color with a lightly tan medium sized head. It might have been darker than the average porter should be but that's the way I like it. Upon opening the aroma attacks me. Roasted espresso smell turns into burning matches then a smoky cigar. Ah, it's great when you can get a beer with an amazing aroma! The taste is strong on the roasted coffee flavor but it's also very smoky in body. The mouthfeel is creamy and smooth with a big, bold body. The finish has a bittersweet maltiness to it. Probably the best non baltic porter I have had to date. Damn I need to get me some more now!
817 characters
4.3
/5
rDev
+11.7%
look: 4 | smell: 4 | taste: 4.5 | feel: 4 | overall: 4.5
Sometime in your life you're going to be sitting around a campfire with a pale-faced girl who has hot embers in her heart and you'll be drinking something made of woodsmoke and lightly burnt caramel and the lot next to your campsite will be occupied with the drinkers of Coors Light and you're going to be all smug thinking that you are drinking something akin to woodsmoke and lightly burnt caramel and your nemesis loud-mouth neighbors in campsite 17 will be swigging Coors Light listening to Rob Zombie from their pickup truck cabin and burning the insides of your brain with primordial vibrations that say this is not the time to be part of their folly and folly it is that you are at the lip of the hard coals tipping into this steaming coalpot of dark wood and smoke and nature is with you and the cherubs are singing and Shostakovich swirls in the firepits while the crickets all crouch low and play their song in quiet contemplation of having never existed
964 characters
3.58
/5
rDev
-7%
look: 4 | smell: 3.5 | taste: 3.5 | feel: 4 | overall: 3.5
This beer is very dark brown with a fine thick brown head. It leaves sheets of foam on the sides of the glass.
There is a slight aroma of coffee.
Quite sweet with tastes of carmel and coffee. Not very strong.
Smooth, medium-full bodied. Slightly warming.
I like a little more taste in porters. It was easy drinking but I didn't really savor it.
356 characters
3.7
/5
rDev
-3.9%
look: 4 | smell: 4 | taste: 3.5 | feel: 4 | overall: 3.5
Bottle poured into a tulip glass.
A- 1/2" tan head atop a jet black beer. The head turned to a nice lace that left some decent sticking on the glass.
S- Roasted coffee and chocolate. More of a milk chocolate than the bitter dark often picked up in the style.
T- More of the chocolate and coffee hinted in the aroma. Initially a bit muted. It was slightly stronger as the beer warmed, but not much.
M- Light carbonation and very solid feel. There's a slight tingle in the finish.
D- O.K. drinkability. While I'd drink this one again, it's just missing something to make me want to search it out.
599 characters
4.14
/5
rDev
+7.5%
look: 3.5 | smell: 4.5 | taste: 4 | feel: 3.5 | overall: 4.5
Undated 12oz poured into a pint glass.
Black with a 1cm head that is medium tan and turns into a thin veil surrounded by a foam ring. Doesn't seem to stick to the glass very well.
Roasted malts, coffee, and some suggestion of bitter hops make up the nose. Smells very clean and balanced.
The roasted notes make up most of the taste. They are upfront and then give way to the same coffee flavors that were found in the nose. The finish is somewhat hoppy with some carbonation tingle on the tip of my tongue.
I found the mouthfeel a bit weak, but this is quite drinkable. A solid porter, but not as complex as Bell's Porter or Edmund Fitzgerald.
655 characters
4.35
/5
rDev
+13%
look: 4.5 | smell: 4.5 | taste: 4 | feel: 4 | overall: 5
A very solid porter.
I saw this at Sicilano's this weekend, and decided to try a bottle. I like porters, and this one does not disapoint.
Very dark, slight ruby tint, not opaque though. Nice fluffy head, rings are left on my glass.
Aroma of weak coffee, very low hop aroma.
Taste is nice, similar to smell, slightly thin in my book though. I like my porters a tad bit chewier.
I could probably drink this all night. I really, really enjoy this beer.
465 characters

4.13
/5
rDev
+7.3%
look: 4.5 | smell: 4 | taste: 4 | feel: 4 | overall: 4.5
Dark fudge brown color with very thin slivers of amber near the bottom and edges, finger high crumbled oatmealy tan head, skimpers down to a thin haze mostly present and moderate strings of lace sticking.
Smell is hmmm... I'm getting some soft baked cookie dough sweetness, a bit oaty, and a grazing of barley flakes, chocolate drizzlings over very slight roast make up the rest. I'll go with this - freshly soft baked chocolate chip oatmeal cookie dipped in weak roasted coffee. Although the roast doesn't seem to be coffee toned all that much.
Taste is smooth and unhindered with oaty sweet roastyness. Quite mild on the buds with a floating barrage delicately placing amounts of smokened roast over slight cocoa, milk-creamed mocha, and sweet oats.
Feel is quite smooth and creamy slick, nice oaty sweetening, bold but not brash, firm medium body, mild roast qualities and a subtle airy dryness along the back end make for a super easy drinker. This was gone in no time. This seemed to be more of a oatmeal stout or milk stout then anything, but good non-the-less. A big thanks extends across the U.P. of Michigan to trbeer for this one!
1,150 characters
3.53
/5
rDev
-8.3%
look: 4.5 | smell: 4 | taste: 3 | feel: 3 | overall: 4
From the bottle. poured a dark brown witha light tan head that didn't last long. aroma coffee, roasted malts, chocolate. flavor, kind of disappointing I was hoping that the flavor was going to be as robust as the aroma but it wasn't. got the coffee, and malts and a nice dryness. this wasn't to bad of a beer but I wish the flavor was just a little bit stronger. it was a easy drinking beer could be a good beer to just throw down a few.
440 characters
3.42
/5
rDev
-11.2%
look: 3 | smell: 3.5 | taste: 3.5 | feel: 3 | overall: 3.5
Muddy walnut brown with reddish gold trim. A barely audible 'pffft' on crown cracking was followed by the creation of a light brown head that was barely one finger in height. Before very long at all, I could see beer from a bird's eye view. Needless to say, there's no lace.
Given a lack of aerosolization, I didn't expect much from the nose. Surprisingly, it's decent. Roasted malt is uppermost, with bittersweet chocolate slightly more prominent than black coffee. Hops are absent; never a mortal sin in a porter.
Pontiac Porter might be pretty good beer if it was 'full-bodied', as it so proudly claims on the label. With more malt, the (potentially) wonderful roastiness of the flavor profile would be richer and more long lasting in the mouth.
Unsweetened coffee, with a hint of vanilla, shares center stage with a 'chocolate wafer dusted with cocoa powder' flavor that, again, needs to have more oomph behind it to truly impress. I like the bitterness, but still don't appreciate much hop flavor. Minimal sourness is definitely a good thing.
Porters don't need to be as big as stouts, but they need to be bigger than this. A scarcity of bubbles doesn't help. Things firm up a little over time, which the only thing keeping the mouthfeel score from falling below average.
After three of their offerings, I have yet to be impressed with King Brewing Company beer. Pontiac Porter could be good if it contained more ingredients. Especially malt. These guys have a long way to go if they hope to compete with Bell's, Founders, New Holland, etc.
1,550 characters
King's Pontiac Porter from King Brewing Company
Beer rating:
3.85
out of
5
with
13
ratings