Old Guardian Barley Wine Style Ale (2000)
| Stone Brewing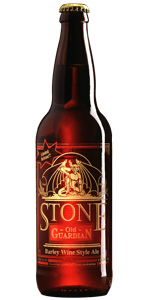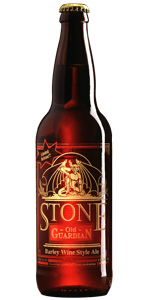 BEER INFO
Brewed by:
Stone Brewing
California
,
United States
stonebrewing.com
Style:
American Barleywine
Alcohol by volume (ABV):
9.44%
Availability:
Limited (brewed once)
Notes / Commercial Description:
No notes at this time.
Added by RBorsato on 11-17-2003
This beer is retired; no longer brewed.
HISTOGRAM
Ratings: 10 | Reviews: 8
Reviews by avylover:
4.03
/5
rDev
-6.5%
look: 4.5 | smell: 4 | taste: 4 | feel: 4 | overall: 4
Pours out a deep golden with a smalish white head. Clear beer. Aroma begins with a sweet caramel malt, almost smelling like a dessert beer, then the hops back it up to remind you this is beer. Taste starts with a good malty backbone , then lets some bitttering hops take over to balance things out. The flavor is made up mostly by the caramel maltiness, but great hop bitterness makes this one drinkmable barleywine, as far as barleywines go.
Good full mouthfeel, yet not too overpowering. Would be more drinkable, but as a hophead the malt is a bit much
555 characters
More User Reviews:
4.42
/5
rDev
+2.6%
look: 4 | smell: 4.5 | taste: 4.5 | feel: 4 | overall: 4.5
Oh my goodness, down to just 4 Stone Old Guardian 2000 Release in my cellar, maybe I should buy two cases at a time?
The beer pours an Iron Oxide color that is somewhat hazy and the head smallish in size and the texture frothy with the color a light tan, as it evaporates rather quickly the lace forms a velum like sheet upon the glass. Nose reeks of sweet malt and fusel alcohol, start is sweet and rich with the top moderate in its feel to the palate. Finish is mild in its carbonation and the hops benign in their spiciness, the aftertaste dry and sweet with an alcohol bitter ending, still good.
602 characters

4.05
/5
rDev
-6%
look: 4 | smell: 4 | taste: 4 | feel: 4.5 | overall: 4
Tarnished copper color with a low tan head and low carbonation. Bitter hop aroma -- sprucey and piney -- with a low alcohol nose. Big malty and hoppy character; good balance with a tinge of alcohol. Full bodied and smooth with a strong malty alcohol and bitter finish.
Ages well !
Label States: 9.443% ABV, 2nd year made, and only 360 cases produced.
Bottle: Early Spring '00 Release
Tasted: 11/14/03
($5.99 and $7.99 / 22 oz.)
440 characters
4.29
/5
rDev
-0.5%
look: 3.5 | smell: 4.5 | taste: 4.5 | feel: 4 | overall: 4
Sampled on draft during the Barleywine Festival at Lucky Baldwin's in Pasadena on Thursday 21st April, 2005 and shared with fellow BA Erica.
Appearance: Dark chestnut coppery body, minimal off-white head that leaves a cream colored halo around the small Chimay goblet. Average conditioning but the carbonation is a tad lazy.
Nose: Classic malty barleywine nose with some hints of aged mustiness in the high alcohol. Polished oak-wood waxy nose with only a hint of the sharp aggressive hops that once ruled this brew. Retains a powerful presence in the nasal department.
Taste: Like a plastered brick wall, the rough crevassed surfaces have all been evened out by the great leveler, time. The sweet malts remain, only softened by the alcoholic marination that they have experienced over the last 5 years or so. The hop profile is low key, yet the once aggressive fresh hops still hold some spicy sway in the court of this 2000 Old Guardian. The alcohol is mature, as is the overall taste of this great Barleywine. Gorgeous.
Mouthfeel: The deburred edges make for a smooth feel, the Old Guardian has retired and become Senior Citizen Guardian and it's not as lively as it was. A few wrinkles here and there but like and Old Boxer it can still probably whip yer ass.
Drinkability: Mature and smooth the OG2000 had lost most of its aggressive qualities and had softened somewhat, lending an appealing Drinkability to a brew that will probably creep upon you.
Overall: Nicely aged and this Aged Guardian is most certainly a wonder, but I am not sure it will get any better with more time to be honest.
1,616 characters
3.24
/5
rDev
-24.8%
look: 3 | smell: 3.25 | taste: 3.25 | feel: 3.25 | overall: 3.25
Bottle pour at the Protest Bottle Share For LA Beer Week held at Red Carpet Wine in Glendale, CA.
Pours a hazy dark orange with a foamy beige head that fades to nothing. No lacing on the drink down. Smell is of malt, cardboard, honey, citrus, and caramel aromas. Taste is much the same with citrus zest, caramel, and cardboard flavors on the finish. There is a mild amount of hop bitterness on the palate with each sip. This beer has a lower level of carbonation with a slightly crisp and medium bodied mouthfeel. Overall, this is an above average beer that is definitely showing signs of oxidation but still has a noticeable hop presence.
640 characters
4.97
/5
rDev
+15.3%
look: 4.5 | smell: 5 | taste: 5 | feel: 5 | overall: 5
A- Thin tan head (poured kind of hard too). Cloudy amber brown body. Can see through it just a bit. Leaves a light bubley collar and bits of lacing sticks to side of the glass. A bit of lacing is also in the middle.
S- Big alcohol with strong malt. Hops kind of hiding in the back along with some fruits. Light cherry maybe? with a few other things. Hops are grassy and maybe a bit citrusy too. Sweet caramel nose.
T- Caramel with lots of sugar on it first comes to mind. Alcohol is there also. A nice soothing warming on tongue and back of throat from it too. Really sweet like a candy caramel sweet. A light bitterness is also in there to help balance it out a bit. The bitterness lingers into the aftertaste too along with some fruits and malty sweetness too. There is also another taste that I really can't put my finger on. As it warms up a bit the malts do come through even more.
M- So smooth! Almost oily but leaves a little tingle from the carbonation. Medium to full body.
D- This is truly amazing. So smooth and sweet and just a very well balanced blended together complex beer. I really wish I had more of these.
1,132 characters

4.42
/5
rDev
+2.6%
look: 4 | smell: 4.5 | taste: 4.5 | feel: 4 | overall: 4.5
Poured dark ruby with hints of chestnut, hazy, with an off-white, dense head.
Outstanding aromatics.
Dark rum-steeped pineapples, peaches, pears, grapefruit, tangerines, cherries, atop a juicy malt frappe.
Nose finishes slightly sweet and warming.
Medium bodied and slightly chewy, a slight crispness counteracts the juice.
Pallet starts out large and tropical.
Caramel coated fruits doused with spirits and bits of hard candy.
A smooth bitterness carries the lush flavors onward.
As the brew warms, grapefruit, apricots, plums, tangerine, and marmalade step forward.
Finishes slowly, appetizing, and smooth.
Five years old and worth the wait..
654 characters
3.88
/5
rDev
-10%
look: 4 | smell: 3.5 | taste: 4 | feel: 4 | overall: 4
Old Guardian was a copper/amber color with a small light coffee-colored head. The aroma was sweet and floral with traces of alcohol. The taste was citrusy (orange peels) and caramelly with an assertive presence of alcohol. The finish was bittersweet and citrusy. It had a good hop bite and it was a tad oily. I found this to be a fairly strong beer, both taste and aroma were far from subtle although overall it tended to be a bit mellow (perhaps the influence of the alcohol). It was relaxing to drink with Chinese food.
521 characters
Old Guardian Barley Wine Style Ale (2000) from Stone Brewing
Beer rating:
4.31
out of
5
with
10
ratings