Old Guardian BELGO Barleywine - Red Wine Barrel Aged
| Stone Brewing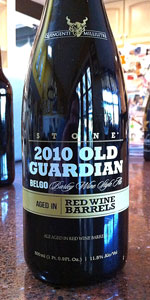 BEER INFO
Brewed by:
Stone Brewing
California
,
United States
stonebrewing.com
Style:
American Barleywine
Alcohol by volume (ABV):
11.50%
Availability:
Limited (brewed once)
Notes / Commercial Description:
No notes at this time.
Added by axeman9182 on 11-22-2011
This beer is retired; no longer brewed.
Reviews: 7 | Ratings: 15

3.68
/5
rDev
+4.8%
look: 4 | smell: 3.5 | taste: 3.5 | feel: 4 | overall: 4
Pours a dark amber color with a thin off-white head. Smells highly vinous, so at least there's some barrel contribution (unlike the bourbon variants). Heavy on the fruit notes, especially grape, and a little bit of berry jam sweetness. Some caramel and sugar sweetness as well. The flavor seems almost a little funky. Lots and lots of wine flavor with a slight tannic feel to it. Quite sweet, too. Toffee, caramel, and brown sugar are all plentiful.
451 characters

3.35
/5
rDev
-4.6%
look: 3 | smell: 3 | taste: 3.5 | feel: 3.5 | overall: 3.5
My problem with these beers is that you couldn't really tell them apart, I'm assuming at this point that the barrels they used were so neutral that they were basically oak aged.
Beer is dark amber iwth an off white small head of small bubbles.
Aroma is oaky, sweet, malty. Eh...
Beer is medium in body and sweet withi this mild oaky bitterness and fruitiness in the the late palate, not a repeat.
401 characters

2.57
/5
rDev
-26.8%
look: 4 | smell: 2 | taste: 2.5 | feel: 3.5 | overall: 2.5
Not sure who supplied this abomination, but thanks? Served in a tulip.
A - Quick-dissolving light tan foam settles to some wisps, thin collar, and spotty lace. Lightly hazed amber body.
S - Smells like a strange mix of phenolic Belgian yeast, tart green apple, and dishwater.
T - Taste is mildly better, with some very faint red wine character in the periphery behind the dirty dishwater and phenolic and medicinal flavors. Barrel presence is quite light, but contributes some astringency in the finish.
M - Medium-full body, reasonably well-hidden alcohol, and lower carbonation. Not particularly exciting, but significantly better than the other facets of the beer.
D - This was pretty terrible. The 'regular' barrel-aged Old Guardian variants I had on draft a few years ago had some significant and enjoyable barrel and spirit/wine presence, and even the initial draft version of the Belgo as passable. This is unfortunately just a train wreck of clashing and 'off' flavors.
982 characters

4
/5
rDev
+14%
look: 4 | smell: 4 | taste: 4 | feel: 4 | overall: 4
From 03/30/12 notes. Thanks to whoever shared this one.
a - Pours a hazy brown-orange color with one inch of off white head and low to moderate carbonation evident.
s - Smells of caramel malts, toasted malts, toffee, light sugar, and light dark fruits. The smalled hint of some sweet red wine. Nice, but very similiar to the normal OG.
t - Tastes of caramel malts, apples, sweet fruits, sugar, toffee, and toasted malts. No real wine in the taste.
m - Medium body and low carbonation. Smooth, with a tiny bit of alcohol to it.
o - Overall a nice beer but nothing crazy; it is very, very similiar to the normal OG. Fun to try and a good beer, but wouldn't go crazy looking for it when you can buy a normal OG in your local store.
733 characters

3.03
/5
rDev
-13.7%
look: 3.5 | smell: 3 | taste: 3 | feel: 3 | overall: 3
Bottle at this weekend's Stone tasting. Served in a Stone goblet.
Pours a golden-copper color with a bit of a white head and not much in the way of retention or lacing. The nose has some very faint red wine notes plus some oak lingering about. Not much of the base beer around other than some yeasty spice. A touch of red wine, though not really all that much.
Flavor is equally as boring. There are components left and right, but nothing is really integrated. Like with the bourbon version, this one really lacks cohesion and the barrel and the yeast don't really mix. Not a big fan.
586 characters

4
/5
rDev
+14%
look: 4 | smell: 4 | taste: 4 | feel: 4 | overall: 4
Slightly hazy orange with a small and rapidly fading off white head. The aroma brings barrels, wine, grapes, malt, booze. Nice flavor, with grape skins and wine barrels. Present alcohol, hut not overpowering. Lots of flavor. Malty, fruity, a bit sweet. Good stuff. Complex and well balanced. Would have again.
309 characters
3.87
/5
rDev
+10.3%
look: 3 | smell: 3.5 | taste: 4 | feel: 4.5 | overall: 4
500 mL bottle, thanks to socalbeerlover for proxying for me on this one. It was allowed to warm some before being poured into my Brooklyn Brewery tulip.
Stone's Red Wine Barrel Aged Belgo Barleywine pours a slightly cloudy amber. More lighting prduces lovely red and orange highlights. The coloring really is lovely. The cream colored head never gains much traction in the first place though, let alone has time to display any lacing or head retention. The nose is a bit muted at first. It's almost as if the barrel aging and the belgian yeast cancelled each other out, because at first all I got was citrusy american hops and a warming alcohol aroma. As the beer finishes aproaching room temperature, some red wine fruitiness and cotton candy notes join in and fill things out. The flavor leads off with a fair bit of caramel, before dark fruits and a slight alcohol taste (warming, and not unpleasant) come in next. The close features a light peppery phenolic note as well as some orange and tangerine. I'm just surprised there's not a little bit more bitterness to balance out most of what's going on here, especially given how hoppy most of Stone's beers are. The mouthfeel is fantastic. The body is a little bit drier than the typical barleywine, but that only leaves the beer a bit more drinkable, as there's still a bit of perceived sweetness on the palate. The carbonation is lively enough to help the hoppy flavors join in with everything else going on, yet stops short of being distracting. I had impossibly high hopes for Red Wine Barrel Aged Belgo Guardian, as Belgo Guardian and Red Wine Barrel Aged 07 Vertical Epic are two of my favorite Stone beers, and even if it didn't live to all those expectations, it's still a fairly good beer.
1,753 characters
Old Guardian BELGO Barleywine - Red Wine Barrel Aged from Stone Brewing
3.51
out of
5
based on
15
ratings.