6 Pairs Of Legs Maple Porter
| Dark Horse Brewing Company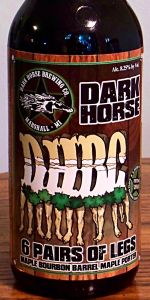 Write a Review

Wants Gots Reviews:

7

| Ratings: American Imperial Porter

| 8.25% ABV

Dark Horse Brewing Company Michigan

,

United Statesdarkhorsebrewery.com

Notes: Rotating availibility. Imperial porter aged in our very own maple syrup barrels.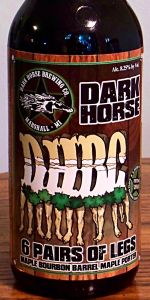 Reviews: 7 | Ratings: 71

4.42
/5
rDev
+9.7%
look: 4.5 | smell: 4.25 | taste: 4.5 | feel: 4.25 | overall: 4.5
2016 vintage, waxed bottle labeled as "maple bourbon barrel aged maple porter". I'm hoping that I'm depositing this review in the right spot...
Poured into an 2016 FO glass. Virtually no head; the little that's there dissipates quickly. Nose is a bit subdued in light of expectations; mostly maple, toffee, vanilla, hints of chocolate, and oak of course. Palate is not subdued at all: tons of maple and maple barrel, butterscotch, toffee, vanilla, and chocolate fudge. I'm also getting some ashtray that oddly complements the beer well. Very rich and a bit heavy-handed, but still very enjoyable. Would have again.
627 characters

4.34
/5
rDev
+7.7%
look: 4 | smell: 4.25 | taste: 4.5 | feel: 4.25 | overall: 4.25
A: Very dark brown with no head
S: Bourbon, sweet maple, vanilla, oak, sweet chocolate, molasses brown sugar, bananas foster, light roast, caramel, flan
T: Sweet maple, balanced bourbon, oak, dark chocolate, fudge, milk chocolate, alcohol, roasty, molasses
M: Medium-heavy mouthfeel with a coating effect
O: Much more maple forward and sweeter than 3 Pairs of Legs. Very rich and a great dessert sipper. 12 oz format yeah!
424 characters
4.4
/5
rDev
+9.2%
look: 4.25 | smell: 4.25 | taste: 4.5 | feel: 4.25 | overall: 4.5
snagged this in a recent swap. always a fan of dark horse and maple bourbon...? sounds good to me. had side by side with the bourbon 3 legs.
maple is big on this one compared to the 3 legs. this is quite fantastic as the 3 legs is too boozy and the maple is more of a hint. although a bit intense, this one is an easy favorite for me.
338 characters

3.99
/5
rDev
-1%
look: 3.75 | smell: 4 | taste: 4 | feel: 4 | overall: 4
It is an shiny/oily black pour from a waxed 12 oz. bottle. A little bit of dark tan foam. Fairly wispy.
It smells very sweet. Lots of maple and vanilla. Some distinct bourbon and ashy, charred oak. A strong chocolate undertone.
Maple flavor is front and center. It taste like syrup drizzled over some brownies made with more of a cocoa/milk chocolate rather than dark. A nice amount of vanilla, bourbon, and barrel flavor in there. The charred taste doesn't come through quite as much as the aroma and I would like to get a little more roasted malt form it to balance the sweetness.
It is medium bodied, bordering on heavy with the syrupy feel. Carbonation is on the lighter side.
This is much better than the 3 Pairs of Legs. It reminds me of Thirsty Dog' Maple Porter a lot. If you are looking for a very maple forward beer you shouldn't be disappointed
863 characters

4.64
/5
rDev
+15.1%
look: 4.5 | smell: 4.75 | taste: 4.5 | feel: 4.75 | overall: 4.75
Beer provided by Carter,
12 oz bottle dated 2014.
A: waxed bottle was a bit funky, overly waxed. Beer poured a nearly pure black with dark brown head. Head retention was fair to pour. It had completely disappeared within 2 minutes.
S: the maple syrup is dominant but also elements of charred oak, vanilla, a bit of dark chocolate and the dark roasted malt.
T: syrup was present but not overpowering, the charred oak roastiness was the lingering flavor barely a hint of the vanilla and just a trace of dark chocolate .
M: medium body, was a bit thick at first but we had chilled it too much. Once it warmed up it was spot on for the style.
O: very enjoyable, a good balance of all the elements, not too overpowered by the maple syrup.
739 characters

4.17
/5
rDev
+3.5%
look: 4 | smell: 4.5 | taste: 4 | feel: 4 | overall: 4.25
Well when trying to pry the wax-covered cap from the bottle, it broke off the tip of the bottle and I had to pull a few glass shards from the bottle. And then I had to pour into another glass to ensure there weren't any remaining shards in the beer. I tried to not let that impact my review of the beer itself, but that's pretty hard when you have to worry about possibly ingesting glass shards with every sip you take.
Aside from the poorly constructed/waxed bottle, this was a pretty good beer. Strong Maple syrup and bourbon flavors and aromas. Very little tan head that dissipated quickly. Mouth feel was thick, a bit syrupy, and oily, on point for the style. Overall, a good beer but not the best beer that I've had that featured bourbon, maple syrup, or both. A good sipper (provided your bottle doesn't have glass in it.)
829 characters

4.52
/5
rDev
+12.2%
look: 4.5 | smell: 5 | taste: 4.25 | feel: 4.5 | overall: 4.5
"Vintage 2014" bottle purchased at the 2015 Crawfish Boil.
A: Pitch black, beautiful light brown head with fine carbonation that disappears after a minute.
S: The most amazing chocolatey maple aroma. Charred oak, bourbon, vanilla, coffee. One of the best smelling beers I've had. Smells like it's gonna be sweet.
T: It's sweet. Decadent. Huge maple flavor, more than CBS and Hipster Brunch (as far as I can remember). Bourbon, That's about it. Maple and bourbon. Kind of one dimensional in that aspect, but it's fantastic.
M: Medium. About spot on for this ABV. Any thicker and you might think you're drinking straight maple syrup.
O: Dessert. Or breakfast. It's fantastic.
678 characters
6 Pairs Of Legs Maple Porter from Dark Horse Brewing Company
Beer rating:
90
out of
100
with
71
ratings