Dark Horse Octoberfest
| Dark Horse Brewing Company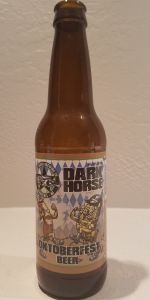 BEER INFO
Brewed by:
Dark Horse Brewing Company
Michigan
,
United States
darkhorsebrewery.com
Style:
Märzen / Oktoberfest
Alcohol by volume (ABV):
8.00%
Availability:
Fall
Notes / Commercial Description:
No notes at this time.
Added by proc on 09-09-2002
Reviews: 14 | Ratings: 53
2.61
/5
rDev
-31.5%
look: 4.25 | smell: 3.75 | taste: 2 | feel: 2.5 | overall: 2
Reddish caramel color with a buttery popcorn colored head. Nice lace skirted around the sides.
Caramel malts on the nose, with candi sugar, molasses, anise, dry barley.
Some toffee and licorice with some face twisting awkward sweet-bitterness. The spices come into play - cinnamon and ginger primarily - piled on top of this barley-licorice-hop mess. The more it warms and "develops", the worse it tatses.
Feel is parchy while being aptly carbonated. Chalky mess on the finish.
Overall, super not impressed. It just tastes like licorice twisted with dog shit. Not a fan at all.
585 characters
3.9
/5
rDev
+2.4%
look: 4 | smell: 4 | taste: 4 | feel: 4 | overall: 3.5
12 ounce bottle into mug, bottled on 8/11/2016. Pours lightly hazy deep reddish copper/brown color with a 1 finger dense light khaki head with good retention, that reduces to a small cap that lingers. Nice spotty soapy lacing cling on the glass. Aromas of big caramel, toffee, toasted biscuit, nuttiness, light chocolate/cocoa/coffee, herbal, wood, light pepper, and roast/toasted earthiness. Very nice aromas with good balance and complexity of dark/roast/bready malt and light-moderate earthy hop notes; with great strength. Taste of big caramel, toffee, toasted biscuit, nuttiness, light chocolate/cocoa/coffee, herbal, wood, light pepper, and roast/toasted earthiness. Light herbal/spicy bitterness on the finish; with lingering notes of caramel, toffee, toasted biscuit, nuttiness, light chocolate, herbal, and roast/toasted earthiness on the finish for a while. Damn nice complexity, robustness, and balance of dark/roast/bready malt and light-moderate earthy hop flavors; with a great malt/bitterness balance, and zero cloying flavors after the finish. Very clean on lager flavors, with zero yeast notes present. Light dryness from bitterness/roast as well. Medium carbonation and medium-full body; with a very smooth, creamy/bready, and lightly sticky/chalky balanced mouthfeel that is nice. Zero warming alcohol for 7.5%. Overall this a very nice imperial Marzen. All around nice complexity, robustness, and balance of dark/roast/bready malt and light-moderate earthy hop flavors; very smooth and easy to drink for the ABV. This felt closer to a traditional bock due to the light roasted character that was present; but still very enjoyable all around.
1,661 characters
4.18
/5
rDev
+9.7%
look: 4 | smell: 4 | taste: 4.25 | feel: 4.25 | overall: 4.25
Buying this I had no idea it was an Imperial Oktoberfest beer! Beer pours a very dark amber brown not pitch very clear. Head is minimal just a 1/4 inch that settles to a good lace ring. Toasted bread and caramel malt all around with some woodsy body and a touch of peat. Taste is awesome tons of sweet malts, bready dough a touch of sour dough malts make this an easy drinker with a medium body brew. Overall I would love to get this again it is quite possibly the smoothest take on a Imperial (double) Oktoberfest beer!
520 characters
3.73
/5
rDev
-2.1%
look: 3.75 | smell: 3.75 | taste: 3.75 | feel: 3.5 | overall: 3.75
Not settling for 125 year tradition of making the common oktoberfest beer, The experimental nature that lives inside the brewers at Dark Horse Brewing simply can't help itself. The release of their festbier yields bolder, toastier and drier flavor with a substantial alcohol strength to make the usually casual lager worthwhile.
But in doing so, the beer pours a deep bronzen haze rather than the more golden strands that we're used to. Its creamy foam cap sheds toasty aromatics that hinge on nutty, coffee and chocolate attributes. Moderate sweetness graces the tongue and soothes the taste ahead of the more earthy flavors of the lager show up in mid-palate.
Honey, toffee and a dry caramelized taste layers first, then the flavors of toasted bread crust, toasted pecan, breakfast blend coffee and a sprinkle of cocoa powder provide earthy balance that's uncommon to the normal ranges in style. Borrowing attributes from dunkel, brown ale and perhaps porter, glimpses of these darker beers show up in a balance that's mildly rootish and bark-like with suggestions of light stone fruit along the way.
The elegance in the typical oktoberfest are overshadowed with Dark Horses' toasty and lightly peppered balance. As the bitterness is woodsy and mildly grainy, the medium-full festbier finishes with dry coffee rustic bite.
1,328 characters

3.71
/5
rDev
-2.6%
look: 3.75 | smell: 4 | taste: 3.5 | feel: 3.75 | overall: 3.75
Serving: 12 oz. bottle poured into a Great Lakes pilsner glass. Bottled on 9/11/15, making this just under 1 month old.
A: Pours a very cloudy, murky, unfiltered almond-mahogany color. Frothy off-white head that laces well.
S: Very nutty, malty. Some cinnamon, nutmeg, whole grain. Some dark fruit, like figs or dates. Almost no hop presence.
T: Almond, nutmeg, raisins, figs, plum. Pure malt bomb, practically no hops.
M: Moderately full, low end carbonation. Very sticky-sweet and malty. Basically no hop balance at all.
O: One of the more hard to come by Oktoberfest beers in the Midwest, this was picked up at a Bottle Release at the pub last month. Lower bottle count and not distributed. But that doesn't make it any better or tastier. Compared to some other nice Oktoberfest beers I've had recently, this one is way on the malty side with practically no hops at all, not even for balance. This makes for a very sweet, sticky, syrupy Amber Ale-type beer. With a little more zest and hop presence, this beer could've been much more.
Recommendation: Unless you can add this in a trade for some other more desirable Dark Horse or MI beers, this one isn't worth going after alone.
1,190 characters
3.36
/5
rDev
-11.8%
look: 4 | smell: 3 | taste: 3.5 | feel: 3 | overall: 3.5
Appearance: Dark deep orange color.
Smell: Pleasant. Sweet.
Taste: Strong "Oberon".
Mouthfeel: Moderate carbonation
Drinkability: Pumpkiny seasonal fun. Much better than the big boy "Ocktoberfests". Too bad its seasonal.
Serving type: Draft
245 characters
4.85
/5
rDev
+27.3%
look: 4.5 | smell: 4.5 | taste: 5 | feel: 5 | overall: 5
Dark horse has done it again! They have defied odds and have released their standard oktoberfest which weighs in at 8% abv! You wouldn't be able to tell by the taste though. It is as smooth as Sam Adams. Very pleasant carmel and biscuit flavors with a somewhat dry and criisp finish.
283 characters

3.85
/5
rDev
+1%
look: 3.5 | smell: 3.5 | taste: 4 | feel: 4 | overall: 4
on tap at irish pol in philly
Pours a hazed burnt caramel color, white head fades with plenty of cloudy film, leaving a few rings of lacing on the glass.
Leafy hops in the nose, plenty of bready tones with toffee and caramel. A little sweet, but very seasonal and inviting.
Nice layering of toasted malts up front. Caramel and toffee with faint syrup sweetness. Roasty before a slightly bitter hop finish.
Medium body, milder carbonation, creamy and smooth on the tongue. Drinks really nicely and tastes like the season, seems fairly simple but pretty delicious.
569 characters
3.99
/5
rDev
+4.7%
look: 4 | smell: 2.5 | taste: 4.5 | feel: 4.5 | overall: 4.5
Review from notes taken 10 15 09, poured from tap at the brewery.
A Medium brown head over a medium brown but translucent, somewhat orange body. Good lacing as well on the glass. 4.0
S Minimal smell. 2.5
T Nice hops, malt balance, spices too in good perspective. Excellent Oktoberfest, finally an Oktoberfest that has the balls to go for a big taste. 4.5
M Thick, syrupy stickiness, luxuriously smooth feel. 4.5
D Good, as evidenced by the several people that entered the brewery and ordered Oktoberfest.
509 characters

4.05
/5
rDev
+6.3%
look: 4 | smell: 4 | taste: 4 | feel: 4.5 | overall: 4
Found this bottle at Main Street Party Store, by itself, so I have no idea how old it is. Pours a dark shoe leather brown with coppery edges and little bits of particulate, hmmm... Solid, dense cushion of light sandy brown head with flecks of dark brown particulate, hmmmm... Aromas of milk chocolate, toasted hazelnuts, marshmallows (Smores?), and tobacco. Interesting. Big malty flavors up front. Almost Scotch ale-like. Sweet stewed fruits, caramel rolls, cookie dough, and a peaty earthiness. Toasted edge throughout. Mild hop spiciness in the finish. Malt sweetness and complexity suggest a higher abv than your average marzen. Full-bodied, chewy feel with a creamy finish. If this is old it has held up amazingly well!
724 characters

3.7
/5
rDev
-2.9%
look: 4 | smell: 4 | taste: 3.5 | feel: 4 | overall: 3.5
Pours dark amber-brown, with a tawny head.
Decent, yo guessed it, roasted smell, not unlike other Dark Horse beers. Also, sweet background notes and subtle hop overtones.
Very sweet flavor. WOW! Almost overpoweringly sweet. The roast quality also comes through in the flavor.
Smooth and moderately carbonated, but the sweetness hurts the overall drinkability.
Overall a solid beer, in a hard to make category. My first experience with a Dark Horse lager, and hopefully not my last.
486 characters
3.69
/5
rDev
-3.1%
look: 3 | smell: 4 | taste: 3.5 | feel: 3.5 | overall: 4
Deep, rich shades of dark a red-brown, darker-than-dirty-copper hue. Eggwhite/cream colored head forms with some sturdiness. Not amazing retention. Surprisingly unfiltered. For a craft brewer who seems to focus a lot more on ales, this isn't too surprising, but it's a bit odd for the style.
Aroma is bit light -- slightly fruity. I thought I was picking up sweetness from the malt, but I think this is really a floral hop presence.
Begins with a fleeting sweetness that runs and ducks for cover before this rather unexpected hop bomb explodes in your mouth. Someone mixed the IPA into the Oktoberfest in Marshall, MI this year. Finishes awfully bitter for an Oktoberfest brew, really. Tasty for sure -- but a bit odd, frankly. Hops tip the balance a bit too far towards bitter. Not light like a pale ale, this one sits in your gut a bit. But it's very drinkable, especially if you don't mind a little excess palate cleansing.
932 characters
3.59
/5
rDev
-5.8%
look: 2.5 | smell: 3.5 | taste: 3.5 | feel: 4 | overall: 4
This is definitely a beer that you don't drink straight from the fridge. Give it 10 minutes or so to warm up.
It pours a murky brownish color with a small head.
The aroma is sweet and malty. This brew is medium bodied.
Personally, I prefer the appearance of a filtered O'fest, but the flavors on this puppy are hard to dispute. Pretty nice.
345 characters

4
/5
rDev
+5%
look: 4 | smell: 4 | taste: 4 | feel: 4 | overall: 4
A delicious offering from a small Michigan brewer. My first O-fest of the season. Pours out to a dark amber with a malty aroma. Taste is that of rich malt with more hop presence than I was expecting. Tasty.
210 characters
Dark Horse Octoberfest from Dark Horse Brewing Company
3.81
out of
5
based on
53
ratings.