Dismiss Notice
Grayston Reserve
| Matilda Bay Brewing Co.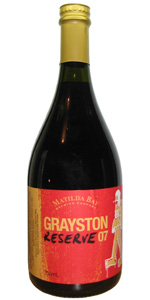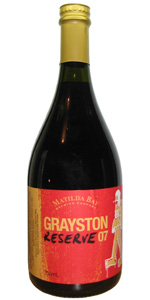 BEER INFO
Brewed by:
Matilda Bay Brewing Co.
Australia
matildabay.com.au
Style:
Dunkelweizen
Alcohol by volume (ABV):
6.00%
Availability:
Limited (brewed once)
Notes / Commercial Description:
No notes at this time.
Added by vancurly on 07-14-2007
This beer is retired; no longer brewed.
HISTOGRAM
Ratings: 5 | Reviews: 5
Reviews by willjansen:
3.18
/5
rDev 0%
look: 4 | smell: 3.5 | taste: 3 | feel: 4 | overall: 2.5
Appearance - Very dark ruby red-brown. Good amount of frothy head receding to a sticky lace.
Smell - Funky yeast mixed in with sweet molasses at first pass. Smells of a typical german dunkel hefeweizen with a bit more yeastiness than normal. Banana notes come through along with cinnamon/clove spices.
Taste - Initial sour taste up front followed by more typical dunkel weizen flavors of spices and sweet maltiness. Quite a strange tasting brew - hard to pin down the flavors due to the mix of sourness and spices. Slightly metallic aftertaste which is rather unpleasant. Sourness is quite distracting and seems out of place.
Mouthfeel - Nice and smooth, but lacking in carbonation slightly. Velvety and pleasant in general.
Drinkability - Quaffable beer, but not terribly enjoyable. Once again, great attempt at a different beer style from Matilda Bay and certainly unique, but missed the mark on a few points. Would not buy again (certainly not for the price I paid - AU$15/750ml) and I, as with the other reviewers, seriously question the cellarability of this beer. Hell, maybe it would help to quash that metallic aftertaste...
1,145 characters
More User Reviews:
3.53
/5
rDev
+11%
look: 4 | smell: 3.5 | taste: 3.5 | feel: 3.5 | overall: 3.5
Pours a pale ruby/brown, orange edges. Pale brown, creamy head, which sits very nicely and leaves a good lace.
Upon sniffing, I was mystified at first... "gee that's familiar" but couldn't finger it.... then I realised I was getting a sensation of balsamic vinegar. Malt & spice sure, but a definite tartness. Subsequently I read that this is OK in dunkelweizen. And it shouldn't have come as a surprise to me, as Redback yeast is used in this. Touch of bubblegum as it warms.
Roasted flavours, chewy malty goodness....complemented with banana bread, and clove. Tartness is there of course. The malt profile reminded me of examples of other dark beer styles... Burragorang Bock, Rum Rebellion Porter. But that's fine.... the wheat & yeast gives this its distinction from other dark beers...
The warmer it gets, the more the banana bread esters lift up, and less balsamic. There's a good, chewy mouthfeel.... and a little bitterness.
An interesting take on the winter warmer.... not sure about the cellarability of it, and at $17 I'm not going to stock up.
But a good match for a scotch fillet.
1,108 characters
2.82
/5
rDev
-11.3%
look: 4.5 | smell: 2.5 | taste: 3 | feel: 2.5 | overall: 2.5
a: mahogony color with dark brown showing around the edges, thick brown head that retains for a good while, very nice lacing. a very good-looking beer.
s: hints of toffee and banana are overpowered by tart vinegar aroma
t: very tart throughout, with said hints of toffee and banana, malts roaming around there, and slight coffee aftertaste
m: light on carbonation, medium body tempered by tartness
d: a beautiful-looking beer, very different taste, but unfortunately a disappointment. at times it seemed as if it might offer something more full-bodied and flavorful, but the tartness overpowered everything else. almost taste like a saison.
644 characters
3.74
/5
rDev
+17.6%
look: 3.5 | smell: 4.5 | taste: 3.5 | feel: 3.5 | overall: 3.5
A - Pours a dark mahogony with a few centimetres of beige head that falls away quite quickly.
S - Smells like a banana cake with some toffee mixed in with a little of chocolate. Bit of dark fruit and spice as well.
T - Along the same lines as the smell but with a bit of a savoury tartness.
M - Fairly full mouthfeel with a spritzy carbonation.
D - The limited/seasonal beers from these guys are usually pretty good and different from the regular offerings. Worth tracking down.
I doubt the cellarability like they suggest on the label though. 6% is a bit low for cellaring& I think generally wheat beer should be consumed fresh.
Maybe they should make a dark wheat wine at 10%+ and talk about cellaring that.
716 characters
2.61
/5
rDev
-17.9%
look: 3 | smell: 2 | taste: 2.5 | feel: 3.5 | overall: 3
Let's see how this has held up.
Pours a deep reddish mahogany. Good yeast cloudiness. The tan head dissipates fairly quickly for the style and is not particularly big.
A real lack of yeast esters is evident here with a fair whack of caramel and a hint of grape and chocolate present in the aroma. Fairly one dimensional.
Bright and tart is the best way to describe this as it is probably a bit past its prime. The attack is light with sweet malts playing with a touch of fruit. The mid palate is quite sour with a lactic sourness indicating a possible infection which has developed. A hint of banana can be found along with an out of place roasty note in the finish.
Medium full body with a creaminess and a slight slickness. Carbonation is well below the high levels expected of a weissbier.
Maybe I am being unfair reviewing this so long after release. That said it is still in date. The beer comes across as diminished and as a poor example of a dunkleweizen missing all of the characteristic yeast esters that make weissbiers so good.
1,043 characters
Grayston Reserve from Matilda Bay Brewing Co.
Beer rating:
3.18
out of
5
with
5
ratings