Abbaye De Floreffe Blanche
| Brasserie Lefèbvre SA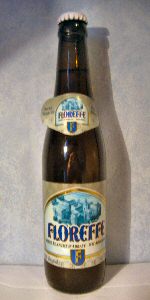 BEER INFO
Brewed by:
Brasserie Lefèbvre SA
Belgium
brasserielefebvre.be
Style:
Witbier
Alcohol by volume (ABV):
4.50%
Availability:
Year-round
Notes / Commercial Description:
No notes at this time.
Added by Todd on 11-22-2006
Reviews: 8 | Ratings: 17
4.5
/5
rDev
+32.4%
look: 4.5 | smell: 4.5 | taste: 4.5 | feel: 4.5 | overall: 4.5
A: Hazy light yellow.
S: Very sweet with a strong apricot smell.
T: Sweet but not as much as it smells, apricot, vanilla.
M: Smooth with a pleasant carbonation that's really felt during the aftertaste.
O: Extremely frefreshing. I dare to say that it might be as good as a beer can get, despite that it might be a hair overly sweet. i'm shocked at the reviews other people are giving here. and all my friends drinking with me agreed.
★
436 characters
3.45
/5
rDev
+1.5%
look: 3.5 | smell: 3.5 | taste: 3.5 | feel: 3 | overall: 3.5
Bottle from Belmont Party with the name Blanche de Bruxelles.
Poured hazy yellow color with an average frothy white head that mostly lasted with good lacing. Medium spicy citrus and yeast aroma. Medium body with lively carbonation. Medium sweet spice flavor with a medium sweet finish of moderate duration.
Interesting brew.
★
326 characters

3.32
/5
rDev
-2.4%
look: 3 | smell: 3.5 | taste: 3.5 | feel: 3 | overall: 3
Draught beer (25 cl.), tasted in 2008.
Appearance : yellow (trouble) color, with white foam head (not persistent).
Smell : lemon and corriander aromas.
Taste and mouthfeel : sweet and wheat flavours, with citrus notes.
Drinkability : an average beer in the style Belgian Witbier.
★
280 characters

2.96
/5
rDev
-12.9%
look: 3 | smell: 2 | taste: 3 | feel: 3 | overall: 4
served on-tap at Monk's Cafe in Philadelphia, PA.
Pours a clear golden color with a thin foamy white head. Citrus aroma of lemon and orange. Very drinkable beer that is a bit too watered down. Citrus flavor of lemon and orange peel. Crisp but bland.
★
250 characters

2.92
/5
rDev
-14.1%
look: 3 | smell: 3.5 | taste: 2.5 | feel: 3 | overall: 3
It pours a clouded golden color with a crisp white head that leaves quickly.
Smells of citrus and banana with hints of yeast.
Taste is of wheat and citrus with an aftertaste that left you thirsty, easy to drink but not one of the best wit beers out there.
★
257 characters
3.65
/5
rDev
+7.4%
look: 3.5 | smell: 3.5 | taste: 4 | feel: 3 | overall: 3.5
A murky, orange yellow beer with a creamy head that clings to the glass.
Smell is almost absent in the beginning. If I swirl the glass I smell grains, light vanilla, some husk and phenols. There is also a light tart smell.
Taste is grainy with a astringent dryness that is unpleasant at first, but seems to add to the complexity of the beer. This does take away some of the beers witbier character. The yeast tries to add some witbier yeast characteristics, but this is is not supported by the amount of wheat (taste). A rather strange witbier that does not match the standard profile and wants to be different. I can follow a long way.
★
639 characters
3.65
/5
rDev
+7.4%
look: 4 | smell: 4 | taste: 3.5 | feel: 3.5 | overall: 3.5
Pours a clouded straw gold with a white head. Nose is like immature grass that has been cut. Not green grass, like a yellow grass that is still maturing. Flavor is mild with character. Subdued wheat flavors with a mild yeast. Feel is thick on the mouth as there seems to be a residue almost that clings to your mouth. A decent one, but nothing to run to the store to get. Nice to drink, but no Oscar winner.
★
407 characters
2.65
/5
rDev
-22.1%
look: 3 | smell: 3 | taste: 2.5 | feel: 2.5 | overall: 2.5
I am generally not a fan of Belgian beers, so do not hold my opinion against it. I found it to have the distinct European "skunky" taste that I associate with all the green bottled beers like Heineken and Stella. I am trying to get into "better" beers, but this just doesn't do it for me.
★
288 characters
Abbaye De Floreffe Blanche from Brasserie Lefèbvre SA
3.4
out of
5
based on
17
ratings.