Masterpiece

FiftyFifty Brewing Co.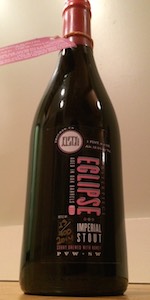 Write a Review
Beer Geek Stats:
| Print Shelf Talker
Style:

ABV:

12.8%

Score:

97

Avg:

4.55

| pDev:

8.57%

Reviews:

8

Ratings:

From:

Avail:

Retired (no longer brewed)

Wants

Gots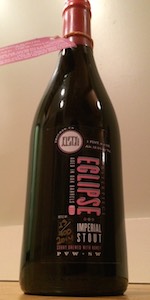 Notes: This year we have a brand new one-of-a-kind Eclipse product to present to you: Masterpiece. In early 2013, FiftyFifty was very fortunate to get nine freshly emptied barrels that had been filled at Stitzel-Weller in 1991. Yes, the original Pappy. To commemorate this we brewed a Double Imperial Stout worthy of these barrels, and aged it for 18 months.

80 IBU

4.75
/5
rDev
+4.4%
look: 4.75 | smell: 4.75 | taste: 4.75 | feel: 4.75 | overall: 4.75
A: Poured into a snifter to a deep black beer topped by a dense and slightly rocky finger and a half of deep tan head which fades slowly to a collar around the edge of the glass with minimal lacing
S: Smells of oak, vanilla, dark chocolate, coffee, and a lot of nice roasted malt notes with a hint of bitterness
T: Taste is roasted malts, dark chocolate, coffee, nice oak, light vanilla and caramel with a good amount of barrel notes. Hints of molasses and dark sugars as well. On the swallow there's more dark chocolate, vanilla, caramel, oak, coffee, and lingering roasted malt notes. Hints of chocolate covered cherries as well at the very end.
M: This beer is on the lighter side of full in body with a silky feel on the palate. Carbonation is smooth and low which is nice while the beer has a slightly dry finish.
O: Overall this beer is incredible. 18 months in the wood is quite some time but this beer doesn't come across as being overly tannic or oaky. The amount of complexity that this beer brings to the table is truly impressive and it's an absolute joy to drink. It does have a surprising amount of alcohol on the taste compared to other FiftyFifty beers, but it doesn't detract much. Definitely one to try and get your hands on.
1,256 characters

4.01
/5
rDev
-11.9%
look: 4.5 | smell: 4 | taste: 4 | feel: 3.75 | overall: 4
Had this at the Eclipse party, can't remember which year. Pours a slightly more thick than the Eclipse series. Brown head, 1/4". Aroma on the pappy barrel stuff always seems to drop a hefty amount of booze with it, and this one seems the strongest of the bunch, ones the burn is gone, you pick up the bourbon, chocolate and oak thing a little better.
Taste is more alcohol heat. It does temper down a little once you get adjusted to the sheer heft of the beer. I dunno, thought a smaller stout they traditionally do like Eclipse was a better fit if you're trying to show off a barrel, same way I think light malt/session/pale ales are best for a single hop beer usually. Its a conflicting position, one the one hand, hey, the pappy stuff is really good, but on the other, there is a little more hotness to it and they tend to be really pricey.
I dunno, EC12 actually tastes better, cheaper, easier to acquire. . .
923 characters

4.47
/5
rDev
-1.8%
look: 4.5 | smell: 4.25 | taste: 4.5 | feel: 4.75 | overall: 4.5
Been saving this bottle for awhile meant to open it the weekend of my wedding, but with so much beer, i held off and instead opened it the following weekend at a good friends engagement party...jet black in appearance, smell is smokey, bourbon and chocolate. I also get some dark fruit, but very faintly..taste is bourbon up front followed by some creamy chocolate. For a bottle thats almost 4 years old, there is still a decent amount of alcohol burn on the back end, which was surprising, but didnt distract from how good this is..easily the best of the fifty fifty eclipse series that ive had..it was a PITA to get this and i waited awhile to open it but worth the wait
673 characters
3.66
/5
rDev
-19.6%
look: 3.5 | smell: 3.75 | taste: 3.75 | feel: 3.5 | overall: 3.5
750 mL bottle poured into a snifter.
Appearance - Black. Nice khaki head.
Smell - Molasses and chocolate. Nutty. Lots of bourbon, but not really boozy.
Taste - Now it's boozy. Chocolate and caramel. Bourbon comes behind it. Fudgy. Bourbony finish.
Mouthfeel - Boozy and heavy. Medium carbonation.
Overall - Good, but I kinda struggled through it. Very nice bourbon flavor, though.
395 characters
4.72
/5
rDev
+3.7%
look: 4.5 | smell: 5 | taste: 4.75 | feel: 4.5 | overall: 4.5
750ml bottle #20/400 poured into a matching eclipse snifter. The brew appears black in color with a dark brown head that fades leaving spotty lace all over the glass.
As soon as the cap comes off, you notice a very pleasant smell before you even get the brew into your glass. Chocolate and toasted coconut are at the foreground with vanilla across the middle blending to fruity raison alcohol and wood. A bit of boozy bourbon and almost a cinnamon spicy incense sort of character emerges as it warms.
The taste includes bourbon upfront with fruity alcohol integration and a dry woodiness thats slightly spiced almost like the previously mentioned cinnamon. Somewhat bitter with roastiness, char and earth with an afterthought of tobacco and bitter chocolate. The barrel nuance to this is beautiful with layers of enjoyable flavor all integrated perfectly with the base beer.
This is medium to fuller bodied which is what is lacking in most eclipse variants. It is modestly carbonated and overall a great beer. The barrel and booze character is right upfront without hindering the drinkability at all. I didnt want to give in to the hype and I think the price on this was crazy...but truth be told this beer is crazy good. In comparing it to it's pappy eclipse counterparts, it totally destroys the PVW 20 iteration and is on the same level if not better than PVW 23.
1,369 characters

4.82
/5
rDev
+5.9%
look: 5 | smell: 4.75 | taste: 4.75 | feel: 4.75 | overall: 5
This beer caught alot of negativity due to the way it was released (no bottle limit) and the fact people took "advantage" of the lack of said limit; although the situation is certainly disappointing to many, it is not the fault of the beer itself that this was the situation that occurred.
Having said that....
Look: Dark, very dark. Midnight black with nice head and carbonation. Bubble lacing around the sides of the glass.
Smell: You definitely get plenty of barrel, with some hints of sweetness. Like a chocolate, oaky vanilla; tough to pin down the sweetness specifically.
Taste: Boozy... If you like boozy, this is it - hot without being overwhelming - will certainly age amazingly.
Feel: Great thick mouthfeel with more carbonation than I was expecting, but in a good way - fills your entire pallet.
Overall: Wow, best of the eclipse variants I have had. The base beer is thicker than the normal totality of other eclipse variants and it's well paired with the booziness of the PVW barrels. I enjoyed this beer fresh and think it will only get better with time.
1,073 characters

5
/5
rDev
+9.9%
look: 5 | smell: 5 | taste: 5 | feel: 5 | overall: 5
The perfect BA Stout. Srs. This is just perfect barrel aging! I've had all the big guns from the last 10 years and the only other BA stout that can hang was BCS Rare at its peak. So many layers of fudge, honey and awesome Pappy 20 bourbon. Puts Pappy 20 Eclipse (pink wax) to shame and that beer was great. Read some reviews that mention it being 'hot' - sure, it has a bourbon-forward approach, but isn't that what you want when the bourbon is SW Pappy? Worth the price, get a ticket and take a ride!
501 characters

4.36
/5
rDev
-4.2%
look: 4.25 | smell: 5 | taste: 4.25 | feel: 4.5 | overall: 3.75
Really excited about this one, split with the wife. We usual spend our bdays at eclipse, first year we miss out.
Looks just like is should midnight black
Smells amazing!! Holy crap it's every thing you can expect from a pappy aged beer
Taste good, but you can tell its different base beer, I like totality as a base better. Not as good as pappy eclipse from last year. This base is lacking something I can't put my finger on. Besides the base differences this beer is super sweet.
Mouthfeel is pretty nice, thick mad coats the mouth well
Overall while it's a very good beer, I can't get over the price for it tho, with so many better options including other eclipse variations
682 characters
Masterpiece from FiftyFifty Brewing Co.
Beer rating:
97
out of
100
with
71
ratings