Texas SUX Brand Beer
| Big Stick Brew Company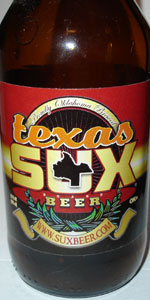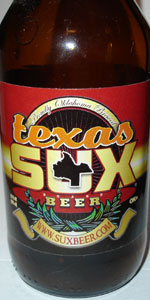 BEER INFO
Brewed by:
Big Stick Brew Company
Oklahoma
,
United States
suxbeer.com
Style:
American Adjunct Lager
Alcohol by volume (ABV):
3.20%
Availability:
Year-round
Notes / Commercial Description:
texas SUX Brand Beer is a Premium American style beer - dry, light-bodied yet full flavored with a touch of hops finesse. It's sparkling golden brilliance is smooth and easy to drink. Our beer is brewed in small batches from the clear waters of Oklahoma's lil'dixie. SUX Brand Beer is carefully handcrafted by expert brewers with decades of brewing experience.
Added by Todd on 11-01-2006
HISTOGRAM
Ratings: 13 | Reviews: 6
Reviews by doowhat:

More User Reviews:
3.13
/5
rDev
+26.7%
look: 3.5 | smell: 3 | taste: 3 | feel: 3 | overall: 3.5
Got this as a house warming present from the prior owners, so here goes...
Pours an chill-hazed effervescent straw colored with a pinky of cream colored head. Above average head retention & lacing
S: Lemony & grassy hops, slight breadyness
T: Slight metallic twang & grassy hops & grainyness up front. Lemons & grainyness dominate as this warms. Finishes juicy, with a slight white grape taste & more grainyness
MF: Light bodied, slightly over carbonated & wet
Drinks alright, could do a few on a hot day, if pressed. Otherwise, just a slightly better than average adjunct beer with some blonde ale character
613 characters

1
/5
rDev
-59.5%
look: 1 | smell: 1 | taste: 1 | feel: 1 | overall: 1
3
/5
rDev
+21.5%
look: 3 | smell: 3 | taste: 3 | feel: 2 | overall: 3.5
this is not my usual format. From notes I took several months ago:
Appearance: 3
Pale and slightly hazy yellow. Bud-like straw color. No head retention.
Aroma: 3
Very clean grainy/sweet malt. No hops.
Flavor: 3
Very clean and watery/grainy flavor. Very light and inoffensive. No strong off-flavors. Finishes fruity (mostly apple and pear). very little evidence of hops. low bitterness. crisp and dry. has a character of some sparkling meads.
Mouthfeel. 2. Fizzy and very thin. seltzer-like. Very gassy.
Drinkability: 3.5
Aside from the belching, it drinks like water, just like the brewer intended.
And Texas Sux
633 characters

3.35
/5
rDev
+35.6%
look: 3 | smell: 3 | taste: 3.5 | feel: 3.5 | overall: 3.5
My wife returned with a 6 pack while in Oklahoma. With a name like this, I was expecting something along the line of Steel Reserve. WOW this beer doesn't suck by any means. Drinks easy and is not offensive by any means. It surpassed my expectations.
249 characters


3.23
/5
rDev
+30.8%
look: 3.5 | smell: 3 | taste: 3.5 | feel: 3 | overall: 3
Thanks to Beertracker for this brew.
Pours a hazy pale yellow color, nice carbonation, fizzy white head, some sticky lacing follows. The nose is malty, tangy, yeasty, with a little bit of caramel. The taste is slightly sweet, tangy, slightly yeasty, with some caramel notes. Light body. Drinkable, not a bad brew, different than your average ML.
346 characters
2.14
/5
rDev
-13.4%
look: 3 | smell: 1.5 | taste: 2 | feel: 4 | overall: 2
A - Golden straw color and crystal clear. The head is absolutely white but small and shortlived. No lacing at all.
S - The aroma is sour with a hint of skunkiness. Not appetizing at all. A slight malt aroma as the beer warms.
T - Some slight graininess and a hint of sweetness. Not much flavor though.
This is a fairly light-bodied beer with moderate carbonation. Great for the style.
393 characters

2.31
/5
rDev
-6.5%
look: 3 | smell: 2 | taste: 2 | feel: 3.5 | overall: 2.5
Appearance: Pours a lightly hazy, yellowish body with a thinnish, white head.
Smell: Very faint maltiness and light whiffs of corn as well as some curious, cautioning notes of expired lemonade.
Taste: Light pale maltiness stirred up with corn kernels and light corn syrup sweetness. Slight, displeasing spritz of sour lemon. Altogether mild hop character and bitterness. For the touch of dirtiness present, it finishes mercifully clean.
Mouthfeel: Light-bodied. Moderate carbonation.
Drinkability: Indeed, something sux here, though I'm not sure if it's Texas. Contract brewed by Pete's Place, a brewery where most of the brews seem a bit off. It's one of those rare times when I'd rather just have a lager from one of the macro breweries.
743 characters
Texas SUX Brand Beer from Big Stick Brew Company
Beer rating:
2.47
out of
5
with
13
ratings