Gone Fishin'
| Beer Valley Brewing Co.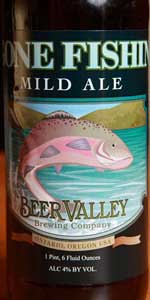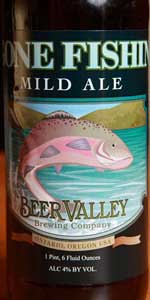 BEER INFO
Brewed by:
Beer Valley Brewing Co.
Oregon
,
United States
beervalleybrewing.com
Style:
English Dark Mild Ale
Alcohol by volume (ABV):
4.00%
Availability:
Rotating
Notes / Commercial Description:
No notes at this time.
Added by JohnGalt1 on 08-03-2009
HISTOGRAM
Ratings: 14 | Reviews: 12
Reviews by Dukeofearl:
3.5
/5
rDev
-7.9%
look: 4 | smell: 4 | taste: 3.5 | feel: 3 | overall: 3
22 ounce bottle purchased at LaBodega in Riverside, CA. for $3.99 in December 2009. Sampled a couple of weeks later.
I am no expert on mild ales, other than what I have read. I have no idea if this follows form, how it compares to the English originals, etc. All I can do is review based on what I see, smell, and taste.
Pours a thin brown (moreso than amber),with a very limited head from a hard pour that becomes a thin film of tiny bubbles in no time.
Aroma is a first flash of sharp, grassy hops. After the head disappears, so does this aroma.
Flavor is a pleasant balance of bready caramel malt, a bit nutty, and a kiss of hops- not at all strong or dominant. More malty than hoppy, but decently balanced. Overall a good flavor that I enjoy.
As expected, the mouthfeel is thin, almost watery.
I know these are made so you can "have more than one", and so drinkability should be very high. For me, not so much. An interesting taste, I am glad I tried it, but it does not cry out "drink more!". Sorry.
1,011 characters
More User Reviews:
3.63
/5
rDev
-4.5%
look: 4 | smell: 3.5 | taste: 3.5 | feel: 3.5 | overall: 4
Review from BeerAdvocate Magazine Issue #48 (Jan 2011):
Bubbly mass on top the shiny, copper penny-colored brew. Dried grass and some fresh-baked pita bread in the nose. Fluffy, moderate-sized body with an ample crispness. Wet maltiness throughout, kicking off with a toasted bread crust flavor, then to more of an animal feed graininess. Hops are very tame but the malt stays dry with a quick fruitiness from the fermentation. Semidry malty finish with more than enough flavor to go around for a smaller ale; a great pick for something malty without a high alcohol content.
576 characters

4.2
/5
rDev
+10.5%
look: 4 | smell: 4 | taste: 4 | feel: 4 | overall: 5
Beer Valley Brewing Company in Ontario, Oregon has set out to make big beers in each style. This beer is no exception to that agenda. Dark amber with some haze. Full one finger of white head. Plentiful lacings. Aroma is bready. Taste is very similar to English pub ale but a bit richer. This beer features a very tasty malt profile with just enough hops to fit the style. Mouthfeel is very good with fairly low carbonation. Drinkability is awesome at 4.0% abv. Spot on for an English Pub Ale. A fairly new offering from the brewery. Good luck finding it outside of Oregon, Washington, Idaho, and possibly Montana. I believe the price was about $3.29 for the bomber.
665 characters
3.93
/5
rDev
+3.4%
look: 4 | smell: 3.5 | taste: 4 | feel: 3.5 | overall: 4.5
22 picked up at the COOP over the weekend... Don't remember the price exactly.. but I would guess in the $3-$3.50 range... poured into my shaped SA glass.
2 finger pillow white head lasts a surprisingly long time.. holding the brew up to the light after pouring showed a pretty damn carbonated lite amber brew brew.. quite a bit of lace.. if this was in an imperial pint.. I would want a picture. :-)
The nose has a bit more character than I was expecting.. It smells very fresh with some grainy malts and a descent showing of background nuttiness and some dry toast... no real hoppiness except maybe what's in my head.
Flavor is about the same as the aroma with a touch of sweetness toward the back of the palate.. sorta dry toasty finish is making me want another sip right away.. The body is a lighter side of lite/medium.. and the carbonation still seems a bit high.. but it is very small bubble and lends a surprising creaminess to it... Again.. this tastes soooo very fresh right now.. I'm definitely digging it, and given the price of most average 12'ers, I'm thinking this could be come a fridge staple for the rest of summer... I honestly like it that much.
I'm pretty sure that although the carbonation levels shouldn't be this high, but they are definitely making some more muted elements blossom.... I would love to actually try this on cask.. but I'm pretty sure the Boise peeps may not grab hold and enjoy what's going on inside the pint in front of them.. Would probably lose money putting it in cask.. but I figure it would be pretty damn good...
Man... I've really enjoyed most of the beers I've had from Beer Valley... I gotta go out and take a tour.... The more I pop the tops, the more I appreciate what the brewer is doing.. and I would love to say it in person.
Edit: This beer needs a "best by" date.. otherwise, I'm thinking things could fall off rapidly.. It needs to be constantly refrigerated and brewed/sold quickly.
1,951 characters

3.2
/5
rDev
-15.8%
look: 3 | smell: 3 | taste: 3.5 | feel: 3 | overall: 3
pours a clear copper with a medium size off-white head, and some lacing.
smell is of caramel, sweet malt, and a tad bit of floral in the back.
taste is creamy, malt, caramel, grain, a little bit of hops, and a touch of sweetness in the back, ends a little tangy, and a little bit bitter.
289 characters

3.63
/5
rDev
-4.5%
look: 4 | smell: 3.5 | taste: 3.5 | feel: 3.5 | overall: 4
Poured from 22oz bomber into a pint glass.
Appearance: rich brown-orange color with a touch of haze and a fat finger of ivory head. Head is a compact foam which appears to be dissipating at a moderate rate. Attractive.
Smell: slightly chocolatey, slightly astringent mild aroma. Not bad, but it's got a bit more sourness than I would have anticipated.
Taste: biscuity, nutty malt flavor with a little bit of that sourness but not as much as in the aroma. Bitterness is indeed quite mild; not much in the way of hop flavor comes out to me. This beer is alright, though I admit I haven't had many beers of the style.
Mouthfeel: light body, somewhat watery; appropriate to style but not super enticing. There is a nice carbonation here which works well in my opinion.
Drinkability: I'd say pretty drinkable. Nice low ABV and a flavor that's at least interesting. I could go with a little less biscuity quality but for pure refreshment, it works.
947 characters

4
/5
rDev
+5.3%
look: 4 | smell: 4 | taste: 4 | feel: 4 | overall: 4
Thanks goes out to JohnGalt1 for this brew.
22oz. Bomber
Pours a nice cloudy brown color, nice carbonation, nice one-finger creamy tan head, with some nice sticky lacing left behind. The nose is malty, with some caramel notes. The taste is sweet, malty, with a good dose of caramel. Medium body, a very nice slightly bitter, dry finish. Drinkable, with is a pretty tasty brew, recommended.
391 characters
4.19
/5
rDev
+10.3%
look: 3 | smell: 4 | taste: 4 | feel: 4.5 | overall: 5
22oz bottle poured into a tulip. A style I always like to try whenever available; a nice surprise to find in the cooler at a local grocer. I only paid $3.34 for this beer; given the below review, that's A-list value. Bottle conditioned with a dense hard sediment.
A- Pours a deep copper to very light brown with a large fizzing head that crackles its way down to a thin off-white film covering the beer's entire surface. Very fine clarity with a large amount of carbonation beading off of the glass's etching. Even the slightest swirl brings an abundance of new carbonation. Minimal thin lacing. Looks the part, except for the high carbonation.
S- Intense grainy and nutty malt aroma with a slight hint of chocolate. Like fresh baked biscuits and/or bread. No noticeable yeast influence, except for an intriguing maraschino cherry undertone. Very clean and subtle, but extremely malt dominant, screaming English malt (or a skilled use of specialty malts).
T- Much more yeast influenced than the aroma indicates. Initial reaction is toward a subtle English base malt, with no hop flavor, balanced by that fruity, maraschino yeast character. However, the finish leans toward nutty, carmel, and chocolate malt flavors. Finishes on the dry side with low bitterness. No diacetyl, like found in some other examples, but that's replaced with a licorice flavor that lightens the maltiness of it all.
M- This beer completely changed my mind on the carbonation of mild ales. The higher carbonation served this beer well by lightening the body and increasing the drinkability (if that's even possible). The high carbonation gives an initial carbonic acid tingle that could easily be confused with bitterness. I've never found that in a cask conditioned or lower carbonation mild, but I like it.
D- At 4%, on the higher end of ABV for a mild, but this tops out on drinkability. Incredibly session-able and flavorful; multiple 22oz'ers would be safe, smart, and recommended. Sign me up for a case.
1,989 characters
3.88
/5
rDev
+2.1%
look: 4 | smell: 4 | taste: 3.75 | feel: 3.75 | overall: 4
Appearance: Pours a cloudy copper color capped by several inches of foam; a couple of shards drip down as the liquid descends
Smell: Malt forward, with caramel, toasted bread and hazelnuts; slight grainy character underneath
Taste: Caramel and toasted bread, up front, with hazelnut flavors developing in the middle; there is a bit of vanilla cream that underlies the flavor profile, as well; somewhat grainy, after the swallow, bringing a bit of "twang" to the finish
Mouthfeel: Medium body with moderate carbonation; a little aqueous but that is not surprising for a 4% beer
Overall: A nice effort by the brewery; captures the flavors of an English Dark Mild to a "T"
Thanks, JohnGalt1, for the opportunity - appreciate the extra effort tracking this down
762 characters
4.13
/5
rDev
+8.7%
look: 3.5 | smell: 4.25 | taste: 4.25 | feel: 3.5 | overall: 4.25
Pours a murky dark reddish-brown with a foamy khaki head that settles to a partial film on top of the beer. A foamy lattice of lace coats the glass on the drink down. Smell is of toasted malt, roasted nut, and slight caramel aromas. Taste is much the same with roasted nut, burnt toast, and slight caramel flavors on the finish. There is a mild amount of toast and roast bitterness on the palate with each sip. This beer has a lower level of carbonation with a slightly crisp mouthfeel. Overall, this is a very good beer with a fantastic set of aromas and lots of flavor for its really low ABV.
Serving type: bottle.
617 characters
4
/5
rDev
+5.3%
look: 4 | smell: 4 | taste: 4 | feel: 3 | overall: 4.5
Big-ass bomber purchased at J.B.'s in Spokane for $4.59. First time I've tried the style.
Poured a darkish mahogany color, with a big, creamy off-white head that took several minutes to recede.
Malty smelling, with caramel/toffee notes. There's also a nutty, toasted grain thing happening. I swear I could just make out some faint, floral hops
Sweet and nutty flavored, this beer packs a surprising amount of flavor for what is, essentially, a low-alcohol beer.
Kinda watery, with a rather thin mouthfeel.
Very drinkable. I can see how this style could be a sessioning standard. I could see myself putting away several, though at over $4.50 per bomber, it's a little spendy.
680 characters
3.47
/5
rDev
-8.7%
look: 3.5 | smell: 3.25 | taste: 3.5 | feel: 3.75 | overall: 3.5
Nicely done mild, everything about this is very subdued, from aroma to flavor to finish. Still there's a enough of everything in a mild way, light nutty aroma, mild dark roast grain flavor, teeny hint of bitterness at the finish. For people who may not like craft beers, this could be a gateway beer.
302 characters
Gone Fishin' from Beer Valley Brewing Co.
Beer rating:
3.8
out of
5
with
14
ratings