Knights Head Pale Ale
| Lion Brewery, Inc.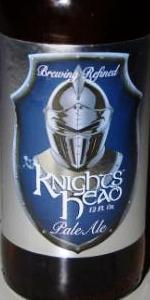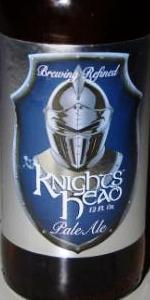 BEER INFO
Brewed by:
Lion Brewery, Inc.
Pennsylvania
,
United States
lionbrewery.com
Style:
English Pale Ale
Alcohol by volume (ABV):
not listed
Availability:
Year-round
Notes / Commercial Description:
No notes at this time.
Added by DevilDogBeer on 01-19-2008
This beer is retired; no longer brewed.
HISTOGRAM
Ratings: 13 | Reviews: 10
Reviews by DevilDogBeer:
1.76
/5
rDev
-43.9%
look: 2 | smell: 1 | taste: 2 | feel: 2 | overall: 2
Knights Head Pale Ale poured an amber color with little head. What head had formed was fizzy and vanished almost immediately. The smell had no hop nose in it whatsoever and had a slight chemical nose. The taste had a very subtle hop aftertaste, but other than that it was dominated by preservatives. As a resident of Eastern PA, I was hoping or a good offering from this new brand name out of The Lion, but it is just more of the same. This beer had a thin mouthfeel with an acidic aftertaste making it not very drinkable. Thankfully I only had one of these in my arsenal, or I would probably use it to fertilize my lawn.
621 characters
More User Reviews:
3.75
/5
rDev
+19.4%
look: 4 | smell: 4 | taste: 3.5 | feel: 3.5 | overall: 4
12oz. brown bottle with no dates poured into a pint glass.
A: Pours a beautiful clear, rich amber with a one and a half finger head of small tight bubbles. There are a number of constant steady streams of carbonation dancing the entire beer.
S: Lots of hops, citrus and hops. There is also a delicate floral sweetness in the nose that combined with the appearance, really makes this an approachable beer.
T: The beer delivers on the hops, but not as much as expected from its nose. The hops are still citrusy, but much more subdued. There is a slight bitterness throughout the finish and aftertaste. Not bad.
M: Medium bodied for its style with a great carbonation balance. Finishes slightly watery.
D: I have no idea what the ABV on this one is. That other beer site (RB) says this is an alias for Stegmaier 100th Anniversary IPA (which would mean 8.2%), but I couldn't find anything on the brewer's web site indicating that. And I'm not tasting over 6%. Any, I found this to be nice brew that I would definitely revisit. The nose lead on a bit much, but the palate was still a solid "B-".
1,095 characters
3.7
/5
rDev
+17.8%
look: 4 | smell: 4 | taste: 3.5 | feel: 4 | overall: 3.5
Knight's Head Pale Ale pours a deep amber-orange body beneath a frothy head of off-white foam. The head retention is good and it leaves craggy streaks of lace about the glass.
The aroma is sweetish and floral, with the hops dominating over a doughy maltiness.
In the flavor the maltiness widens to reveal soft caramel tones, but the floral hoppiness still cuts through, showing a bit of a spicy and grassy edge as it goes. The bitterness is limited, and it remains pretty sweet, lingering stickily in the finish with some residual, leafy, spicy, and floral hops.
565 characters
4.05
/5
rDev
+29%
look: 4 | smell: 4 | taste: 4 | feel: 3.5 | overall: 4.5
Pours a nice amber color with little head retention, aroma is typical of a pale ale.
A little thin but a nice hop flavor with a decent malt backing. Not a strong pale ale but very drinkable, a great session beer to enjoy.
This beer is made by the same folks at Lions Brewery out of Wilkes-Barre, PA.
301 characters

3.31
/5
rDev
+5.4%
look: 3.5 | smell: 2.5 | taste: 3.5 | feel: 3 | overall: 4
Saw this at a joint called Ft. Lauderdale Ale House. Never seen this one anywhere before.
Poured an amber color with a thin white head.
Smells a bit musty and mineraly, English in style. Hops are evident. Some fruits, mostly dark berries.
Taste is not too shabby. Nose had me a bit worried. Grainy alcohol, some hops and malty sweetness meld together nicely. Decent flavor, seems pretty fresh and has a clean finish.
I would quaff this again sometime. The last of the bottle was tasty with some chicken wings when they came out.
532 characters
3.67
/5
rDev
+16.9%
look: 3.5 | smell: 4 | taste: 3.5 | feel: 3 | overall: 4
Paid $10.99 for a case of bottles. Nice appearance, the nose is a bit misleading, as it has a pretty strong hop presence that carries over slightly to the taste. Goes down smooth and very easy to suck these down. For the price, this is a very good beer. Not bad. Not bad at all. Give it a shot.
294 characters

2.8
/5
rDev
-10.8%
look: 3 | smell: 3 | taste: 2.5 | feel: 3 | overall: 3
I first paid $11.99 a case and I served it during the last stop on a pub crawl. Everyone liked it and I was pleased I chose well. So I bought another case for $9.00 at another place. Well, it didn't get any worst but the amber pour was good, the taste doesn't last, the head retention is minimal but the reception it gets by the average beerdrinker is good. It must be the slight flowery smell, backed by the low bitter taste and the clean color. Not a bad choice for a intro beer. Holds out better than Knights Head White Ale.
527 characters

3.53
/5
rDev
+12.4%
look: 4 | smell: 3.5 | taste: 3.5 | feel: 3.5 | overall: 3.5
A: Pours a bright clear golden hue with a big tall rocky head. Has very nice retention and leaves behind nice sheets of lace.
S: Nice floral hoppy profile with hints of citrus. There is a nice caramel malt backbone that really powers thru.
T: Nice hop blast right from the start. It is big on the citrus and has ample malt to provide balance.
M: Medium in body with bold crisp carbonation.
D: Pretty drinkable.
Overall: Not the best beer in the world but it does deliver a nice taste while being easy drinking. Not bad at all.
532 characters

3.2
/5
rDev
+1.9%
look: 3 | smell: 3 | taste: 3.5 | feel: 3 | overall: 3
pours slightly hazy copper with a small head that goes quickly leaving lace clinging to the sides of the glass.
weak hop nose...more of malts coming through than the hops. Almost grainy and cereal like
taste is kind of bland...more malty than hoppy.
hints of caramel and toast. Bitter finish.
For $8.99 a case...I am quite pleased.
332 characters
3.49
/5
rDev
+11.1%
look: 2.5 | smell: 3.5 | taste: 3.5 | feel: 3 | overall: 4
Picked this up from a local distributor after being offered a free sample outside. It was cheap and I'm always up to try something new, so I grabbed a case. Can't say I was disappointed, but it's not a new favorite.
A: Pours a light amber, thin white head quickly disolves leaving only a thin ring around the top of the glass. Tightly packed bubbles.
S: Smells like a typical pale ale. Majority citrus tones with some flowery hop tones coming through underneath.
T: Citrusy. Hops are balanced for the style. Slightly juice-like in character.
F: Thin and the lack of a persistent head make this my biggest complaint
As long as this beer remains mucho-affordable I'll be willing to keep drinking it. It doesn't offer anything special in terms of taste, especially in a PA/IPA market that is getting pretty full, but it is certainly a viable option.
851 characters


Knights Head Pale Ale from Lion Brewery, Inc.
Beer rating:
3.14
out of
5
with
13
ratings