Cerveza Jerome Golden Archangel
| Cerveza Jerome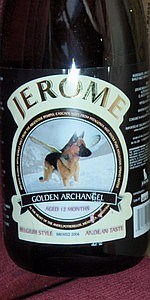 BEER INFO
Brewed by:
Cerveza Jerome
Argentina
cervezajerome.com
Style:
Belgian Strong Pale Ale
Alcohol by volume (ABV):
9.00%
Availability:
Limited (brewed once)
Notes / Commercial Description:
No notes at this time.
Added by younger35 on 12-03-2007
This beer is retired; no longer brewed.
Ratings: 5 | Reviews: 4

3.35
/5
rDev
+0.6%
look: 3.5 | smell: 3.5 | taste: 3.5 | feel: 3 | overall: 3
This beer has a yellow colour and a 2 mm white head that fades quickly but doesn't leave much head. It smells of yeast and maybe a little sour apple. The taste is sour with some tangy yeastiness. There is some bitter woodiness there too. This reminds me of some of the Jolly Pumpkin beers. It's pretty nice, but I don't love sour beers. This beer isn't particularly foamy, maybe due to to the aging. Still, an interesting beer from Argentina.
442 characters
3.92
/5
rDev
+17.7%
look: 3.5 | smell: 4 | taste: 4 | feel: 3.5 | overall: 4
A- Poured a bright honey color with a thin white head, which receded quickly, leaving tiny bits of lacing behind. There are a couple bubble trains working their way up from the center of the glass... at first glance it looked flat, but these bubble trains give it *some* appearance of life... I am anticipating some undercarbonation...
S- Pungent horseblanket (brett) and lactobacillus dominate the nose. Underneath lie aromas of pale malt and stale hops...
T- As expected from the nose, the brett and lacto dominate the palate... horseblanket and sour notes are the most prominent... once you get past this, there's a bit of honey-like sweetness, some grassy/straw-like notes, and a touch of stale hops. Finishes a bit on the dry side.
M- Feels a bit oily in the mouth... and while I anticipated under-carbonation, I found there to be just the right amount... I'll call this a nice medium body... not bad... but nothing to write home about!
D- Quite an interesting brew- particularly coming from South America. I could see people being turned-off to this if they don't like farmhouse ales or saisons... good thing I enjoy these styles! I could probably have two full glasses in a sitting before the infection got to be overwhelming...
NOTES: This is current listed as a Belgian Strong Pale Ale, but the Brett and Lacto are so prominent here, I'd have to disagree with the classification... I'd call it a farmhouse ale or maybe a Belgian saison...
1,452 characters
2.95
/5
rDev
-11.4%
look: 3 | smell: 3 | taste: 3 | feel: 2.5 | overall: 3
Pours: 750ml bottle to tulip glass. Beer is a dull orange color with very small head despite aggressive pour, and head dissipates to thin halo and even thinner lacing. Plenty of small bubbles working their way up from the bottom of the glass.
Nose: Smells dusty yet has plenty of vanilla notes coupled with pitted fruits. Somewhat buttery. Strong aroma of overripe plums and brown sugar.
Mouth: Tingling yet no assertive carbonation. Cloying sweetness. Some heat from alcohol but masked in the flavor. Maïs flavors though no corn listed on list of ingredients. Finishes with hoppy notes but which gave way to acrid, sour tastes. Mouthfeel is weird, somewhat syrupy with it's lack of carbonation, yet not too heavy.
717 characters
3.94
/5
rDev
+18.3%
look: 3 | smell: 4 | taste: 4 | feel: 4 | overall: 4
750mL bottle that comes caged and corked with a plastic cork that is a bitch to get out. The bottle is labeled Lote N° AR 102 (no idea what that means) and was brewed in 2006. Drank from my generic snifter.
Appearance- Poured very aggressively this crystal clear light orange/yellow/red brew forms a one finger bright white head. The head recedes fairly quickly and leaves zero cap and a very thin collar. No lacing is left what-so-ever.
Smell- Sour green apples with a bit of raw yeast esters are dominate. Very crisp and clean with a small amount of floral hop trying to peak through. The alcohol isn't shy as it pokes through as well.
Taste- Like the nose this brew is crisp and clean with a lot of dirty Belgium yeast making it's self known. Lightly sour green apples and sweet bready malt follow balancing each other nicely. The alcohol is big on this one and shows quite a bit. Very warming as it goes down. Leaves a lightly sour aftertaste that stays on the back of the throat.
Mouthfeel- Very light with a crisp with very fine carbonation. Almost champagne like without the crazy effervescence.
Drinkability- Overall this beer isn't bad at all. It may be a bit one dimensional but it accomplishes what it set out to do; Belgium style with an Andean twist. If you're going to pop a bottle of this, make sure you have a friend around because the alcohol will catch up fast. This would be a nice beer to pull out to impress your friends.
1,454 characters
Cerveza Jerome Golden Archangel from Cerveza Jerome
3.33
out of
5
based on
5
ratings.