Tavern Ale

Big Boss Brewing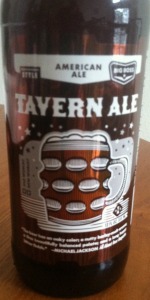 Write a Review
Beer Geek Stats:
| Print Shelf Talker
Style:

ABV:

7.1%

Score:

Avg:

4.01

| pDev:

10.97%

Reviews:

12

Ratings:

From:

Avail:

Rotating/Seasonal

Wants

Gots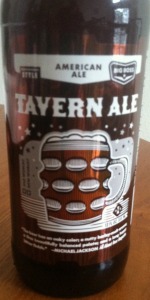 Notes:

oberon from North Carolina
3.94
/5
rDev
-1.7%
look: 4 | smell: 3.75 | taste: 4 | feel: 4 | overall: 4
It's been awhile since I have had a Big Boss brew.Pours into a mug a deep bronze color with a half finger pretty quick to head atop.Caramel,juicy fruit, and light piney hops in the nose.Caramel and toast up front on the palate melding into a decent shot of earthy and piney hops in the finish,very well balanced.Not a hop bomb but a nice complete beer,big malty tones but with enough hops to satisfy the hop heads,and like others have said really easy to drink for the size.
Nov 19, 2018
SLeffler27 from New York
3.86
/5
rDev
-3.7%
look: 3.75 | smell: 4 | taste: 3.75 | feel: 3.75 | overall: 4
An off-white fine foam reaches one-quarter inch and lingers leaving spotty lace on a Cisco fisheye pint glass. The beer is dirty copper (SRM 15-16) and hazy with some sediment and fine lazy carbonation.
The aroma is sweet and floral with light notes of pine and toasted malt. Warmth brings out caraway seeds.
Tavern Ale is well balanced between sweet malt and bitter hops. Surprisingly, whipped cream flavors mingle well with pine. The finish is quick and light.
The body is medium to full with a creamy texture and spritzy carbonation. Alcohol and astringency are light and as expected.
This is a really good drinking beer even though the ABV is too high for it to be sessionable. One could easily have a couple while watching a ball game or sitting poolside.
Jul 09, 2017
beeerman997 from North Carolina
3.91
/5
rDev
-2.5%
look: 3.75 | smell: 4 | taste: 3.75 | feel: 4.25 | overall: 4
Has a really nice look and mouth feel. Definite caramel notes that linger on the tongue.
I got this as a growler at Highcraft in Apex so I guess that counts as a draft beer -it certainly left a good lacing on my glass
Has the right amount of bitterness for me
Jan 03, 2016
twage04 from North Carolina
4.38
/5
rDev
+9.2%
look: 4.25 | smell: 4.25 | taste: 4.5 | feel: 4.5 | overall: 4.25
Pours a hazy light brown with low carbonation, almost as low as an English ale which is what this tastes like to me despite the description. Aroma is toffee, nutty, a little chocolate maybe? Taste is the same with some hops in the background and fruitiness either from the hops or maybe an English yeast. Very drinkable and enjoyable.
Jan 03, 2016

Dave1999 from North Carolina
3.75
/5
rDev
-6.5%
look: 3.75 | smell: 3.75 | taste: 3.75 | feel: 3.75 | overall: 3.75
This drank like a light malty English bitter. I certainly wouldn't call it a pale ale. There are some bitter hops in the finish but this beer is malty.
I was surprised the abv was so high it certainly wasn't noticeable.
Dec 31, 2014

tastybeer from North Carolina
4.13
/5
rDev
+3%
look: 4 | smell: 3.5 | taste: 4.5 | feel: 4.5 | overall: 4
Very appealing looking session-able beer here. Deep warm 'light' mahogany tones. Nice creamy colored top as well, (not that large out of the growler but certainly isn't going anywhere immediately). Lacing is friendly and has nice stick to it also. Aroma is soft, sweet, crisp and unimposing. Tastes very fresh, lightly bitter with an even balance of malts to hops. I could definitely have many of these. This is very easy to drink and holds plenty enough flavor to keep me contained. The hops taste freshly green. Fruity grass, pine, leaves, and some ever so slight citrus.
This has always been one of my favorite Big boss brews, especially as fresh as it is. Its solid and happy. (The Edenton version was very enjoyable too).
Aug 31, 2007

wedge from North Carolina
3.91
/5
rDev
-2.5%
look: 4.5 | smell: 3.5 | taste: 4 | feel: 4 | overall: 4
Slightly hazed amber under a sturdy off-white head that never fully disappears. Nice lacing. The aroma is a touch of diacetyl, but is otherwise like sweet, toasty caramel malts and bread. Smooth, rich flavors are pretty well balanced, leaning towards the fruity flavors. Some citrus, grape, and tobacco linger after the malts. Smooth, medium body with little carbonation (which seems to suit this well).
Sort of an English/American hybrid. I could do a couple pints of this.
Aug 31, 2007
Cindirene from North Carolina
4
/5
rDev
-0.2%
look: 4 | smell: 4 | taste: 4 | feel: 4 | overall: 4
Served on draft - Poured a nice dark coppery color - Smell is of sweetish malts with a touch of hops - Taste is dynamite - Extremely well balanced between the up-front bready malts and the finishing bitterness of the hops - Right on - Full-bodied and very tasty - Easy to have more than one despite the 7%
Aug 21, 2007

wagenvolks from Texas
4.37
/5
rDev
+9%
look: 4 | smell: 4.5 | taste: 4.5 | feel: 3.5 | overall: 4.5
Pint on tap from Horniblow's tavern (how fitting) in Raleigh.
Pours an attractive, copper-orange body with a well-retained, albeit slender head. A piney, hop aroma with a sweet caramel backbone ensues. Notes of cherry and biscuity malts hit the nose as well.
Taste presents a great balance of hops and caramel malts with a touch of bubblegum flavor that Big Boss seems to brew into most of its beers. Hard to pin down, that note is. The mouthfeel is smooth, medium-bodied, with a crisp finish. Not much flavor on the aftertaste, however. Overall, though, this is a very tasty, intricate brew, and it's easy as hell to put down despite the 7% ABV. Bravo to Big Boss on a ballistic brew.
UPDATED 2/24/2008. The '08 batch isn't nearly as tasty as before. Less heavy on the hops, and it just feels like something's missing.
A-4, S-4, T-4, M-4, D-4
Aug 19, 2007

Georgiabeer from Georgia
4
/5
rDev
-0.2%
look: 4 | smell: 4 | taste: 4 | feel: 4 | overall: 4
Poured an orange/amber with a decent head that quickly faded but left some decent lacing. The smell is richly malty and grainy with a note of hickory at the end. Taste is quite balanced, and there are some interesting flavors here. The beer is by turns nutty, malty, lightly bitter and fruity. I detect notes of apricot and cantaloupe. Quite good. Good solid body, but not grainy in the mouth. Somewhat unusual, but delicious and drinkable.
Jul 21, 2007
atsprings from North Carolina
4.5
/5
rDev
+12.2%
look: 4.5 | smell: 4.5 | taste: 4.5 | feel: 4.5 | overall: 4.5
The beer was served a nice hazy orange with a great head that was lasting and left great lacing. The aroma was dominated by citrus hops. The taste was well balanced and very complex. The dry hops definitely add a lot to an already great beer. The Beer was very smooth and the alcohol was very well hidden. This was very enjoyable and I hope they choose to do it again for cask night.
Mar 23, 2007
blackie from Oregon
4.08
/5
rDev
+1.7%
look: 4.5 | smell: 4 | taste: 4 | feel: 4.5 | overall: 4
appearance: Nice, thick off white head that recedes only partially and leaves heavy lacing. Somewhat clouded rusty brown in color.
smell: Earthy, toasted caramel malts with a moderate green hop aroma.
mouthfeel: Ultra smooth, low carbonation and a medium body.
taste: Delicate, smooth malts and a subtle(ish) hop flavor. Light to moderate bitterness in the finish. Good balance but nothing that stands out.
drinkability: easy enough
Followed this one up with a standard Horniblow's Tavern, and I definately like the cask better. The flavors just seem to be very well blended and balanced.
Mar 23, 2007
Tavern Ale from Big Boss Brewing
Beer rating:
87
out of
100
with
22
ratings