Black Jack
| De Struise Brouwers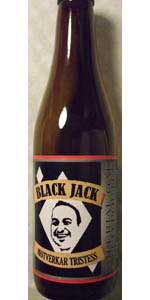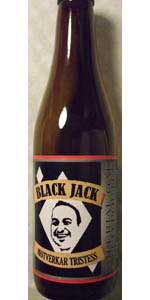 BEER INFO
Brewed by:
De Struise Brouwers
Belgium
struise.com
Style:
American Porter
Alcohol by volume (ABV):
7.00%
Availability:
Limited (brewed once)
Notes / Commercial Description:
No notes at this time.
Added by baggio on 09-27-2008
This beer is retired; no longer brewed.
HISTOGRAM
Ratings: 15 | Reviews: 12


2.04
/5
rDev
-32.2%
look: 3.5 | smell: 2 | taste: 2 | feel: 2.5 | overall: 1.5
A hearty har har to Alex for sharing this one.
A - A somewhat lifeless looking dark brown beer. Little bit of stick on the glass.
S - Smells infected. If you can get past that there is some roasted malts and vanilla. Smells a bit fruity and sour.
T - I hope it's infected, because it tastes like ass. A bit of tartness, fruit, chemicals, fuzz, metal. This tastes gross and nigh undrinkable.
M - Lighter side of medium bodied with not much carbonation.
O - Bad beer, don't drink this. Also, the label art is comically-stupid looking.
538 characters
3.25
/5
rDev
+8%
look: 3.5 | smell: 3.5 | taste: 3 | feel: 3 | overall: 3.5
2008 Vintage (the only existing vintage) – 33 cl. dusty old bottle at Kulminator.
Poured into a Struise glass.
A: Chestnut black with a mocha head which mostly just sticks to the side of the glass.
S: Lots of dried dark fruits, darker chocolate (but not the extreme stuff) & very vinous, this one appears to be infected, not necessarily in a undrinkable or terrible way but still clearly infected.
T: Once again lots of cocoa & even more Nescafe (the beans/grains themselves, to a lesser extend the brewed stuff as well) especially in the aftertaste, roasted, slight ashtray malt, dried dark fruits, hint of spices, somewhat thinned out by the aging, getting some slight wood here behind the Nescafe & clearly vinous, this is indeed infected.
B: Body has been thinned somewhat by the barrel aging and the subsequent aging as well, although I don't think that this was ever more than between medium to somewhat light, probably has always been thinned out by the aging.
O: Clearly not the best Struise around, given its rarity & the fact that most likely any remaining bottles are infected by now (my bottle appears to be far from the only one who has suffered this fate), this is mainly one for Struise collectors of which there are probably quite a few here. I can not imagine this being all that great either at the height of its game and yet I would lying if I didn't say that I did somewhat enjoy it.
1,416 characters

2.31
/5
rDev
-23.3%
look: 3.5 | smell: 2.5 | taste: 2 | feel: 3 | overall: 2
Thanks to Jeffo for hooking me up with this one - 750ml bottle. Served in a Russian River tulip. Cap came off very easily, with minimal noise.
A - A late-rising tan foam materializes with a hard pour, yielding a thin tan foam that settles to a wispy, partial cap, thin collar, and tiny spots of lace. Dark brown body with ruby highlights.
S - Sweat, musk, and tart cherries - smells infected to me. There's some roasted malt, chocolate, and oaky vanilla in the background.
T - Taste is worse, with a mix of char, tart cherries, medicinal notes, roasted malts, and oak. Not totally undrinkable, but not very enjoyable either.
M - Thin body, lower carbonation, sticky texture that lingers well into the finish. Not terrible for a 7% beer, but doesn't stand out much either.
D - I had this while moving equipment at the Struise schoolhouse in 2009 and it was a decent, if unexceptional beer back then. Now it is just horrendous - avoid, unless you are a Struise completist like me. This may be where Alpine BA Token ends up in a few years.
1,041 characters
4
/5
rDev
+32.9%
look: 4 | smell: 4 | taste: 4 | feel: 4 | overall: 4
rich dark brown that just about obscured all light from the glass. A nice three inch head of off white foam that came up the side of the glass and hung around for a good bit before finally settling down into the glass and leaving behind tons of side glass lace.
The smell was loaded with chocolate. Rich notes of sweet chocolate that were blended in with a touch of burnt coffee grinds and some nice dark fruits, grapes, maybe some plums balanced throughout the profile. Really nice profile here, with the dark yeast strain that really showed off some nice fruit and cocoa notes, especially as it warms. The flavor was more of the same, rich, with a health does of chocolate and dark fruits, swirling around together.
718 characters
3.48
/5
rDev
+15.6%
look: 4 | smell: 3.5 | taste: 3.5 | feel: 3 | overall: 3.5
I am not a huge fan of porters in general, but I am big fan of De Struise so naturally I had to try this when I saw it at the Kulminator. The beer has a nice jet lack color, the aroma of the beer was subtle with some smokiness. The mouthfeel was very thin and almost disappointing. I was not a fan of this beer but am thankful I had the opportunity to try it.
Cheers
366 characters

2.43
/5
rDev
-19.3%
look: 3.5 | smell: 3 | taste: 2 | feel: 3 | overall: 2
11/27/10
Thanks Paul
A: Brown with some reddish highlights. Small head.
S: Lots of oak, metallic notes, a dash of dark fruit, Belgian candied sugar, touch of chocolate.
T: Dark fruit with a light tartness and some lactic notes. Tastes infected. Oak notes. Slightly metallic. Tastes like a mild infection, quite sour in the finish.
M: Somewhat thin, medium body, moderate carbonation.
Overall: A subpar and probably infected beer.
435 characters
2.42
/5
rDev
-19.6%
look: 3 | smell: 3.5 | taste: 2 | feel: 2 | overall: 2
Found a couple 750s of this at the Cracked Kettle in Amsterdam.
From a 750ml bottle into a snifter.
APPEARANCE: Pours brown and relatively transparent. Pour produces a 1 ½ finger, tight looking, creamy tan head with great retention. Dark bistre brown in color with zero carbonation evident. Head slowly fades to a wisp, though only a faint ring remains, leaving no lacing. Starts out great, but looks a little lack luster by the end.
SMELL: Roasted malts, dark fruits, raisins and dates mostly, as well as some faint coffee notes. Some woody oak aromas from the barrel as well. Nice.
TASTE: Way sweeter than expected. Sugary sweet, and almost overbearing. Dark fruits, raisins and dates again, and plenty of oak and woody notes. Some roasted malts show up, as well as some black licorice, but they can't stand up to the overwhelming sweet oak flavors. Aftertaste is overly sweet and just keeps lingering. Not pleasant. Had trouble finishing my portion.
PALATE: Medium body and lower amounts of carbonation; much too little. Goes down fine but finishes unpleasantly cloying.
OVERALL: This brew started out good, but at this point, the sweetness from the oak barrel is just too much to handle. Perhaps is was better and more balanced just after brewing, but it's tough to finish now. De Struise is one of my favorite breweries and they make some world-class beer, so there are plenty of other gems to satisfy our palates. Leave this one for now.
1,456 characters
4.1
/5
rDev
+36.2%
look: 4 | smell: 4 | taste: 4 | feel: 4 | overall: 4.5
thanks to a beer buddy for bringing this back from his recent trip to belgium.
330ml bottle. notched for a "best by" date of Aug 2013. tasted in mid-may 2009. poured into tulip.
nearly opaque black/brown, with reddish brown tint on the edges under the light. 1-finger light tan head soon fades to wisps and a constant, sudsy, wispy ring (eventually less sudsy and more creamy). lacing is splotchy and a bit sparse though.
aroma: oak and coffee upfront, more malty roast layered underneath, hint of raisin or dried cherries, with more oaky vanilla. earthy tones to the roast and maybe the hops?
taste: thin, light, porter-ish malt base meets coffee and oak, with grassy, herbal hop providing mild to moderate bitterness that lingers, with underlying twinge of acidity. more coffee and trace of oak in the aftertaste.
light to medium body, smooth. twinge of acidity again towards the finish, with faint astringency too. mild, gentle carbonation for faint tingle, with a slight benefit to the body.
i don't know why the other reviews have been so negative. oh well.
1,068 characters

3.32
/5
rDev
+10.3%
look: 3.5 | smell: 4 | taste: 3 | feel: 3.5 | overall: 3
330mL bottle courtesy of fonefan poured into a tulip.
Pours dark, dark brown with mahogany hints around the edges and a small bubbly tan head that dissipates almost immediately to a thin ring and leaves no lacing at all.
The aroma strikes me as very sweet but with coffee and chocolate notes. It's almost like an iced mocha with some sweet dark malts thrown in. There is some smoky tobacco hints as well as some semi-sour fruits and licorice.
The taste starts with the vanilla and chocolate sweetness but fades into a fairly nondescript malty backbone and the finish is slightly sour and bitter with used coffee grinds and spoiled fruit. Honestly, it let me down a bit.
The mouthfeel is very viscous with little carbonation and dry, almost ashy, in the finish.
This is a fair attempt at a porter/imperial porter but not one that I would go back to. Definitely not up to the high standard I would expect from Struise, with an interesting mishmash of sour fruit, coffee and dark malts that doesn't seem to come together very well and, literally, leaves a bad taste in my mouth.
1,080 characters
2.31
/5
rDev
-23.3%
look: 3.5 | smell: 2.5 | taste: 2 | feel: 2 | overall: 2.5
33cl bottle of this imperial oak aged porter, brewed for Monk's Cafe in Stockholm. Best by Aug 2013.
Dark black color, but it looks thin instead of thick like a stout. Dense dark brown head settles quickly without lacing.
Powerful aroma of licorice, caramel, cola. Not too pleasant.
Medicinal black licorice flavor, raisiny sweetness, plum flavor, and a hint of vanilla oakiness. I imagine this is what a jagermeister / flat coke combination would taste like.
Thin bodied, very light carbonation.
Alcohol is not noticeable, but the lack of carbonation and the strange flavors and aromas make this not particularly drinkable.
629 characters

4.12
/5
rDev
+36.9%
look: 4 | smell: 4.5 | taste: 4 | feel: 4 | overall: 4
Bottle purchased at Alvinne bottle shop in Belgium. Beer tasted with friends at TJ's on 29.12.08. The beer poured a very dark, brown head with a deep tan head and ring on the edge. The nose has strong coffee and cocoa aromas. The taste is a bit sweet up front but is complimented by the strong coffee character and some chocolate notes. There are also some dried fruit notes in the taste, a bit of funk as well. I had tried a small sample of this at the Struise brewery a few months back and was very happy to try this one in bottle.
533 characters
2.87
/5
rDev
-4.7%
look: 3 | smell: 3.5 | taste: 2.5 | feel: 2.5 | overall: 3
[email protected]
Appearance: Pitch black with a very little head.
Aroma: Oak, Licorice, Sweet malts, Sugar.
Flavor: Licorice, Vanilla, Salt, Earth, Dark caramel.
Palate: Quite sweet and salty with very little bitterness. Low carbonation.
This was not my kind of beer at all. Too much salt and licorice dominates the flavor and the oak-aging is barely noticeable at all. My least favourite beer from Struise so far.
430 characters
Black Jack from De Struise Brouwers
Beer rating:
3.01
out of
5
with
15
ratings