Granite City Food & Brewery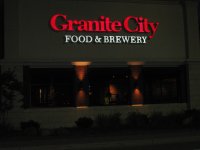 PLACE INFO
Type:
Brewery, Bar, Eatery
72 W Towne Mall
Madison
,
Wisconsin
, 53719-1019
United States
(608) 829-0700 |
map
gcfb.com
Notes:
No notes at this time.
Added by NeroFiddled on 01-10-2007
Reviews: 5 | Ratings: 17

2.84
/5
rDev
-10.4%
vibe: 3.25 | quality: 3.25 | service: 3 | selection: 2
This was my second time at Granite City in Madison. This time we just went into the bar area for drinks since we were waiting to pick something up in the mall. I noticed maybe 4-5 of their beers on tap with no signage saying they offered any other beers than those. Not much for a selection and a little overpriced but at least it was a 20 glass. They do have a mug members club discount but I don't live close enough to get much use from it. The classic craft vs crafty argument can be made here. Considering Old Chicago is just across the street, that makes for a much better selection and price!
598 characters

3.35
/5
rDev
+5.7%
vibe: 3 | quality: 3 | service: 4 | selection: 3 | food: 4
Transcribed from notes dtd H, 12 Aug 2010.
Talk about serendipity! I was walking back to the bus stop from Woodman's Market when I noticed this place and decided to pop in for a beer or two and a review while I was at it. It happened to be the meeting place for the monthly meeting of the Madison Beer Monks and Maidens, an auspicious organization of which I happen to be an out-of-town member. We ate our way through four (4) or five (5) of their flatbread pizzas and drank countless pitchers of their beers while we were there. I am not going to exaggerate and suggest that their beers are anything great or wonderful, but for a group gathering, it was a good choice.
Entering, the m.d.s. was to the immediate left with the entry to the bar area on a left-oblique. Aqua-blue leather booths ran along the left windows and the bar area was on a right-oblique. Up a slight incline past the end of the bar were the four (4) FVs. The restaurant area was on the right side of the space with the kitchen to the extreme right of the space. Nothing terribly exciting to see here.
1,074 characters
3.25
/5
rDev
+2.5%
vibe: 3 | quality: 3.5 | service: 3 | selection: 3 | food: 4
A- the place was a little up-scale generic, big granite stone pillars and wavey glass walls lined with bottles, and growlers, however they all are just like you could find elsewhere
Q- the food and beer were both good, we went with burgers and soup, both were good, and normally priced, however the other stuff were on the more expensive side,
S-we were sat down quickly at a table, and were able to order quickly, the waitress was curteous. didnt ask any hard questions and we didnt stump her
S- 5 of their own beers, the IPA was pretty good, didnt have the others, enjoyable, food was reasonably varied.
F- the food was good, homemade potato chips were tastey, burger was good, came stacked with toppings, food stood out more than the beer
V- was a little on the higher side, but still not expensive
818 characters
2.83
/5
rDev
-10.7%
vibe: 3 | quality: 2.5 | service: 4 | selection: 1.5 | food: 4
Atmo: Upon entering this mall parking lot establishment, one is greeted by three or four young attractive hostesses and seated either at a long, hastily constructed dark wood bar or in a moderately sized dining room behind poorly built limestone pillars and under an industrial exposed ceiling. The décor is wanna-be upscale chain. Flat panel tvs are found in every panel but to the place's credit the high ceilings seem to keep noise to a tolerable level. The booths are comfortable and intimate enough for conversation.
Service: This place is new and still figuring some stuff out but I must say that I was impressed overall. Our waiter was very busy when we were seated so two managers came over and while one took our drink order and retrieved our beers, the other explained their mug club. Then, after our waiter, who was both new to the industry and swamped, made some major mistakes, i.e., brought us the wrong food, brought our appetizer with the meal, etc…, the managers again came over, apologized and fixed the situation to our satisfaction. I left the place feeling good about the service, despite the blunders, because it was obvious that management is seeking top quality service and will get there once the place has been up and running for a bit.
Food: I tried a burger and loved it. It came smothered, and I mean really loaded, in cheddar cheese, BBQ sauce, and bacon. The homemade chips were good too. The lunch sized portion was only $5.95. We also tried the spinach/artichoke dip ($7.95). It was quite garlicky, to my liking, and was served with toasted chiapata bread. The menu is large and promising.
Beer: There are 4 of them: Bock, IPA, Stout, and a Lager. All are drinkable and tasty though not exciting. Every three months a seasonal will be released. This season's scotch ale however is unavailable because the building wasn't finished at the time that the beer was supposed to be brewed. Of the four beers I liked the bock best.
1,969 characters
3.75
/5
rDev
+18.3%
vibe: 4 | quality: 4 | service: 3 | selection: 4 | food: 4
'Slick but seemingly without substance' was how I initially percieved the newest installment of the Granite City Food & Brewery chain at the West Towne Mall in Madison Wisconsin. There were plenty of smiling faces to take my order, but brows furrowed when I asked questions that weren't as easy to answer as yes or no - or perhaps weren't in the training manual ;) And no real answers came....? Not that they weren't trained to repeat the same thing over and over again, or didn't know what the signature selection of Grilled London Broil with Bourbon Sauce was, but the college server mind-thought seemed to be "we want your money - quickly - order, eat, and leave". "...and leave a big tip!".
It's a beautiful place though; and although it's going through the "new place in business" busy-period right now, I might stil go back. I liked the decor, which is slick and smooth, but with a gritty edge exemplified in the stacked stone columns behind the bar and around the dining room. Very nice, cooling/dim, relaxing, decor. It can be loud though, but keep in mind they're pretty busy right now after just having opened.
The food is top notch for casual dining, and I had no faults with the food service, selection, presentation, quality, generous portions, and reasonable prices. The menu is varied with appetizers, soups, kid's items, side dishes, salads, burgers, pastas, sandwiches, and "signature selections"... entrees. They also have a special lunch menu, and Sunday brunch.
Some menu highlights include a Buffalo Chicken Salad for $9.69, the Bleu Peppercorn Burger at $8.49, Mussels And Shrimp Linguini for $13.99, the Monterey Chicken Wrap (!!!) at just $8.69, and a massive Grilled Chicken Burrito that should feed you at lunch with leftovers for an additional two days for just $11.99.
And, the beer I had was excellent! I only had one, a bock, but it was quite good... no flaws, and right on style. As a professional brewer for over a decade, I can say that I was impressed. I was kind of bothered that the only size they sell is 20 oz. (or 25 if you join the mug club!).
They supposedly utilize "fermentus interruptus" - shipping wort from a central location, and then fermenting it. Or do they? No one I asked had any clue of what I was talking about, and everyone swore that they made all of their beer there. Hmmm? Maybe they do - I never did take a look at the equipment (my bad). REGARDLESS, what I had was excellent... I'm not sure it carries through, but we'll find out soon enough. 5 regular beers.... maybe the specialty beers will rock!
Liquor and wine. The wine selection is weak and over-priced for what it is, with only two to four exceptions.
As someone form the east coast, I'd rank it highly against chains like John Harvard's and Rock Bottom where I've received shitty service, lackluster or poor food (never with the beer, thank God!), and a "couldn't care less" response from management (although I've never had a problem at Granite City and they are just getting started and things might change).
3,051 characters
Granite City Food & Brewery in Madison, WI
3.31
out of
5
based on
1,309
ratings.