Pale Ale
| HaandBryggeriet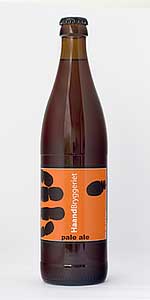 BEER INFO
Brewed by:
HaandBryggeriet
Norway
haandbryggeriet.net
Style:
English Pale Ale
Alcohol by volume (ABV):
4.50%
Availability:
Year-round
Notes / Commercial Description:
No notes at this time.
Added by bark on 08-17-2007
Ratings: 12 | Reviews: 7
Reviews by laituegonflable:

3.55
/5
rDev
-1.1%
look: 3.5 | smell: 3.5 | taste: 3.5 | feel: 4 | overall: 3.5
Pours a russeted amber colour, clear and bits of bubbles around the edge; has a cream-coloured head that sinks disappointingly, with nice lace left behind. OK-looking pale.
Smells quite fruity, and hoppy. Mango and peach with a dusty hop note. Not all that vibrant, with some maybe vegetative spicy notes, maybe a bit flattened out with age, but still some nice aromas coming through.
Taste has fruity notes on there, but they're slightly stale, with a muted, blanketed kind of flavour overall. Hints in there of peach, citrus and pink pepper with some minty hops late. Bit of bite shows it's mostly still there, but it does come across as a bit aged and diminished; maybe even a little sour. Still a decent pale ale though.
OK texture-wise, a bit bitey and spicy late, which goes to service the style well.
Drinks fine, but in my opinion this bottle is a little old, and I feel there was nothing especially fresh or vibrant to it anyway. Decent, though.
958 characters
More User Reviews:
3.65
/5
rDev
+1.7%
look: 4 | smell: 4 | taste: 3.5 | feel: 3.5 | overall: 3.5
Bottle: Poured a golden/orangey color ale with a large foamy head with good retention and some lacing. Aroma consists of hops with nice bitter edge mix in with some dry caramel malt. Taste is also dominated by bitter hops with light floral touch and some dry caramel malt that are quite solid for the style. Body is quite full with good carbonation. Good refreshing drink with enough hops punch to do the job.
409 characters


4.48
/5
rDev
+24.8%
look: 4.5 | smell: 4 | taste: 4.5 | feel: 4.5 | overall: 5
Not so sure why this is in the new 'archived section' now... I just had it on tap at Novare Res several times last week. I guess the Haandbryggeriet stuff is just not being available on draught, in these parts at least. Archived or not, glad to see this around...
A really pretty looking beer, served in a big rootbeer mug. Amber in color with a large and fluffy sustaining head. Nose is hinting at something very dry - dusty earthy hops and a nice toffee English style maltiness. Nice and bitter on the palate - definitely herbal and dusty as suggested by the nose but also a nice resiny soapy bitter hop smack. Excellent balance - almost like a well-hopped ESB or something. Not a west coast execution of hops, but they are definitely there. Crispy dry mouthfeel and at 4.5% this is an ideal session beer. Fresh and delicious tasting I might add, all the way across the pond. Very tasty pale ale.
899 characters

4.23
/5
rDev
+17.8%
look: 4.5 | smell: 4 | taste: 4.5 | feel: 4 | overall: 4
Batch #61.
The colour is deep amber; the finger thick head is uneven and pale beige. It sinks down slowly, leaving some fine lacing. The liquid is a bit hazy; there seem to be lots of yeast in the bottle.
The smell is very hoppy in an English way; lots of sweet apricots, apples and hints of bitter oranges. There are some light notes of sweet lightly roasted malt with a touch of mild yeast.
The taste is hoppy, too. Dry bitter fruity flavours balances the sweet malt (with notes of rye bread). Apricots, raspberries, roasted meat and some light notes of yeast and minerals. The aftertaste got a growing bitterness, more of the minerals and a note of bitter herbs.
The carbonation is mild with lots of very small bubbles. The liquid is very creamy.
If this is the pale ale, I wonder how the IPA is. Anyway, this is a tasty and robust ale.
858 characters
3.06
/5
rDev
-14.8%
look: 4 | smell: 3 | taste: 3 | feel: 3 | overall: 3
A - orange-tinged pale amber; good dense whitish head with good retention and nice lacing
S - lean, weak, acetic; apple peel; leafy and citric hops
T - bland-ish; mild; acetic sharpness at back end; hops are muddled and hiding
M - lean and mean
O - I expected more from this; a little surprised, actually, as I like this brewery; I am tempted to look to something in the service of this beer for the fault, but the bar is more than solid and craft-focused..? need to try this again
485 characters
2.98
/5
rDev
-17%
look: 2.75 | smell: 2.75 | taste: 3 | feel: 3 | overall: 3.25
Lightly veiled orange appearance, beige foam, with large bubbles.
In the smell a malt and a hop not too fresh, a bit of citrus (orange). It feels like something a bit old.
In the mouth againmalt and biscuit, more lively and frsh, with a hoppiness and a citric presence well balanced.
In the aftertaste a decent peppery note, a good orange, quite fresh and inviting.
It's a pity the smell was not too fresh, maybe the beer was a bit old.
436 characters
3.07
/5
rDev
-14.5%
look: 3.25 | smell: 3 | taste: 3 | feel: 3.5 | overall: 3
3.42
/5
rDev
-4.7%
look: 3.5 | smell: 4 | taste: 3 | feel: 3.5 | overall: 3.5
This pours a hazy, copper colour with a small, short lasted white head.
Mild toffee and caramel aroma. Mild dark and stone fruits. Good.
Light caramel, dust and lemon notes. A little dull and oxidised. There is a moderate bitterness too. I could see this being good fresh but even within date code it is a bit disappointing.
Medium body with moderate carbonation. Fine.
A fair Pale Ale. I can see that this would be quite hoppy for an English Ale when fresh but on the whole a decent, if slightly aged, beer.
513 characters
Pale Ale from HaandBryggeriet
3.59
out of
5
based on
12
ratings.