Dark Force Reserva

HaandBryggeriet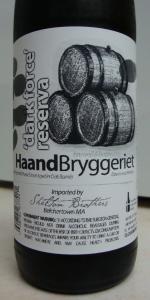 Write a Review
Beer Geek Stats:
| Print Shelf Talker
Style:

ABV:

9%

Score:

88

Avg:

3.5

| pDev:

19.43%

Reviews:

9

Ratings:

From:

Avail:

Retired (no longer brewed)

Wants

Gots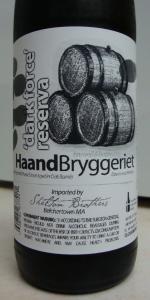 Notes: Dark Force aged in Akevitt barrels.

laituegonflable from Australia
3.32
/5
rDev
-5.1%
look: 4 | smell: 3.25 | taste: 3.25 | feel: 3.5 | overall: 3.25
Pours a very dark brown, just tinted around the edges of the blackness. Mocha head, medium bubbles. Decent lacing.
Smells roasty/burnt, actually a bit of a sour edge to it. Quite spicy, carbonic, with licorice, over-roasted coffee and a solventy edge. Bit intense, but intriguing.
Taste retains that sour note and is possibly intentional. Roasty malts underlying, with bitter roast coffee, some vegetative notes, szechuan pepper and a seafood character. Tastes a little underfermented maybe, or like there's not quite enough malt character on there to begin with.
Bit of a pull from that tart note, but enough body to carry it.
Not sure about this; there's some nice characters but they're all a bit off-kilter.
Aug 01, 2014

beergoot from Colorado
3.66
/5
rDev
+4.6%
look: 3.5 | smell: 3.75 | taste: 3.75 | feel: 3.5 | overall: 3.5
Re-reviewed 1-7-16
Original ratings: 3.5 3.75 3.25 3.5 3.25
The flavor seems more robust with this bottle. The wheat character adds some additional smoothness and graininess I didn't catch the first time while the sourness seems more tamed, perhaps due to aging in the bottle.
A decent and interesting wheat-based, barrel-aged imperial stout.
---------------------------------------------------------------
Jet black and opaque body with a thin but lasting light tan head. Booze, dates, and bitter chocolate nose with a gentle roasted grain background with a tinge of smokiness. Deep sweet and sour flavors. Heavy body with a mostly dry finish.
A nice big dark beer, not too boozy in flavor, yet a bit too sour and tart tasting to me. There is still plenty of dark, roasted grain character. A more substantial malt feel and flavor would make this one more enjoyable, otherwise it lacks the malt depth and complexity one might anticipate for a Russian imperial stout. Interesting but not compelling.
Feb 25, 2014
eric5bellies from Australia
2.71
/5
rDev
-22.6%
look: 3 | smell: 2.5 | taste: 2.5 | feel: 3.25 | overall: 3
Drank from my Duvel Tulip
A - Pours a deep Ebony colour with a large two fingered head that reduced slowly to a film and laces.
S - Aromas of roasted malts and vanilla, not pleasent
T - Up front plenty of malt followed by a deep molassis flavour and a rather stringent finish that is warming and bitter. Pretty rough
M - Medium to full body with low carbonation
O - Don't recommend this. Its way too rough for an RIS and lacks complexity.
May 10, 2013
lacqueredmouse from Australia
4.03
/5
rDev
+15.1%
look: 4.5 | smell: 4.5 | taste: 3.75 | feel: 3.75 | overall: 4
Bottle purchased from Slowbeer in Melbourne, at the recommendation of Chris the beer guy. Shared with Sam during the brewday for our Imperial Stout. After tasting our wort, I had a hankering for something big, dark and oak-aged.
Pours a very deep black, shaded slightly brown by some streaming towards the head. The head itself is a very deep chocolate brown, very pleasant and thick, almost creamy when swirled. Lacing forms in leopard spot around the edge of the glass. body is rich and liquid, holding fine carbonation softly and slowly. Lovely looking stuff.
Nose is woody, dark, roasted and slightly smoky. There's a comforting wintertime around the open fire to it: pleasant fresh cut wood, smouldering flames, and suggestions of soft dark booze and sweet dark fruits. There's a slight freshness to it as well, a greenery, maybe even some true hoppiness. It's very nice indeed.
Taste is... oh wait, Haand? Yes, that explains that. Definite sour twang to it, just a suggestion of whatever wacky wild yeast they tend to put in everything. It gives it a slight metallic character over the rich darkness, and really skews this into strange places. There's darkness, plenty of wood, but very little body or sweetness: it feels like the sour character has ripped these out completely. It creates a more unique, but potentially a less objectively good beer.
Feel is decent, but again attacked by the acidity.
I guess I should have expected this from Haand. I usually like their rustically wild take on things, but I guess I'm a little bit disappointed that this didn't really fulfill its potential as a truly great Imperial Stout. Still, it's a very good beer nonetheless, wild and unique, with Haandprints all over it.
Mar 24, 2013
rudzud from Massachusetts
3.45
/5
rDev
-1.4%
look: 4 | smell: 4 | taste: 3 | feel: 3.5 | overall: 3.5
Picked up a bottle of that at the Hill Farmstead retail shop a while ago, a long while ago. Poured into my Duvel tulip.
A - Poured a nice deep dark brownish black with a good quarter inch mocha head that never really fades, just rests atop in a nice thin blanket. Quite nice.
S - Nice chocolate, light espresso. The oak adds a bit of light funk and some soft vanilla to it along with some booze. Nice roasted malt too.
T - Woah. Did a double take when I tasted this. Gone are the chocolate and coffee. Instead, I've got a fair amount of booze and odd fruitiness. Weird tartness too. Lots of oak, these HAD to have been wine barrels this was aged in. This really, really detracts from the beer for me.
M - Too tart, weirdly sour for a stout. Light carbonation, smooth but just kind of a mess.
O - Overall, I was liking this beer, until I took a sip. The Oak barrel wine notes are waaay too strong for my liking. What I've got here is about as close to a RIS as a dark saison is. Bummer.
Nov 29, 2012
dgilks from Australia
3.53
/5
rDev
+0.9%
look: 4 | smell: 3.5 | taste: 3.5 | feel: 3.5 | overall: 3.5
Inky black colour with a smooth tan head. Nice head retention but no lacing.
Sweet and alcoholic. Quite a dose of chocolate and mild roast. Not acrid. Almost a little spicy but it is probably the alcohol.
Sweet malty character with plenty of chocolate. The alcohol is big and there is certainly some oak here. Not bad.
Medium-full body with moderate carbonation. Fine.
I don't mind this though it is less amazing than the plain Dark Force. The oak doesn't seem to contribute much.
Aug 30, 2012

bluejacket74 from Ohio
3.65
/5
rDev
+4.3%
look: 4 | smell: 4 | taste: 3.5 | feel: 3.5 | overall: 3.5
500 ml bottle. Served in a snifter, the beer pours dark brown/black with about an inch brown head. Head retention and lacing are both good. Aroma is nice, the brew smells like roasted malt, bittersweet chocolate, oak and some dark fruit. It tastes like roasted malt, chocolate, tart dark fruit, smoke and oak. Mouthfeel/body is medium, it's a bit coating and has low carbonation. I liked this brew, and I wouldn't mind trying it again in the future. $10.98 a bottle.
Aug 11, 2012
AgentMunky from New York
3.49
/5
rDev
-0.3%
look: 4.5 | smell: 3 | taste: 3.5 | feel: 3 | overall: 4
Poured from a 22 ounce bottle into a St. Bernardus goblet. I'm surprised there's only one review...The label reads "Double Imperial Wheat Stout Aged in Oak Barrels."
A: Pours visious and black, with a thin, very dark head forming. Utterly opaque. Heavy lacing.
S: Not much. Roasted malt? Smooth and muted.
T: Less interesting than the Dark Force. This barrel-aged version, as sometimes happens, came out smoother and tarter. And odd fruitiness detracts from the light (lightness derived from the wheat base, mayhap?) roasted bitterness. No hop presence, little to mild carbonation. Actually, it begins to grow on me as I begin to suspect that oak barrels in question used to contain the beer were wine barrels...which would explain a lot.
M: Muted, dryish, oily.
O: Disappointing, if competent. I still like the brewery, but I'd stick to the original. This smooth, wine-like beer is interesting, but not compelling.
Jul 20, 2012
ADZA from Australia
3.95
/5
rDev
+12.9%
look: 4 | smell: 4 | taste: 4 | feel: 3.5 | overall: 4
This is Dark Force aged on oak barrels and pours a dark black hue with ruby highlights and leaves a two finger chocolate laced head and a rim of lacing,the smell is oak,cherries,dark chocolate and a touch of funk,the mouthfeel is medium bodied and lighter than expected with tastes of oak,chocolate coated cherries,sour funkiness but not much just a nice touch followed by some plum jam,caramel fudge and finished with a soursweet finish of funkiness and dark chocolate and overall i like this brew even though the mouthfeel let me down a little abit but i gotta say its easy to drink which belittles its high ABV and id like to buy again to age for a little and revisit cheers.
May 30, 2012
Dark Force Reserva from HaandBryggeriet
Beer rating:
88
out of
100
with
21
ratings