Piddle In The Hole
| Wyre Piddle Brewery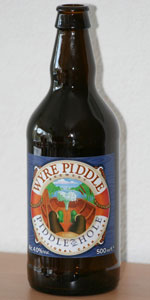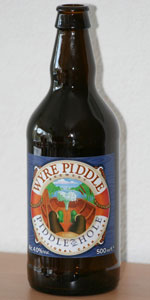 BEER INFO
Brewed by:
Wyre Piddle Brewery
England
,
United Kingdom
Style:
English Pale Ale
Alcohol by volume (ABV):
4.00%
Availability:
Year-round
Notes / Commercial Description:
No notes at this time.
Added by bditty187 on 03-21-2007
HISTOGRAM
Ratings: 11 | Reviews: 8
Reviews by Stephen63:
3.4
/5
rDev
+0.9%
look: 4 | smell: 4 | taste: 3 | feel: 4 | overall: 3
A - Fine coppery hue, head not too strong.
S - Fruity and flowery with a sweet almost caramel background. Very pleasant
T - Really quite surprising after the aromas but a bit watery and hint of sourness. Very dry as suggested by another the previous review. Not at all what expected froma pale ale.
M - Good level of carbonation fairly smooth on the palate.
D - Pretty much in the category of OK but for me definitely not moreish.
The taste was a bit of a disappointment, probably look for this as a cask to see if that is more up to the mark.
548 characters
More User Reviews:

2.86
/5
rDev
-15.1%
look: 4 | smell: 3 | taste: 2.5 | feel: 3 | overall: 3
500ml bottle with a BB of Dec 2011. The stated ABV is 3.6%, not 4.
Poured into a Sam Smith's pint glass. A clear coppery-amber hue with medium carbonation. Produces a large creamy off-white head that remains for a few minutes. Looks pretty good. The aroma is muted; hints of sweet malt, toffee, faint roasty notes and some hops.
Weak flavour. Some watery malt with light bitterness. Faint notes of toffee/caramel. Mouthfeel is thin and tingly. Little in the way of aftertaste.
A poor drinking experience - bland and unexciting. I've had this in the past and remember it being better. Insubstantial - spend your money elsewhere.
(Note: I observed that the alcohol level has decreased compared with this ale's previous incarnation, possibly in response to the recession. That might also explain the decrease in flavour compared with my memory of it.)
852 characters

3.37
/5
rDev 0%
look: 3.75 | smell: 3 | taste: 3.5 | feel: 3.25 | overall: 3.5
500 ml bottle with a BB date stamp of July 2015 and 3.6% ABV listed.
Fine looking ale, with a red-copper body topped by a durable light tan head that leaves ample lacing.
Aroma: simple but appealing light and medium malts with faint hops.
Flavor: mild, following the aroma.
:
280 characters

3.06
/5
rDev
-9.2%
look: 4 | smell: 3 | taste: 3 | feel: 3 | overall: 3
Clear, tawny-copper in hue, the color is lovely; off-white head graces my presence. At the apex the foam was a healthy two fingers tall. Impressive head retention, the foam was very slow to fade. A soapy cap lasted the entire consumption. The subsequent lacing wasn't very prevalent but it was noteworthy. Overall, the appearance is respectable.
The nose is fruity with some hoppy notes, metallic hard water aromas and some buttery, caramel malt smells. Well-balanced, simple and aromatic; the nose is an understand English Pale Ale. Maybe I should call it a Bitter but I believe Bitters are not bottled but WTF do I know. Honestly, the nose doesn't do too much for me but it does indicate (I think) the direction the palate will take.
The palate is much like the nose, fruity, bitter and quite metallic. Once I get past the metal I like the caramel maltiness, it is quite soft and pliable. Surprisingly, the more I sip the more it agrees with me. I don't regard this as a great beer… it is merely "good." Too bad I consider the metal flavors and aromas a fatal flaw. Fair palate, overall. The aftertaste is a mix of sweet maltiness, ale fruitiness, hop bitterness and (sadly) metal. Oh well…
Medium-light in body, low but natural carbonation, the mouthfeel is too thin, IMO.
I found it drinkable to a point. I wonder if it would be better on-tap (surely on cask). Funny name aside there really isn't much special about this beer. Nevertheless thank you, Hanna, Holly, Hope, Rose, Dave, and Kathy. I would have never had the opportunity to try this beer unless you lugged it across the pond for me.
1,621 characters
3.75
/5
rDev
+11.3%
look: 4 | smell: 4 | taste: 3.5 | feel: 3.5 | overall: 4
Brown 500ml bottle, best before Jan 2007, drank when just out of date, on the last day of March 2007.
Poured into a Palm tulip glass (twice).
Looked good, bright body of terracotta red with a fine off white foaming head.
Sweet spices and yeast aroma, very hoppy too, a malt bread smell. As the beer warmed a toffee smell appeared.
Dry, yet fruity, slightly tart in flavour but with a good bitterness. No hint of the sweeter elements of the aroma at all.
The aftertaste is very dry, with a hop tang to it, again no feel or taste of the aroma's toffee sweetness.
All in all, a good bottled bitter. I don't think this is a Pale Ale as listed, but I've been wrong before!
685 characters


3.75
/5
rDev
+11.3%
look: 3.75 | smell: 3.75 | taste: 3.75 | feel: 3.75 | overall: 3.75
Bottled and for a while my favourite ale mainly because rather like this, a solid, simplistic but quite tasty bitter with nice balance of hops and malts with cheeky bitter finish
178 characters
3.75
/5
rDev
+11.3%
look: 3.5 | smell: 3.5 | taste: 4 | feel: 4 | overall: 3.5
Pours a flat amber-umber with a film of off-white foam at clings to the edges. Nose is roasty-toasty malts with maybe some unfiltered cider. Caramel and dark wheat toast with mild mulch and birch beer hops. Tight tingly finish, dry linger. Chewy, medium, a bit syrupy.
Wyre Piddle's website says they've got new premises, but the label says Aston Manor contract brewers. And that's without mentioning Highgate, so I really don't know how this beer got un-retired.
I can see why, though. This one's a slow burner - way too malty to start, with hops nowhere in sight. As the dryness builds over each sip, however, you can see where it's a proper bitter, and the intricacies of the hop bill (Golding?) come out. Still not perfectly balanced, though, and shame it's not more of a looker.
786 characters

3.43
/5
rDev
+1.8%
look: 3.5 | smell: 3 | taste: 3.5 | feel: 3 | overall: 4
This copper coloured brew has quite a significant head. Malt dominates the nose. It smells of raisins with just a faint hint of gooseberry suggesting that there are some hops present.
Tastes rather well coordinated with a fruity raisin flavour being backed with just enough of a herbal hop finish to sate the palate. This beer is by no means bold, but certainly more interesting and better than many in this style category which has more than its fair share of also rans. It is certainly more worthy of investigation than most West Midlands bitters, and would make a good session beer.
586 characters
Piddle In The Hole from Wyre Piddle Brewery
Beer rating:
3.37
out of
5
with
11
ratings