Mad Goose
| Purity Brewing Co
BA SCORE
84
good
15
Reviews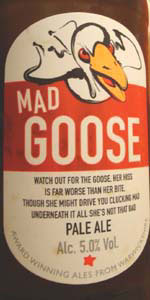 BEER INFO
Brewed by:
Purity Brewing Co
England
,
United Kingdom
puritybrewing.com
Style:
English Pale Ale
Alcohol by volume (ABV):
5.00%
Availability:
Year-round
Notes / Commercial Description:
No notes at this time.
Added by BlackHaddock on 04-28-2009
Reviews: 15 | Ratings: 28
3.67
/5
rDev
+0.3%
look: 4 | smell: 3.75 | taste: 3.5 | feel: 3.75 | overall: 3.75
Tried on real ale in Scotland.
Nice aroma: barley, citrus, sweet yeast, pine.
Flavor falls a little flat. Spicy yeast melds with bitter hops and grainy barley.
161 characters
3.98
/5
rDev
+8.7%
look: 4 | smell: 4 | taste: 4 | feel: 3.75 | overall: 4
Tried on draught and bottle. A good example of an English Pale Ale.
Got an initial flavour of light malt and caramel which was nicley offset by a well balanced bitter finish. A nice easy drinking drinking session ale with just enough to keep you interested after the first couple...Nice glass too!
299 characters
3.4
/5
rDev
-7.1%
Down to 4.2% on cask at 'spoons.
Amber colour with a slightly chalky, lemon to tangerine nose. The taste is a combination of early caramel and later tangerine. Quite a rich flavour and getting a fairly high mark for a caramelly beer from me.
242 characters

3.79
/5
rDev
+3.6%
look: 3.75 | smell: 3.5 | taste: 4 | feel: 3.75 | overall: 3.75
Bottled
Pours an amber body with big foaming white head that retreats but keeps the surface covered
Nice aroma of pepper and copper
Citrusy hops run along cracker bitter finish
178 characters
3.41
/5
rDev
-6.8%
look: 4 | smell: 3.5 | taste: 3.25 | feel: 3.25 | overall: 3.5
500ml bottle. 4.2%abv. Golden, thick head, subsiding. Clear. A few rising bubbles. Aroma of citrus hop, grass. Medium bitterness and sweetness. Mouthfeel thin to oily, medium body. Lingering hoppy finish. Overall: a reasonable beer, quite bitter on the finish.
260 characters
3.93
/5
rDev
+7.4%
look: 4.5 | smell: 4 | taste: 3.5 | feel: 5 | overall: 4
Pours a clear, amber color. 1/3 inch head of an off-white color. Great retention and great lacing. Smells of dry hops, hint of citrus hops, sweet malt, and slight caramel malt. Fits the style of an English Pale Ale. Mouth feel is smooth and clean, with a low carbonation level. Tastes of slight citrus hops, slight floral hops, sweet malt, and slight caramel malt. Overall, good appearance, feel, and blend.
407 characters
3.73
/5
rDev
+1.9%
look: 3.5 | smell: 3 | taste: 4 | feel: 4 | overall: 4
BB 26/04/2013, served cool in a straight imperial pint glass. Notes: This bottle comes at 4.2%abv. instead of 5.0%abv.
A: red-pink-ish amber in colour, coming with semi-lively carbonation and a loosely-formed off-white head.
S: citric-fruity, peachy-floral and liquidy barley-candy-ish; a close sniff reveals deeper sour fruity notes. Fruity and hoppy on the nose in general, against a moderate backbone of pale malts.
T: a delicious swallow of zingy, citric and floral fruitiness upfront precedes a decent middle-taste of pale malts with a gristy character as well as solid hop bitterness, finishing dry and clean with more chewy bitterness lingering down the palate.
M&D: refreshingly carbonated, medium bodied, this balanced hoppy ale preserves traditional characters of an English Bitter (i.e. dry and bitter) with a modern twist of non-English hops. Refreshing and quaffable all in all.
892 characters
3.69
/5
rDev
+0.8%
look: 3 | smell: 4 | taste: 4 | feel: 2.5 | overall: 3.5
500 ml bottle (bought at Webbs of Wychbold, of all places!) poured into a straight pint glass.
Appearance when poured is a yellow/straw coloured beer, the head lacks density and froths down into a light covering of foam, the beer looks highly carbonated on first show. A fine lacing decorates the glass as the beer goes down.
Marvellous aroma - fragrant with grassy, flowery hops. Taste is appealing, grapefruit and lemon dominance, with cleansing astringent bitterness. Malt undertones give a bit of structure but the feel is a little light, not helped by the (in my view) excessive carbonation.
Overall Purity have created a light and refreshing drink, and with moderate alcohol content, ideal for quaffing.
713 characters

3.11
/5
rDev
-15%
look: 4 | smell: 3 | taste: 3 | feel: 3.5 | overall: 3
A: Pour is clear deep golden with a rather large compact white head that takes some time to dissipate into rather decent lacings.
S: Some buttery notes but also a metallic off-smell. Caramell malt, grainy and grassy. Floral hops and some mild bitter ones as well.
T: Buttery and nutty. Grainy and grassy. Caramell malt together with both floral and bitter hops. Some red apples and citric notes.
M: Aftertaste lingers with a nice dry bitterness. Body is medium and carbonation mild.
O: A basic English Pale Ale, nothing more, nothing less.
544 characters
3.68
/5
rDev
+0.5%
look: 4 | smell: 3.5 | taste: 3.5 | feel: 4 | overall: 4
On cask at Gunmakers, Clerkenwell, London.
Creamy head that sheets and bright orange-gold body.
Nose is lemony grassy hops with slight grainy/flour malts.
Bread crust malts with lemon barley water, then weak lemonade and cut grass hops. Lemon drop end.
Light to medium, soft and round, with some stick.
4.7% on cask, apparently; Cascade and Willamette for aroma.
Smooth, easy, gentle ale. Hops forward but muted. Slips down. And yet… too smooth (which is to say insubstantial) to be a real quencher.
509 characters

3.81
/5
rDev
+4.1%
look: 4.5 | smell: 3.5 | taste: 4 | feel: 3 | overall: 4
500ml bottle poured into an elegant tall pint glass; enjoyed during intermission at the second-storey bar at the Royal Shakespeare Theatre in Stratford-upon-Avon.
A: Clear medium amber body under a creamy, rocky white head. Terrific retention and light lace. Beautiful.
S: Floral + citrus hops, backed up by toasty, biscuity malt. Very crisp, but not especially compelling.
T: Nuttiness starts things off, with wonderfully dry, complex malt flavors leading to a clean, bitter, citrusy finish. Very refreshing.
M: Medium body with plenty of lively, prickly carbonation. A trifle harsh.
O: This is my third Purity beer (all three that are listed on BA), and it's yet another solid, enjoyable offering from them. Great balance, solid flavors, moderate intensity. Nothing outstanding, but eminently quaffable. Good stuff.
Cheers!
831 characters

4.35
/5
rDev
+18.9%
look: 4 | smell: 4 | taste: 4.5 | feel: 4.5 | overall: 4.5
My favourite of the Purity Brews, clocking in at 4.2% ABV. Early bottle versions of the beer were 5% but bottle and cask are both now 4.2%
A light Copper Pale ale in appearence.
Brewed with Cascade and Willamette hops the beer has a very distinctive hoppy taste with a slightly acidic aftertaste that may not be to everyones liking, but definitely a beer i could spend all night drinking!
Brewed in Warwickshire, England the beer is now widely available in the Midlands and the bottled version is readilly available in supermarkets.
535 characters
3.92
/5
rDev
+7.1%
look: 3 | smell: 3.5 | taste: 4 | feel: 4 | overall: 4.5
On cask at the Roebuck in Southwark.
Nothing special to look at. Straw yellow, thin cask head. No lacings.
Nice hoppy nose, leaning towards pine.
A nice light grainy malt profile. Star of the show is some quite un-English hopping. Nice pine and citrus flavours standout, especially with the laid-back cask malt.
The cask was on fire, great smooth mouthfeel.
Could easily drink this all day. Wonderful on draught.
421 characters
3
/5
rDev
-18%
look: 3 | smell: 3 | taste: 3 | feel: 3 | overall: 3
500 mL brown bottle poured into a pint glass, served cold.
I gave this straight 3's all the way across the board, as it is consistently average in the world of English pale ales. Nothing distinctive to set it apart from the pack, but nothing negative either (except its non-distinctness). I would certainly drink it again if offered one, but I won't go out of my way to purchase it again, unless it's a different format just to compare.
437 characters
3.77
/5
rDev
+3%
look: 3 | smell: 3.5 | taste: 4 | feel: 3.5 | overall: 4
Brown 500ml bottle, best before 2nd June 2009 drank on my Pale Ale tasting day, late April 2009.
Poured into a UK pint sleeve glass.
A slightly hazy, fairly dull golden yellow liquid filled the glass, a white, firm foaming head sat on top, a few bubbles could be seen rising through the beer to settle on the underside of the head. The head thinned out a bit quick but it looked fine at the start of the tasting.
Good hoppy aroma (Cascade and Willamette), with a hint of a floral, apple blossom smell coming through as the beer warmed in the glass.
The taste was crisp, sharp and a bitter hoppy dryness, the bitterness coming from the third hops used (Hallertau).
The body was a bit thin, and the 5% alcohol content is hard to find. Having said that, it does go down very well and this brewery is fast becoming one I look for when visiting new beer stores and bars.
880 characters
Mad Goose from Purity Brewing Co
3.66
out of
5
based on
28
ratings.