Epic / Thornbridge Stout
| Epic Brewing Company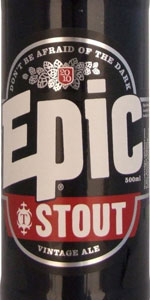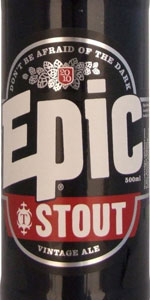 BEER INFO
Brewed by:
Epic Brewing Company
New Zealand (Aotearoa)
epicbeer.com
Style:
English Stout
Alcohol by volume (ABV):
6.80%
Availability:
Limited (brewed once)
Notes / Commercial Description:
A pair of Kiwis brewing renowned ales on opposite sides of the planet put their heads together to produce New Zealand's first international collaborative brew. In February 2010, Luke Nicholas from Epic Brewing Company (NZ) and Kelly Ryan from Thornbridge Brewery (Eng) created a silky, decadent yet hoppy stout. Their synergistic brew, Epic Thornbridge Stout, is a drinkable testament to the power of collaboration. Kelly has helped draw out Epic's dark side which may just usher in a new epoch for brewing in this country.
Added by brendan13 on 08-01-2010
This beer is retired; no longer brewed.
HISTOGRAM
Ratings: 10 | Reviews: 9

3.87
/5
rDev
+0.3%
look: 4 | smell: 4.5 | taste: 3.5 | feel: 3.5 | overall: 4
The beer is black with hints of brown, has a tan head that leaves good lacing.
A complex smell on this one, roasted malt, burnt toast, dark roasted coffee beans, sweet licorice, some dried fruits, really dark chocolate.
The taste is sweet, dark bread, raisins, licorice, espresso.
Medium low carbonation, small bubbles, a soft texture and a dry finish.
A good one, good combination of softness and dryness.
410 characters
3.84
/5
rDev
-0.5%
look: 3 | smell: 4 | taste: 4 | feel: 3 | overall: 4
The smell is creamy and roasted with some hoppy and mildly bitter flavours. Coffee, nuts, dark chocolate and some spices like allspice and nutmeg. Dry hints of strong wine, cocktail cherries and some clean alcohol. Lots of flavours for the alcohol, though.
The liquid is black (95 EBC); it is clear. The four finger head is warm brown; it sinks slowly leaving almost no lacing and a thing lid of foam on the beer.
The taste is semi-sweet, malty and full of smooth elegant flavours. Mild coffee, roasted malts, a light sour grainy flavour, oat cookies, cocoa, porridge and a mild bitterness with a fragile citric flavour. The aftertaste is semi-dry with lots of roasted flavours, some salt and coffee candy. The finish is dry with a slowly growing bitterness.
The carbonation is medium strong, the light bubbles small. The liquid is relatively light.
A very pleasant stout with a twist; I would call it a blend of 70% English and 30% American stout styles. A bit light for an almost 7% beer, though. If I had done this review blindly, I would have guessed an ABV of 5%.
1,076 characters

3.78
/5
rDev
-2.1%
look: 4.5 | smell: 4 | taste: 3.5 | feel: 3.5 | overall: 4
A: Pours dark brown with red hues. The light brown head is very compact and sinks slowly into nice lacings.
S: Heavily roasted malt with some smoky notes - gives it a smoked ham wibe. Rich chocolate. Some sweetness.
T: Heavy roast and quite some smoke to the malt. Smoked ham. Rich chocolate with a vanilla/oak touch.
M: Body is medium and carbonation moderate. Aftertaste is short and holds mostly smoky notes
D: Now I'm feeling quite boring - I'm copying what other reviewers stated before me (I share their opinion): This beer would have benefited from a little more of just about everything. It was nice, but could have been great.
641 characters

3.99
/5
rDev
+3.4%
look: 5 | smell: 3.5 | taste: 4 | feel: 3.5 | overall: 4.5
A bottle via Luke from Epic while in Auckland.
A- pours a nice opaque black with a greay creamy head and phenomenal lacing alll the way down.
S- big tobacco and earthy malt. light roast with very faint hops and English yeast in the background
T- coffee- like flavor and tobacco dual it out here. again, not a roasty flavor, the malt its overly toasted, but a smooth roast. not much in terms of hops here
M- more on the watery side than I would like, but it also not high in abv. however, I have felt more creaminess, which I like in a stout in beers similiar in abv
D- its a 500 ml beer and it dissapeared literally in minutes. I could drink this alll night long. way better than guiness, but not the best lowere abv stout I have had. the oaked version is a lot better
774 characters
3.61
/5
rDev
-6.5%
look: 4.5 | smell: 3.5 | taste: 3.5 | feel: 4 | overall: 3.5
This brew pours an exceptional dark cola hue with nice carbonation that leaves behind a creamy two finger head that stays with heaps of lacing,the smell is mainly oak,wood,bacon and some dark fruitiness,the mouthfeel is very full and silky with hints of oak,pine,dark berries and alcohol all on the palette and finishes with a dry bitter woody tinge,overall im glad ive sampled this brew but it wouldnt be an everyday thing for me given the drinkability or price but still nice.
478 characters
3.75
/5
rDev
-2.8%
look: 4 | smell: 4 | taste: 3.5 | feel: 3.5 | overall: 4
[email protected]
on Quay in Auckland.
A: Dark brown with a huge creamy head.
S: Chocolate, Caramel, Hint of coffee, Roasted malts.
T: Caramel, Roasted malts, Hint of coffee, Hint of oak, Chocolate.
M: Creamy and balanced but a rather thin body. Could use more of everything.
A very drinkable stout that lacks a bit of everything. Esp i'd like to see a fuller body and some more hops. Nice try!
398 characters
3.85
/5
rDev
-0.3%
look: 4 | smell: 4 | taste: 4 | feel: 3.5 | overall: 3.5
Bottles purchased at the Local Taphouse by @tobeerornottobe and shared with our group. Cheers, dude.
Pours a murky, quite opaque dark brown colour with sudsy lacing. Dark yellow-brown head which is fine but filmy. Nice.
Dark, roasted and slightly toasty grains on the nose. Round and relatively well nuanced, if a little light for a stout. Odd fresh apple skin characters come through. It's tasty, but I feel oddly hopped.
Dark characters come through again on the palate, but again the hops make themselves felt, adding a vegetative bitterness on the back. Mouth is a little mealy with oatmeal, feel is a little thin.
Nice, easy drinking stout, with some frivolous characters thrown in for interest. I've had better stouts, but this is a good bet. Nicely done.
765 characters
3.65
/5
rDev
-5.4%
look: 3.5 | smell: 3.5 | taste: 3.5 | feel: 4 | overall: 4
Interesting tropical hop aroma with notes of overripe fruit. There is a touch of chocolate as well but if I wouldn't pick it as a stout.
Very dark brown rather than black with a fluffy tan head. Okay head retention.
Interesting flavour. Again, there is some chocolate and hints of acrid coffee but there is a lack of "stout" flavour. There are plenty of hops too which probably only serve to cover up the roasty malt notes. Good but it doesn't scream stout at me.
Medium body with moderate carbonation. Suitable.
A good beer that I like but I'm not convinced that it is the stout that it claims to be. If this was called an American Porter I'd be all over it but as a stout it is lacking.
696 characters
4.5
/5
rDev
+16.6%
look: 4.5 | smell: 4.5 | taste: 4.5 | feel: 4.5 | overall: 4.5
A Stout brewed in collabration between Epic & Thornbridge (UK).
A - Poured into a pint glass an opaque black with 3 centimetres of tan tinged creamy head that slowly falls away leaving a bit of lace.
S - Roasted and chocolate malt dominates the smell with some subtle fruity hop hints.
T - Chocolate malts initially with some roasted character quickly coming into play. The fruity hop character is also there in the background.
M - Medium to full bodied with a lowish carbonation. Bitterness is there but more roasted malt bitterness than hop bitterness I sense.
D - A very nice stout. I'd drink again without a doubt.
Epic is certainly famous for their hop forward beers but this is a great stout. Well done!
711 characters
Epic / Thornbridge Stout from Epic Brewing Company
Beer rating:
3.86
out of
5
with
10
ratings