Crow Peak Brewing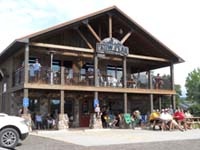 PLACE INFO
Type:
Brewery, Bar, Eatery, Homebrew Store
125 W Highway 14
Spearfish
,
South Dakota
, 57783-1150
United States
(605) 717-0006 |
map
crowpeakbrewing.com
Notes:
No notes at this time.
Added by cesky on 03-25-2007
Reviews: 8 | Ratings: 28

4.68
/5
rDev
+16.1%
vibe: 4.25 | quality: 4.75 | service: 5 | selection: 4.5 | food: 4.5
Matt and the gang are GREAT! Just when you think this college town doesn't know how to serve beer, Crow Peak reminds you amazing beer and beer respect is in South Dakota.
170 characters
4
/5
rDev
-0.7%
Nice log building with spacious taproom. Did flight and beers were good to very good but not great. Service was superb, didn't try any food. Fun visit and with limited options I might end up back in this place again.
219 characters

3.8
/5
rDev
-5.7%
vibe: 3.5 | quality: 3.75 | service: 3.5 | selection: 3.25
This was stop #38 for my wife and I on a 21-day pub-crawl from Michigan to N. CA and OR. We stopped here on our trip home only because it was close to the highway, and wanted some cans of beer to go. The place is in a rustic-style building and also has a rustic interior that made us think of a wild west saloon.
There were 7 beers on tap so we ordered a sample flight of four of our choice. Not having done any research ahead of time about the beers here, we didn't know what to expect. We were very satisfied with what we sampled. All four beers exceeded the characteristics of their respective style, so the brewer has a good thing going.
There is a unique vibe about this place, and the beer was certainly good, so that we'd stop here again if we ever happen to be cruising down I-90 in this area again.
814 characters

4.06
/5
rDev
+0.7%
vibe: 4 | quality: 4 | service: 4.25 | selection: 4 | food: 4
07/15/12
Earlier this year I was able to try Crow Peak beers while visiting family in Sioux Falls, SD. Based on that experience and hearing a podcast interview of the brewer, I was inspired to visit it on the way back from Colorado. I can't find the podcast I heard, but here's a youtube interview dealing with the business side of brewing. Combined with Firehouse Brewing down the road in Rapid City, the drive back via Wyoming and South Dakota allowed me to log two brewpubs and avoid the dreaded cross-Nebraska route. Stopping at Monk's House of Ale Repute earlier in the trip, I received some great advice to drive through Spearfish Canyon outside of town that added exponentially to the beauty of the trip.
Crow Peak looks like a woodsy lodge driving up. Log pole ceiling inside the roomy restaurant as I sit down at the colored cement bar of red, black and grey/green. The brewery is behind the bar, separated by glass and more field stone. Six taps of Crow Peak beer line the wall with clear information for all of them. Combined with the definition of a properly filled pint nearby, they are clearly attempting to educate the local population in all things beery. I also like the attention to detail of the glass washer before each pint is poured. Locals seem to like a pub pour known as a "dirty IPA," which is 11th Hour IPA with Pile-o-dirt Porter in any proportion desired. All of this plus the named pint club glasses points to a dedication to serving the regulars. I just get a good feeling from the attitude of the place that they are working hard to do quality work.
On this trip, I took advantage of the half pints to try several new Crow Peak beers:
Olde Crowe Winter Ale: 10 IBU, 5% ABV, light brown head that falls quickly over a dark copper colored ale. Malt, dark fruit and a hint of spice in the nose.
Up in Smoke Porter: 35 IBU, 6.5% ABV. Creamy tan head on a near black-brown porter. Assertive smoke and roast in nose. Smoke is full and lingers in the nose. Full bodied and a light spice hidden underneath the smoke.
Canyon Cream Ale: light ale brewed with local honey, super light, almost watery, very sweet. honey apparent and of a nice flavor, light spice in nose from 10 IBU or the honey itself. Super drinkable and a well done light beer.
Lean Horse Ale: light ale with a white head and barely amber body. Strong caramel flavor that's hinted at in the nose. Odd but interesting flavor and I can see how some would like it, but too sweet for me.
11th Hour IPA: 70 IBU, 6.5% ABV. Big nose and a strong IPA. Citrus, especially grapefruit and a bit of passionfruit on top of a sweet amber to golden ale, back lit by the sun coming through the upper windows.
Besides good beer, I do love local pizza. So, I ordered a Oggie's four cheese for dinner: munster, mozzarella, swiss and cheddar. Boxes of pizza in the cooler with Lindeman's and personal sized wine bottles for those that demand it. The bartender pulled it out and into a small pizza cooker. Thin crust with a complimentary burnt flavor on the bubbles underneath. Cheese is a nice blend. Not fancy, but good bar food that fits the atmosphere of the place and my personal predilections, including the paper plate and napkins. Drank the 11th Hour IPA for dinner and it blends well with the pizza. My kind of place and happy I didn't wait to eat at the Firehouse later.
Pictures at http://pintsizedrevelations.blogspot.com/2013/06/crow-peak-brewing-spearfish-sd.html
3,454 characters

3.98
/5
rDev
-1.2%
vibe: 4.5 | quality: 4.5 | service: 4 | selection: 3.5 | food: 3
Plenty of room, welcoming atmosphere and great beers (if they're available).
This is an oasis for a beer lover out in SD. I was headed to Spearfish on vacation before I found out about Crow Peak so when I read the article in BA Mag it seemed fate was on my side. I stopped by on a weeknight and sampled the Cream Ale, Pile O'Dirt and Queen City IPA and was impressed by each. They were out of 11th Hour when I stopped by so my flights included the previous three as well as one of the "guest beers"....a Tallgrass, I believe. Having the outside brew is a nice touch; it's tough to find many crafts on tap around there. The beers were well-crafted and satisfying. There's an attention to quality here a person can't help but notice.
733 characters

3.93
/5
rDev
-2.5%
vibe: 4.5 | quality: 4 | service: 3.5 | selection: 4
I just moved to SD from the Twin Cities a few months ago and man, do I miss the craft beer scene in MN. Upon our arrival in SD I searched for microbreweries and brewpubs in the area and came with few options which inspired no confidence in the local beer scene.
Then I heard about the newly revamped Crow Peak Brewery and I was hooked. On a beautiful Sunday afternoon I made the 40 minute jaunt to Spearfish and it was great.
The tasting room is beautiful. It looks like a great gastropub or bar on the exterior. Heavy stone and log construction with two levels of patio/balcony.
The interior is warm with giant heavy wooden tables. The fireplace mantel is made of stone and fashioned to look like a growler. Beautiful.
You can look through a window and see part of the actual brewing room but not that much. I actually got a chance to sneak into the back and see their new canning machine (and yes, I think canning craft beer is okay!)
The selection of beer available was adequate (5) for a brewery of this size. The service was lacking a bit. Every question I asked about the beer was met with a short one-line answer. He apparently didn't want to discuss beer as much as I did.
One great thing is that I didn't want to buy a brand new growler at that particular moment because I had a few from Duluth, MN in my truck. The guy at Crow Peak was happy to fill that growler for me.
The IPOD Black IPA was great, the Pile o Dirt Porter was really nice, and the 11th Hour IPA was good too. (Reviews to follow). The Wiccan Chile beer was okay but too much of a novelty for my taste.
1,587 characters
4.2
/5
rDev
+4.2%
vibe: 4.5 | quality: 4 | service: 4.5 | selection: 4
Crow Peak just finished their new brewery and tap room. The new facility is just across the parking lot from the orignal site. The new facility is one of the BEST brewing sites I've been too. The new log cabin look is welcoming and warm. Settled in the Black Hills it really fits in wonderfully. There is a large patio which is a great venue for outdoor concerts. The high loft ceiling with the "growler" fire place is really cool. There is wonderful, local, art on the walls. With plenty of high top seating. The new 30 barrel facility is shiny and new. The bar has two pouring stations with some interesting features. Local wines, soda and some guest beers (bottles) can be purchased if you don't want the local flavor. Great new facility...a must visit if you are driving through town or if you are staying down the road in Rapid City.
838 characters
3.48
/5
rDev
-13.6%
vibe: 3.5 | quality: 3 | service: 4.5 | selection: 3
OLD Site:
I live in spearfish and have ventured to this brewery a pair of times to fill up my growler (which, if you have, you will get a much better deal on beer). It is a cozy little place on the northwest side of spearfish with a bar and few tables. The beer is brewed in the backroom (right behind the bar) which you can see if you wan to go take a peak. The beers I've tried did seem a little watered down, but that's not necessarily indicative of the way they may always be. For a brewer of this size may be inclined to experience variation.
This is a great alternative to any bar (in this college town) if your in the mood for a more relaxed cozy atmosphere with a better and different beer selection than the big 3.
724 characters
Crow Peak Brewing in Spearfish, SD
3.78
out of
5
based on
706
ratings.