Cascade Pure (Green)
| Cascade Brewery Company Ltd.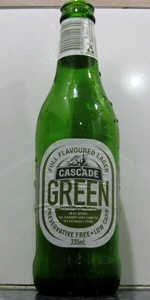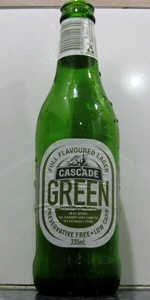 BEER INFO
Brewed by:
Cascade Brewery Company Ltd.
Australia
cascadebrewery.com.au
Style:
American Adjunct Lager
Alcohol by volume (ABV):
4.50%
Availability:
Limited (brewed once)
Notes / Commercial Description:
No notes at this time.
Added by joecast on 05-17-2008
This beer is retired; no longer brewed.
Ratings: 11 | Reviews: 10

3.5
/5
rDev
+11.1%
look: 3.5 | smell: 3.5 | taste: 3.5 | feel: 3.5 | overall: 3.5
On tap at Northcote Social Club. From notes.
A - Poured golden straw and bright with mild carbonation. One finger of white head left a small spattering of lace and a film of retention.
S - Lemon, noble hop, grass.
T - Noble hop, grainy sweetness, lemon. Pleasant and flavourful. Grassy with some sweet grain too.
M - Good carbonation bordering on strong with medium body and a touch of bitterness.
O/D - Not what I was expecting at all. Seemed like a decent example of a Pils. Not overly complex, but the best I've tried from Cascade so far. I'll be trying this again.
573 characters

2.46
/5
rDev
-21.9%
look: 3 | smell: 2 | taste: 2.5 | feel: 4 | overall: 2
Pours a straw body, one finger head, bubbles everywhere. Head dies quickly
Aromas of sweet bready malts.
Taste is Australia bog-standard malt driven macro blandness, crossed with Euro-lager sweetness. Doesn't take long for the brewed pennies to start to taste. Yuk.
Mouthfeel is light and fizzy, actually quite crisp.
Not good. A slam-down fast beer only.
361 characters
3.15
/5
rDev 0%
look: 3 | smell: 3 | taste: 3 | feel: 3.5 | overall: 3.5
Appearance - 3.0
Pours a finger of foamy white head over a pale, straw coloured body.
Smell - 3.0
Asprin-like, quite sweet, grain and grassy hops.
Taste - 3.5
Quite similar to many a Euro all-malt lager, sweet, multigrain bread, grassy hops and pear drops, light on bitterness, finishes dry.
Mouthfeel - 3.5
Fine carbonation, very smooth, goes down easily.
Overall - 3.5
Definitely a sessionable lager, I think it would appeal to most.
Re-review: So I see this has turned into Cascade Pure - a low carb lager, yet still carbon neutral, which is nice to know. When I had this fresh from the brewery, it had a lovely tropical fruit aroma, courtesy of the Galaxy hops. This bottle, sadly, has none of that and is much the worse for it. Still a step above your average Aussie lager, but without the hop aroma, there is very little to celebrate here.
851 characters

3.76
/5
rDev
+19.4%
look: 4 | smell: 3 | taste: 4 | feel: 4 | overall: 4
Sort of that pale yellow amber color. Plenty of head of tiny white bubbles... Nice.
Can't smell much of anything. Weird. Hey - at least is doesn't have that "crisp", "refreshing" smell!
Well. For an adjunct lager... That's pretty good. No, that's good. Why, I'd drink this every day. None of that cloying sweetness of so many. Doesn't have the flavors associated with the smells it doesn't have. It really is very clean - straight up. OK, there's a tiny bit of that stuff at the end (you know, the cheap lager flavor) but only at the end.
This is spot on - very clean, very easy to drink. Y'all don't know what you're talking about :)
637 characters
3.06
/5
rDev
-2.9%
look: 3.5 | smell: 2.5 | taste: 3 | feel: 2.5 | overall: 4
A beer that jumps on two fad-wagons.... Green & Low-carb. Normally I don't go for this low-carb style, because it's not only a compromise to flavour, but is also misleading in what it implies...that you will lose weight by drinking low-carb beers...rubbish..
So, I didn't read the label properly, and just bought it on it's Green pretenses. Would have left it on the shelf if I'd bothered reading the low-carb bit...
a) Dark straw / pale yellow, rocky white head, fair bubbling, very slight haze
s) Husky, perfumy notes, green apple, slight cidery funkiness, macro maltiness
f) Not much hop in this... light maltiness, well-attentuated, but missing good flavour complexity. Reminds me of extra dry styles, perhaps with some adjunct. No bitterness. More flavoursome than a TED, at least.
m) Light & fizzy. Slam it down fast.
d) Ultimately quite quaffable, with no cloying back palate.... good lawnmower beer. It's very drinkable, and for that I give it credit. But there would be cheaper alternatives for this function.
1,024 characters
3.55
/5
rDev
+12.7%
look: 3.5 | smell: 3.5 | taste: 3.5 | feel: 4 | overall: 3.5
A light coloured lager that is clear and has just a few trails of bubbles.
It smells sweet malty and clean .A pleasant smell.
The sweet malty smells are finely curtailed in the taste .This should be seen as a positive as it makes for an easy drinking lager.
There is a fruitines to it all , and something along the melon family comes to mind.
It sits in the mouth rather well and entices one to drink more.
This is a decent enoigh lager Nothing exceptional but is enjoyable.
The carbon neutral business it bangs on about is of no import to me , but a fascinating marketing idea.
579 characters
2.67
/5
rDev
-15.2%
look: 2 | smell: 2.5 | taste: 2.5 | feel: 3.5 | overall: 3
No head whatsoever. Even with a very vigorous pour. It looks thin. A light amber colour.
A little bit of hops on the nose. Bit of malt on the palate.
It has a lively carbonation which makes itself known in the mouth. Light bodied.
Nothing of anything really. Bland.
268 characters
3.27
/5
rDev
+3.8%
look: 3 | smell: 3.5 | taste: 3 | feel: 3.5 | overall: 3.5
A - Pours a clear light golden straw colour with a 1.5 centimetre white head that falls away almost straight away.
S - Grassy and slightly floral hop notes, some vauge cooked corn & grain hints.
T - Also quite grassy and floral in the taste. Very mild malt character.
M - Light bodied, pretty high carbonation.
D - Certainly nothing wrong with it, just not really anything to grab my interest. Probably quite refreshing on a hot day actually.
442 characters

2.54
/5
rDev
-19.4%
look: 2.5 | smell: 3.5 | taste: 2.5 | feel: 1.5 | overall: 2
This looks like cider when poured. No head - lots of carbonation. Pale yellow colour, I mean I could basically be drinking apple cider with this. I want more head, I want more lacing. There's none.
Oddly enough - although it may just be psychosomatic - I detect a hint of apples on the nose. It's not a bad smell, kind of Floris Apple-y only with a generous dose of hops, like unlike Floris you can tell this is meant to be beer.
Not that nice on the palate, however. Kind of bland with a nasty yeast character that is unfortunately typical of so many Australian brews. A slight hint of fruit - I think it's a green apple kind of character because it's slightly sour but it's not really enough to put an emphasis on it. Quite bland really, and with a horrible fizzy mouthfeel.
Overall, I'd say you're better off drinking cider, because at least it knows it's cider. This thinks it's beer, and it just don't make the cut.
923 characters
3.72
/5
rDev
+18.1%
look: 3.5 | smell: 4 | taste: 3.5 | feel: 3.5 | overall: 4
330ml green bottle, how appropriate. has a best before date but cant read it. shouldnt be too old as the beer was recently released. a nice touch is the nutritional info on the neck label.
pours with a light clear golden color. medium to high carbonation, but only a thin white head.
aroma is fresh and grassy. hoppy, but certainly not in your face. pretty nice really. probably the best part of the beer.
taste isnt anything special. a step up from the draft, but not up to the premium. the hop and malt presence could be a bit more distinctive. gets a bit muddled as it warms, so drink it cold and quick.
overall, probably as good as i hoped. a decent lager from cascade that is carbon neutral. could have been a disaster i first thought. thankfully its much better than that.
791 characters
Cascade Pure (Green) from Cascade Brewery Company Ltd.
Beer rating:
9.1%
out of
100
with
11
ratings