Mandalay Strong Ale Beer
| Mandalay Brewery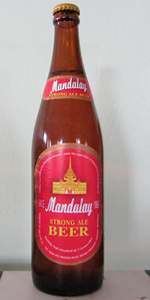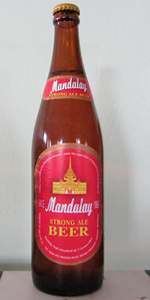 BEER INFO
Brewed by:
Mandalay Brewery
Myanmar
Style:
English Strong Ale
Alcohol by volume (ABV):
6.50%
Availability:
Year-round
Notes / Commercial Description:
No notes at this time.
Added by lacqueredmouse on 04-19-2007
HISTOGRAM
Ratings: 8 | Reviews: 4
Reviews by lacqueredmouse:
3.12
/5
rDev
+16.9%
look: 2 | smell: 2.5 | taste: 3.5 | feel: 3 | overall: 3.5
The red-labelled Mandalay beer. Quite possibly brewed as a lager and labelled as an ale. I was unable to ascertain for certain if this is the case though, so I'll give them the benefit of the doubt and believe the label.
Body is a lagery amber yellow with a slight copper hue. Thin head, no lacing, very bubbly extreme carbonation.
Yeasty malt-sweet nose, with little else. I imagine smokiness, but that might be from the guy smoking cheroot next to me.
Strong metallic hoppy bitterness to lead off on the front palate, which mellows to a pretty smooth and sweet aftertaste. There's maybe a hint of solvent-like extra alcohol here. I appreciate the level of bitterness that they've included, which balances the rather heavy malt and alcohol. Mouthfeel crisp. This has a pretty good character, all said and done.
This drinks very well for a heavier ABV beer. More lagery than I'd consider appropriate for something claiming to be an ale, but not so much as to be outside the realms of possibility. Overall, it's a pretty drinkable beer. A suitable countepart to its little brother blue-labelled Mandalay Beer.
1,120 characters
More User Reviews:
2.37
/5
rDev
-11.2%
look: 2.5 | smell: 2.25 | taste: 2.25 | feel: 2.75 | overall: 2.5
I hit Myanmar (Burma) in the middle of a long bicycle trip, and arrived in rainy season. Thus, I spent a lot of time sitting in a hotel in Rangoon between week long adventures in the downpours, and I got to sample the local brews (all four of them) in depth. The saving grace of this 'strong' brew, somewhat like Red Horse beer in the Philippines, is that since it is stronger than the more prevalent and no less exciting Myanmar beer, you have to drink less of it in your quest for rainy day oblivion. 'Enjoyed' several bottles of this on different occasions. Beer in Asia is pretty much a lost cause.
602 characters

2.69
/5
rDev
+0.7%
look: 2.25 | smell: 2.5 | taste: 2.75 | feel: 3 | overall: 2.75
3.28
/5
rDev
+22.8%
look: 2.75 | smell: 2.75 | taste: 3.5 | feel: 4 | overall: 3.25
Poured from a 640mL bottle into a chilled glass in Mandalay. Stamped 0420151309.
2.75/2.75/3.5/4/3.25
It's clear and lager-colored. Decent head.
It smells grainy-sweet and distantly sour, but not harsh or lagery at all.
It's strangely sweet and fruity, full-bodied and not crisp but almost dry on the end taste. The mostly-sweet-barely-tart that reminds me of fruit never really goes away, and occasionally resolves itself as graininess. The aftertaste is remarkably clean, with just a smack of sugars, but no unpleasantness at all.
This isn't an amazing beer, but it's a surprisingly pleasant one. Then again, maybe that's just the 100-degree evening talking.
662 characters
2.05
/5
rDev
-23.2%
look: 2 | smell: 2 | taste: 1.75 | feel: 3 | overall: 2.25
Had this at a restaurant in Bagan. From notes. The pages I wripped out of a guide book on Myanmar describe the beer as "piss".
A - Medium gold pour. Bright with little to no head. White fizz on top. Good carbonation. No lace, no retention.
S - Grainy, honey, not adjuncty, but not interesting. Warms up and gets gasoliney.
T - Honey, sweet, tastes a little skunky and putrid, oily kinda flavour. Started decent b/c it was so cold, but warmed to bring out some pretty awful flavours.
M - Medium body, good carbonation, sweet and clean finish.
O/D - Pretty plain and lacking flavour when cold. When the temperature came up it got tough and hard to finish.
659 characters
2.68
/5
rDev
+0.4%
look: 3 | smell: 2.5 | taste: 2.75 | feel: 3 | overall: 2.5
2.7
/5
rDev
+1.1%
look: 2 | smell: 2.5 | taste: 2.75 | feel: 2.75 | overall: 3
Mandalay Strong Ale Beer from Mandalay Brewery
Beer rating:
2.67
out of
5
with
8
ratings