Achocolypse
| Prescott Brewing Company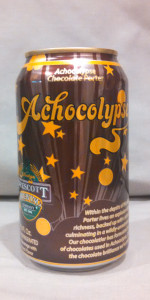 BEER INFO
Brewed by:
Prescott Brewing Company
Arizona
,
United States
prescottbrewingcompany.com
Style:
American Porter
Alcohol by volume (ABV):
6.00%
Availability:
Winter
Notes / Commercial Description:
No notes at this time.
Added by Nerudamann on 03-06-2011
Reviews: 9 | Ratings: 49

3.71
/5
rDev
-1.3%
look: 3.5 | smell: 4.25 | taste: 3.5 | feel: 3.75 | overall: 3.5
Big thanks to DblDiamond for sending this can my way for the NFL Confidence pool win! Reviewed from long-standing notes. Poured from 12 oz. can into a Cigar City snifter glass.
A: Dark brown and opaque with a one-finger foamy tan head that has subpar retention. The blush of initial visible carbonation dissipates quickly and is left with very little movement in the glass.
S: Chocolate up front – a milk chocolate with a sprinkle of cacao powder. There's vanilla and roasted malts lurking in the background. A nice aroma, albeit fairly one dimensional.
T: It starts with more of a malted milk chocolate flavor than expected – like Robin's Eggs without the candy shell. There's a bit of sweet toffee along with the vanilla. Then a punch of vanilla Yankee candle and vanilla cream heart-box chocolate - this kinda sticks out like a sore thumb. Some roast character prevents it from being a malty sweet bomb, but it remains overall quite sweet. It finishes with lingering sweet chocolate and the weird vanilla flavor.
M: The body is on the light side for a porter. Carbonation on the low side of average range. Alcohol content is fairly low.
O: The vanilla flavor not being integrated really hurts this one in my opinion. It has its upsides - the malt bill seems well-planned and the chocolate flavor is nice. But the vanilla is a sledgehammer on a tenpenny nail.
★
1,376 characters
3
/5
rDev
-20.2%
look: 3.5 | smell: 3.5 | taste: 2.5 | feel: 3.5 | overall: 3
12 oz can and on tap.
This is an interesting beer, for sure. It has a super enormous malted chocolate smell and taste. This is like Shake on steroids. By no means should you skip out on tasting this, you'll love it or hate it. So my 50/50 overall.
If they made it 9% and gave it more body to match, I think this could be epic. However, Young's Double Chocolate beats this by a mile because this currently lacks refinement. It's just super gutsy.
★
453 characters
3.71
/5
rDev
-1.3%
look: 3.5 | smell: 4.25 | taste: 3.5 | feel: 3.75 | overall: 3.5
Prescott's chocolate porter is liquid dessert with neat booze and an aroma that screams CHOCOLATE! It features a sweet overall taste with chocolate and the forefront and light roasted edges, and to my surprise, a small defect of burnt plastic.
★
243 characters
3.97
/5
rDev
+5.6%
look: 3.25 | smell: 4.25 | taste: 4 | feel: 3.5 | overall: 4
Picked up a single from TW Arrowhead May 1st for $2.29. Sell by 7/11/2015 stamped on bottom. Received at TW 4/30/2015.
Beer poured a big head that dissipated quickly.
Nose is nice and chocolaty as advertised!
Taste is cocoa powder overlaying the malt base. Hopping is just right as this is not overly sweet.
Mouthfeel is light to medium bodied but not overly smooth nor refreshing.
Overall the perfect dessert beer. We had a growler with friends that were over for dinner in May and all 4 agreed this paired well with the chocolate based dessert we had. Other than that it is one of those one and done beers - too much of a good thing is not a good thing!
★
665 characters
3.04
/5
rDev
-19.1%
look: 4 | smell: 3.75 | taste: 3 | feel: 1.5 | overall: 2.75
Had on tap in Crown King, AZ. Chocolate is very noticeable, but the mouthfeel is very light, almost watery. Not a fan of thin porters. Malts and hops barely noticeable. It was almost like drinking cheap hot cocoa at room temperature.
Very easy drinking, which is an attribute I really don't look for in this style.
★
315 characters
3.8
/5
rDev
+1.1%
look: 4 | smell: 4 | taste: 3.75 | feel: 3.5 | overall: 3.75
My wife's cousin brought this in from Prescott, AZ, where she lives to Texas. The growler certainly made the trip.
Smells like chocolate. Dark, roasty chocolate. The wife's cousin thought it was a Stout but the light color and clarity made me think it was a porter. Turns out I was right, as confirmed by BA.
Very sweet at the front with just enough bitterness at the back end. Slight creamy mouthfeel, but generally light and drinkable. It seems the chocolate is primarily in the nose. My taste buds mostly get roastiness and slight bitterness.
Good beer.
★
562 characters

3.97
/5
rDev
+5.6%
look: 4 | smell: 4.5 | taste: 3.75 | feel: 4 | overall: 3.75
On tap at Prescott Brewing
Clear but very dark, with a durable tan head. The glass is left nicely coated after each tip.
Aroma: Chocolate! Lots of chocolate, with hints of dark fruits and dark baked bread.
Flavor: Semi-sweet chocolate with hints of hops and medium+ dark malts. Some smoke and dark malts come out in the finish and aftertaste, but chocolate still dominates. Fun and pleasant but a bit too sweet.
Feel: Medium body and medium carbonation; creamy smooth
O: great dessert beer and for chocolate lovers.
★
524 characters

3.54
/5
rDev
-5.9%
look: 4 | smell: 2.5 | taste: 4 | feel: 4 | overall: 3.5
Glad I had a chance to visit the Prescott Brewing Co.The beer looks pretty when poured, but the smell is so overpoweringly chocolate I wondered if I was drinking chocolate milk. Once I tried it, this porter tasted pretty darn good.and the mouthfeel was passable, a bit creamy and not too heavy. Its a bit to sweet for my porter taste, but I did get a 64oz growler and polished it off in two evenings. Yeah this is good for a porter, just SO much chocolate.
★
456 characters

3.8
/5
rDev
+1.1%
look: 4 | smell: 4 | taste: 4 | feel: 3 | overall: 3.5
Sampled at a beer fest (I know I know, I shouldn't review beers at a beer fest, but I took steps to make sure I concentrated and kept my palate fresh) in 3oz size.
Look - Very dark brown, not black, with a light khaki-colored foam that dissipates quickly.
Smell - Indeed very chocolaty, almost like a chocolate-flavored cereal, maybe a hint at the type of grains used?
Taste and Mouthfeel - Still very chocolaty, and still more on the side of a chocolate-flavored cereal. Very unique taste. More malty in content. Texture is more on the watery side than expected.
Drinkability - Not complex, but unique and good-tasting.
★
632 characters
Achocolypse from Prescott Brewing Company
3.76
out of
5
based on
49
ratings.