Paddy's Tout
| Wychwood Brewery Company Ltd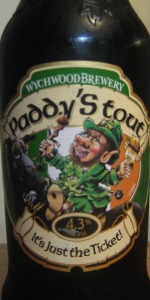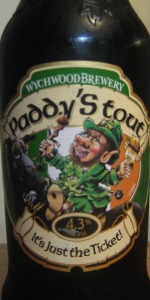 BEER INFO
Brewed by:
Wychwood Brewery Company Ltd
England
,
United Kingdom
wychwood.co.uk
Style:
English Stout
Alcohol by volume (ABV):
4.30%
Availability:
Spring
Notes / Commercial Description:
No notes at this time.
Added by LumpyGuitar on 10-26-2010
HISTOGRAM
Ratings: 12 | Reviews: 8
Reviews by doktorhops:

2.31
/5
rDev
-29.8%
look: 3.5 | smell: 2.5 | taste: 2 | feel: 3 | overall: 2
Paddy's Tout... I get it: Paddy Stout! *laughs loudly and sarcastically to self* All I can say is let's hope this Stout is better than the marketing as Wychwood Brewery has obviously hired a middle-aged dad to name all their new beers. Bad puns will be the death of me, Wychwood really suck actually.
Poured from a 500ml bottle into a nonic pint.
A: The body appears black until you inspect it through a light - then you can see that it is actually a dark cola brown. The head is Khaki and drops down to a thin lacing.
S: Not a good sign but I can barely detect any aroma. It's got the usual coffee/barley/chocolate combination however it's like trying to smell a beer with fourteen tea towels stacked on top of the glass - it's a distant wisp of something at best.
T: A bit bland and disappointing... flavour is typical Irish Dry Stout territory; roasted barley, espresso coffee and dark chocolate, it's all very muted and one wonders how Wychwood who make such tasty ales could fail (or 'f-ale' if we want to keep with the dad-joke theme of this review) so badly. Really tastes like a Guinness Extra Stout diluted with soda water... I can do that myself dammit!
M: Mid to light body with a light fizz.
D: This is one major disappointment from Wychwood, as I mentioned before it tastes like Guinness Extra Stout diluted with soda water, when I was expecting some Wychwood magic they really dropped the ball and I wasted $6 on a beer. I will be more cautious about their future seasonal brews.
Food match: Don't even bother.
1,531 characters
More User Reviews:

3.32
/5
rDev
+0.9%
look: 4 | smell: 3.25 | taste: 3.25 | feel: 3.5 | overall: 3.25
A 500ml bottle with a BB of Jan 2014. Picked up some time back from a B&M store. I know it's not St. Paddy's day but this needs drinking. Features some hideous label art - the one thing you can depend on Wychwood for.
Poured into a tulip pint glass. A very dark brown colour with ruby highlights; appears pitch black in the glass. Forms a large head of creamy beige foam with decent retention - this slowly reduces to a patchy surface layer. Nice lacing. Aroma of mild roasted malt with subtle hints of coffee, burnt grain, caramel, dried fruit and faint stewed leaves. Balanced but a bit weak.
Tastes of dark malt with a dry finish. Notes of mild roasted malt, burnt grain, a hint of coffee, faint caramel, a twinge of dried fruit, earthy yeast and stewed leaves. Some harsh cardboard in the background. Well-attenuated, followed by a restrained, malt-driven bitterness upon swallowing. Mouthfeel is smooth, dry and tingly, with decent carbonation and reasonable body. Could be a shade creamier for the style. Rather astringent, accompanied by an aftertaste of harsh roasted malt, bitter coffee grounds and acrid stewed leaves.
So-so. It looks the part, however the aroma is pretty faint and the flavour is dogged by a rather harsh quality. Decent roasted malt but overdone towards the finish. Body is OK but could be thicker for the style. Not a terrible brew but not amazing either. Perhaps Wychwood should eschew the gimmicks and stick to brewing Hobgoblin. No need to seek it out.
1,488 characters


3.39
/5
rDev
+3%
look: 3.5 | smell: 3.25 | taste: 3.5 | feel: 3 | overall: 3.5
Bottled and purchased from discount supermarket B& Ms
pours a jet black body with decent enough tan head
some small aroma of coffee
and okay flavour of burned toast and dark fruit just thin really
196 characters
3.38
/5
rDev
+2.7%
look: 3 | smell: 3 | taste: 3.75 | feel: 3.25 | overall: 3.25
A: Pours a dark brown with a tan creamy head that fades to lacing.
S: Aroma of malt some coffee and bit of caramel.
T: Taste of malt, some coffee and caramel. Mild bitterness and a tart finish.
F: Fairly medium body, smooth but not quite creamy.
O: Not a bad stout but is a bit short on flavor to make it anything but average.
334 characters

4.19
/5
rDev
+27.4%
look: 3 | smell: 4 | taste: 4.5 | feel: 4.5 | overall: 4
Pours a dark brown, slightly translucent. Fluffy tan head with specks of white and red. Lacing is weak, retention is good.
Smells of dark chocolate, roasted malt, caramel, and plum.
Taste is complex. Light spice up front, with lingering notes of dark fruit, caramel, and dark malt. Alcohol is undetectable.
Mouthfeel is solid, heavy bodied. Syrupy at times, coating the mouth.
Drinkability is good. This has a great flavor and you can put quite a few away before any cloying sets in.
495 characters


3.06
/5
rDev
-7%
look: 3 | smell: 3.25 | taste: 3 | feel: 3 | overall: 3
Pours a dark brown. Head whispy, beige, fairly lacklustre. Lace not sticky. Fairly meh.
Smells a bit oxidised, but lots of caramel, some chocolate. Vanilla, custard. Very sweet.
Taste is roasty, but still quite oxidised. Cardboardy, touch of caramel toffee and some earthy spice. Yeasty too. Fairly flatline and dull.
Smooth, flat, bit too much texture on the back.
Fairly bland and uninteresting stout.
411 characters
2.8
/5
rDev
-14.9%
look: 3.25 | smell: 2.5 | taste: 3 | feel: 2 | overall: 3
500ml brown bottle purchased form Dan Murphy's in Alexandria.
Pours a rather clear reddish black, far from being truly dark or opaque. Head forms a full crest of off-white to begin with, but then becomes rather filmy after depositing some splodges of lace. Fine carbonation, extremely light body.
Nose is sweet with cereal grains, weetbix, and a dull dusty chocolate character. Sickly caramel comes through as well, all creating a sense of fullness without actually providing anything dark to counterbalance it. The cereal character also confusingly makes it seem quite empty: as though it's big and round, but devoid of richness or purpose. Unimpressed.
Taste is not much better. Sweet cereal characters through most of it, only saved by a dry dark character on the finish. This creates a dark chocolate and roast character to punctuate the end of the beer, but for the most part it has that leeringly sweet, but lacklustre, empty character that was prevalent on the nose.
Feel is woefully thin for a stout. I'm sure it would be better pulled from a hand-pump, but in the bottle it's just limp, dry and empty.
Overall, this is a damn average beer. It has some decent things to it, but all of the stout characteristics seem phoned it, like they don't care about the style at all. There are much, much better low ABV stouts out there.
1,339 characters

4.03
/5
rDev
+22.5%
look: 4.5 | smell: 4 | taste: 4 | feel: 4 | overall: 4
Bottle: the 500mL embossed brown Wychwood Brewery bottle, with a cheeky leprechaun label. They always do offer a good package.
Appearance: pours a heavy, dark brown in colour. A decent head on top - two-fingers of tan solidity that slowly settles to a one-finger creamy head.
Aroma: plenty of roast malts, chocolate, rum and spices. A decent amount of aroma for a stout.
Taste: not a massive hit on the tastebuds, but still pretty decent. Caramel malts, roast coffee, spices and heavy fruits. Not bad at all.
Aftertaste: backs off pretty quickly - the aftertaste is a little lacking.
Mouth feel: the carbonation is about right - light to moderate - but the body is moderate, seems a bit light.
Overall: a good stout. Strong enough to be interesting and yet remain very drinkable. Only problem with that is that it costs a couple of bucks. Nice for one every now and then.
877 characters
Paddy's Tout from Wychwood Brewery Company Ltd
Beer rating:
3.29
out of
5
with
12
ratings