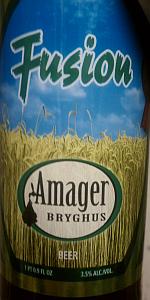 BEER INFO
Brewed by:
Amager Bryghus
Denmark
amagerbryghus.dk
Style:
California Common / Steam Beer
Alcohol by volume (ABV):
3.50%
Availability:
Rotating
Notes / Commercial Description:
No notes at this time.
Added by John_M on 08-14-2010
Reviews: 8 | Ratings: 20

1.8
/5
rDev
-51%
look: 3.75 | smell: 1.25 | taste: 1.5 | feel: 3.75 | overall: 1.5
undated but newish looking and cold stored 500 ml bottle served in a pilsner glass. Murky sediment at the bottle fo the bottle not poured. Cap had a solid seal.
A: Clear orange-amber body with lots of small bubbles flowing upward.to a generous, durable off-whit head.
Smell: uh-oh - smells contaminated. May well be wild yeast but this is supposed to be brewed with classic German pilsner yeast.
Taste: not much better, and with a distinct sourness.
M: Nice medium-light body with ample but soft carbonation.
O: contaminated bottle; will revisit if the opportunity arises.
584 characters
3.65
/5
rDev
-0.5%
look: 3.5 | smell: 3.5 | taste: 3.75 | feel: 3.5 | overall: 3.75
Poured from a 12 OZ bottle into a tulip glass.
Aroma- Has a strong barley/cereal aroma with some spice thrown in.
Appearance- Pours a dark yellow with a large white head.
Taste- A unique flavor that propelled by its high carbonation. has a strong hops flavor
Palate- very carbonated, medium bodied beer
Overall- no a bad beer at all, I have never seen this before so I am assuming it is a hard beer to find in the southeastern US.
432 characters

4.94
/5
rDev
+34.6%
look: 5 | smell: 4.75 | taste: 5 | feel: 5 | overall: 5
Bought a few of these on sale, I remember when they came into the store I bought them at and they may be about a year or more old but surprisingly have seemed to stand the test of time for such a low ABV.
Pours a perfect honey/amber gold. A bit deeper in tone than what I had expected it would be. Thought it was going to be more of a straw color with the low ABV. Nice and bubbly, and the bubbles hold on through the drinking experience. I feel like this is a high quality trait when a beer can maintain carbonation down to the last sip.
Smell is a bit off-putting at first. It is almost astringent with lemongrass and hop/funk. The smell is potent though for such a light beer. Which was intriguing. Crisp and sharp.
The lemongrass smell really rolls over into the taste. That same hop/funk astringency and lemongrass are very pronounced and prodigious. A bit of a lemon tartness and ever so small hint of sweetness on it that then dives down into woody piney astringent hops that dry it out and chip the end. Surprisingly a fair amount of bitter. There is also a mineral character that is pretty pronounced about this beer, but it works with the rest of what is going on.
Mouthfeel is great. Perfect for the style. Very refreshing, crisp, and clean. The dryness is spot on and really makes this beer unmentionably refreshing and sharp. A great summer beer. And not at all watery in the least.
Overall it grows on you a whole lot. Somehow warmth does this beer a huge favor while it continues to be just as refreshing and pronounced as ever. I know warmth in a summer beer may go against the refreshing idea... but I felt like when it sat and warmed up it really became amazingly enjoyable. Kind of felt this was more of a saison of sorts crossed with a pils... I don't know. It's very good and very well achieved. The amount of flavor and potency that is in this beer for such a low ABV is astounding.
1,909 characters

3.8
/5
rDev
+3.5%
look: 4 | smell: 4 | taste: 3.5 | feel: 4 | overall: 4
This is a super foamy beer that pours a light tan-amber color. It smells grassy. Like a just-mowed lawn, even. There's a big bouquet of grassy, spicy, piney hops. Nothing at all like the blonde ales I've come to expect. It's full-flavored, with grassy hops, and a slight taste of Alka-Seltzer that came through as I sipped. Curiously so, in fact. It wasn't off-putting but not necessarily something I'd want either. Finishes nicely with a touch of sweetness and enough effervescence to keep it light.
510 characters

3.68
/5
rDev
+0.3%
look: 4 | smell: 3.5 | taste: 3.5 | feel: 4 | overall: 4
I can't review like I used to due to the fact that I'm trying to lose weight. So, I was drawn to the ABV of this beer (3.5%) and the fact that I had no clue what it was (doesn't say on the label).
Pours a cloudy whitish gold color with a two-finger head into my glass. Very interesting color for the style.
Sweet, spicy malt greets the nose with a buttery edge to it followed by grassiness from the hops.
Taste is about the same with a sweet, spicy malt bite to it. Sounds redundant but I know of no other way to describe it. Lots of flavor!
Lingering spicy malt/grassy hops in the mouthfeel. I keep thinking it's more like a saison than a california common.
A decent beer and as I said, it's full of flavor and not alcohol.
733 characters
4.08
/5
rDev
+11.2%
look: 4.5 | smell: 4 | taste: 4 | feel: 4.5 | overall: 4
Pretty good beer even tho I accidently left it exposed to the sun for a short time each day for about 2 weeks. And it doesn't remind me so much of a steam beer so much as perhaps a farmhouse. Poured with a nice, foamy, frothy, thick, creamy, off white head and lots of lace. Color is a medium light amber. Aroma is big on yeast, then bitter citrus, malt. Flavor is much like nose, not overly sweet, some barnyard, finishing off with a taunt of banana, but is dominated by yeast. Body is very good and excellent carbonation. Finish is like flavor and is still dominated by yeast. For that, I don't make it a session. Interesting to try and enjoyable this time, but that's about it.
680 characters
3.56
/5
rDev
-3%
look: 4.5 | smell: 3.5 | taste: 3.5 | feel: 3.5 | overall: 3.5
On tap at Novare. Served into my chalice, 16 oz pour
A: Clear orange hue, which shows some bubbles flown upward. Massive 3 finger fluffy head. Took a few minutes to pour. I think I got a beer mustache with my first sip. Some sticky lacing at the top
S: Packed full of mild hops. Nice, crisp fruit smell. Some of the malt works it's way through with, leaving a bready presence
T: Mostly bitterness that comes out from the hops. I remembered more citrus the first time I had it. Pretty standard for the style - some yeast, touch of dry malt
M: Definitely light bodied. Leaves a yeasty aftertaste that is mixed with some fruit (apple)
D: Incredibly easy drinking, that's for sure. I like the aggressive hops considering the style. Light, refreshing. Give it a shot
766 characters
3.63
/5
rDev
-1.1%
look: 4 | smell: 3.5 | taste: 3.5 | feel: 3.5 | overall: 4
On tap at Max's today.
The beer pours a golden amber color with good head retention and lacing. The nose really reminds me of fresh anchor steam, with some perfumy flowers, bread and light honey. On the palate, for a such a low alcohol beer, this is pretty terrific. The flavor profile replicates the nose, with some light hoppy bitterness in the finish. Mouthfee is light and crisp, and drinkability is terrific.
For what is and is trying to be, this is a very nice beer.
480 characters
Fusion from Amager Bryghus
3.67
out of
5
based on
20
ratings.