Christianshavn Pale Ale
| Amager Bryghus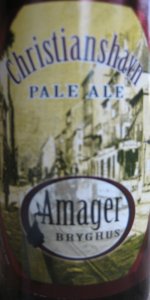 BEER INFO
Brewed by:
Amager Bryghus
Denmark
amagerbryghus.dk
Style:
American Pale Ale (APA)
Alcohol by volume (ABV):
5.50%
Availability:
Year-round
Notes / Commercial Description:
No notes at this time.
Added by dgilks on 09-20-2011
Ratings: 14 | Reviews: 5
3.75
/5
rDev
+10.9%
look: 3.75 | smell: 3.75 | taste: 3.75 | feel: 3.75 | overall: 3.75
3.16
/5
rDev
-6.5%
look: 3.75 | smell: 3.25 | taste: 3 | feel: 3 | overall: 3.25
The beer is somewhat unclear who go in bright red to yellow. The foam is white with medium bubbles. The foam disappears leisurely quickly and leave fine traces. The aroma is fruity with hints of passion fruit, apricot, peach. Also a thick hops aroma that I was more than I expected. A little sweet notes of honey, herbs and some flowers. The taste open with some surprising hop character. The flavor is proceeding with fruity notes of passion fruit, apricot and a little peach. But here there will also be some grapefruit, honey and herbs. The beer has a distinct bitterness, and towards the end, a strong bitterness. Medium rich body. Moderately high carbonic acid. A little greasy with angular tendencies. The aftertaste is slightly fruity, but also malt sweetness bitter and little flowers.
793 characters
4.18
/5
rDev
+23.7%
look: 4 | smell: 4 | taste: 4.25 | feel: 4.25 | overall: 4.25

4
/5
rDev
+18.3%
look: 4 | smell: 4 | taste: 4 | feel: 4 | overall: 4
4.26
/5
rDev
+26%
look: 4.5 | smell: 4.75 | taste: 4 | feel: 4 | overall: 4.25

3.78
/5
rDev
+11.8%
look: 4.25 | smell: 3.75 | taste: 3.75 | feel: 3.75 | overall: 3.75
Misty light amber with a really nice creamy white head, really compact.
Nice peach and apricot on the nose, rich honeyed malts, light sugared orange peel, faint pineapple, faint tropical fruit, light floral notes. Smells really nice.
Really fruity and quite sweet, with lots of apple, peach, apricot, orange, quince. Almost a Belgian pale profile, if not for some maracuja and mango hints. Rich caramel malts, honey, a strong, but sweet, floral component, something like rose water, almost like (somehow) watered down perfume, especially in the finish. Some bittering hop too.
Aftertaste keeps the nice fruity note, some subtle malt sweetness, bitter floral hop. Medium to light body, medium carbonation, pretty quaffable.
Not as "damaged" as other Amager beers out there, a nicely balanced. pretty flavorful pale ale. Wouldn't mind another pint.
846 characters


2.2
/5
rDev
-34.9%
look: 2 | smell: 2 | taste: 2.5 | feel: 2 | overall: 2
500ml bottle purchased from Slowbeer and poured into a Victory Golden Monkey tulip.
Vicious gusher, lost a third, if not half of the bottle on the kitchen bench and floor. Not a lot of fun mopping up! Eventually pours with half foam, half liquid. The liquid being a golden orange colour with white foam that despite the amount, failed to grip the glass in the 5 minutes before it almost completely dissolved. Some small sediment floating consistently throughout.
Smells kind of like green apples mixed with a floral fruity hoppiness. Different, not good, am starting to think this is infected, given the over carbonation and apple like smell.
Taste is more of the same, fruity (think summer, exotic fruits) hops are there with some green apple in the background.
Mouthfeel has some pucker at the end, a little oily early and prickly in the middle.
Disappointing, hopefully it was just a bad bottle.
904 characters
3.48
/5
rDev
+3%
look: 4 | smell: 3.5 | taste: 3.5 | feel: 3 | overall: 3.5
A: cloudy amber, nothing out of ordinary
S: passionfruit, malt, not much floral or hops going on
T: disappointing opening - a bit of a muddled taste, not bad but hard to separate tastes, there is some stonefruit/passionfruit ever so slightly, finishes with a fairly potent bitterness
M: didn't particularly like the frothiness at the initial stages when swallowed, but gets better once settles - flattens quickly
Reminds me of Discovery Pale Ale - it is well worth drinking but the taste doesn't hit me as anything extraordinary, could have used a bit more hops in the aroma
578 characters
3.8
/5
rDev
+12.4%
look: 4.5 | smell: 4.5 | taste: 3.5 | feel: 3.5 | overall: 3.5
Slightly hazy golden colour that suggests dryhopping. Small but dense and long lasting white head.
Thick and fruity hop aroma with great grapefruit, passionfruit and mandarin notes. Really lovely.
Good light malt with some sharp hop character. This is good but there are also some chlorophenols going on which reduce the enjoyability here.
Medium-light body with moderately-high carbonation. A little too fizzy.
A full flavoured APA but some technical flaws take it from great to merely decent.
506 characters
Christianshavn Pale Ale from Amager Bryghus
3.38
out of
5
based on
14
ratings.