The Sinner Series - Sloth
| Amager Bryghus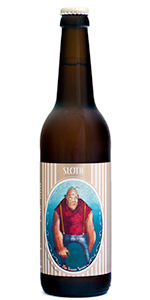 BEER INFO
Brewed by:
Amager Bryghus
Denmark
amagerbryghus.dk
Style:
American Pale Ale (APA)
Alcohol by volume (ABV):
6.00%
Availability:
Limited (brewed once)
Notes / Commercial Description:
No notes at this time.
Added by ADZA on 07-30-2012
This beer is retired; no longer brewed.
Reviews: 11 | Ratings: 38
3.7
/5
rDev
-4.6%
look: 4 | smell: 4 | taste: 3.5 | feel: 4 | overall: 3.5
Thanks to GRG1313 for sharing this one at mrbubbler's tasting.
Pours a hazy golden-yellow with a foamy white head that settles to a small cap on top of the beer. Small dots of lace form around the glass on the drink down. Smell is of grain, honey, earth, and spice aromas. Taste is much the same with grain, honey, and spice flavors on the finish. There is a mild amount of hop bitterness on the palate with each sip. This beer has a good level of carbonation with a crisp mouthfeel. Overall, this is a pretty good beer that is tasty, but the smell is much better to me.
Serving type: bottle.
594 characters

4.42
/5
rDev
+13.9%
look: 4 | smell: 4.5 | taste: 4.5 | feel: 4 | overall: 4.5
Pours a pale golden colour, bit hazy maybe. Head is off-white, medium bubbly with a sticky cradle of lacing left behind. Pretty nice.
Smells lovely - fruity and floral. Tangy passionfruit with a touch of citrus, pine and fresh leather at the back. Not overly sweet, just tangy and lovely.
Taste is similarly tangy, with a very strong, redolent passionfruit character. Touch of plum and apricot at the edge and then slightly piney, woody and a touch of resinous hop bitterness, just to balance out the lighter fruity hop notes. Beautiful palate, just lovely and refreshing.
Smooth, fairly full. A bit too dry on the back, could leave more residual behind.
Like a last gasp of Summer, today, but one that will stay in my memory until next year. Lovely drop.
759 characters
4.35
/5
rDev
+12.1%
look: 4 | smell: 4 | taste: 4.5 | feel: 4.5 | overall: 4.5
Appearance: Cloudy straw color with fizzy, persistent head and good lacing.
Aroma: Citrus aromas of tangerine, and peaches, with strong, resiny, piney, grassy, green/fresh hops.
Taste & Mouthfeel: Texture is light on the tongue, with very little carbonation present. Flavor up front is that of juicy citrus, like mandarin orange, or tangerine, with the finish seeing a strong, bitter hop flavor. The attributes of the hops in the finish are very green and fresh, with an herbal, tea-like character and a resiny bitterness on the back of the tongue. Light, flatter texture complements the fresh, juicy, green flavors and creates a very drinkable pale ale.
Final Word: Highly recommended pale ale! This brew's balance and cohesiveness make it enjoyable through and through, but all while still retaining the strong hop profile of a pale ale. Many pale ales present only the in-your-face bitterness of the hops, but Sloth shows you a softer, more nuanced side of the ingredient by bringing out its citrus, herbal, and green character. This gives the hop lover everything they could ask for, but without the overwhelming/overbearing bitterness that could turn other drinkers away. Granted, the bitterness is still there, but it exists in harmony with the other flavors/textures in the beer. This is a crisp, refreshing brew that, while suitable for a drink in the heat, presents enough excitement to please the session drinker looking for a challenge! Again, this is an extremely well rounded beer that almost anyone can enjoy and everyone should absolutely experience! Only avoid this beer if you have no tolerance for hop flavors/bitterness at all.
1,653 characters
3.21
/5
rDev
-17.3%
look: 3.75 | smell: 3.25 | taste: 3.25 | feel: 3 | overall: 3
Biased review (I am still learning to enjoy IPA, APA, Pale Ale, and the like)
First impression:
Smells like grapefruit.
Tastes like toasted cereal or straw. Tastes like Grapefruit
Aroma: grapefruit, pine, cereal
Smell: grapefruit and cereal right up front.
Taste: grapefruit forward - soapy aftertaste. Citrus aftertaste is strong - leaves my whole mouth tasting piney
Mouthfeel: carbonation builds as soon as it touches my mouth. Feels like it's cleaning my tongue. Slight tannins - mouth feel dryer after tasting
Overall: This is more like an IPA than a pale ale.
Color: dark straw - dark hay
Lacing: very light lacing left on glass.
Flavor: grapefruit, cereal, soap, citrus, pine.
Feel: thick carbonation
Finish: fresh, tannin, dry
742 characters
4
/5
rDev
+3.1%
look: 4 | smell: 4 | taste: 4 | feel: 4 | overall: 4
With the taste of American IPA but upon the backbone of Pale Ale, this dry and crisp ale celebrates its new found hop character in a very big way!
As the pour brings about a golden color with the signature "dry-hop" haze, the ale layers in the glass with a billowing cotton-white froth breaching the rim of the glass. Nearly Belgian-esque in its effervescence, the ale carries a lively demeanor into the first sip.
But first, its aroma is a live with all-things-citrus. Vivid notes of white grapefruit, tart orange peels, light pineapple, under-ripened mangoes and apricots all lend a complex and tangy fruit note that's much more IPA than that of pale. A supple backdrop of malt offers up a mild bread and honey medley but is largely relegated to a supporting role.
Then comes the taste- any of its light biscuit and honey malt sweetness is short-lived. As the citrus tones kick in, the malts only serve to give the fruit flavor a slightly "plumper" or "juicier" impression. But those citrus tones are tangy, tart and bursting with fruit juice flavors- giving them a fruit punch complexity. Finishing bitter and sherbet-like, its dry fruit taste winds up like dried citrus in lingering memory.
Its dry effervescence drives the ale from the tongue with ease as it ushers in a fleeting and hoppy-dry finish with mild alcohol warmth and bracing hop-derived acidity. Lightly lemony to close, glimpses of citrus remain as they echo in aftertaste.
Sloth is a sinful ale in that its hop character is so high and vibrant, yet its body so light and drinkable- irresistible not to just throw them back, beer after beer after beer after...
1,634 characters

4.02
/5
rDev
+3.6%
look: 4.25 | smell: 4 | taste: 4 | feel: 4 | overall: 4
On-tap at Fermentoren in Copenhagen, served in a pint glass.
A- Pours a hazy apricot color with a finger of creamy off-white head, nice retention and lacing.
S- Fruity hop aroma, some citrus and tropical fruit, mild grassy bitterness.
T- Similar to the aroma with nice fruitiness, some mild grassy and piney bitterness, a bit of pale malt.
M- Medium-bodied, smooth feel, finishes a bit dry.
O- A nice pale ale, tasty and very easy to drink.
445 characters
3.64
/5
rDev
-6.2%
look: 3 | smell: 4 | taste: 3.5 | feel: 4 | overall: 3.5
Pours gold with a fading head.
Nose shows apples, lychees, nectarine, fruit blossom and confectionery along with some wheat and biscuity malt.
Pretty hoppy, bitter flavours. Not much fruit except for some grapefruit notes. Some pine and spicy hops. Very low malt. Finishes dry with a very sharp bitterness.
Nice moderately high carbonation.
340 characters
3.35
/5
rDev
-13.7%
look: 3.25 | smell: 3.75 | taste: 3.5 | feel: 2.5 | overall: 3
The colour is deep yellow (6 EBC); some chill haze occurs. The two finger head is firm, uneven, off-white and compact. It leaves some lacing on the glass.
The small is hoppy, almost like an IPA: Fat citric flavours of grape fruits, lime juice and lemon peels. Some candy-like sweetness and a robust strong bitterness. Powerful and balanced, but perhaps a bit one-dimensional.
The taste is bitter with notes of lime, sweet white bread, grapefruit juice, lemon acid, ripe flowers and oily resin flavours. Medium body. The bitterness fades a bit in the aftertaste leaving room for fruity sweetness and quite a lot of alcohol. The finish got some banana notes, green hops and raw alcohol flavours.
The carbonation is medium strong, the small bubbles very sharp. The liquid is mid-smooth.
A bitter APA, a bit one-dimensional and too sharp carbonation. But not a bad beer.
874 characters
3.68
/5
rDev
-5.2%
look: 4 | smell: 3.5 | taste: 3.75 | feel: 3.5 | overall: 3.75
500ml bottle purchased from Platinum Liquor in Bellevue Hill. Shared with Sam. This is a SMASH APA, mirroring the name by having the laziest possible recipe.
Pours a pleasant bright yellow colour, with a fair amount of haze. Head forms a solid crown of white, that settles to a small island of mounded bubbles in the centre of the glass. Lacing is minimal, but tight where it forms. Body is light and pleasant. Looks pretty decent.
Initial aroma is a little cereally, perhaps with a bit of DMS. When swirled the hops come out a little more, but so does that vegetative, sweet DMS character as well. Yep, it's definitely there. Indeed, the hops seem to vainly be masking the corn character, and the cereal grain undertones. What flavours it has are nice: some stone fruit, sweet citrus and a suggestion of passionfruit, but it's got some flaws as well.
Taste is a little better, clearer, cleaner and with a pleasant pronounced bitterness through the centre of the palate. Malt is very light, but doesn't plumb those cereal depths, so it stays pleasant enough. Some of the stone fruit characters come through around the edges, along with a hint of honeydew melon. It's quite pleasant.
Feel is fine: pretty light but clean enough.
Overall, it's not particularly exciting. But it's also drinkable, decent and relatively inoffensive. As part of a special range it's a bit disappointing, but as a beer in its own right, it's pretty good.
1,436 characters
4.34
/5
rDev
+11.9%
look: 4 | smell: 5 | taste: 4 | feel: 4 | overall: 4.5
Bottle: Poured a cloudy dirty beige color ale with a large white foamy head with good retention and some lacing. Aroma of deep floral hops with nice green and herbal touch is really powerful and quite enticing. Taste is dominated by wonderful notes of herbal and dry hops notes with some light dry caramel malt to sustain the hops profile. Body is quite full with great carbonation and no apparent alcohol. The hops punch is this one is quite exquisite with minimal bitterness and loads of floral notes approaching the Heady Topper level. Great stuff and hopefully not a one-off.
579 characters
3.6
/5
rDev
-7.2%
look: 4 | smell: 4 | taste: 3.5 | feel: 3 | overall: 3.5
This is an American Pale Ale brewed with one malt Pilsner and one hop Simcoe,the smell is tropical fruits mainly pineapple,paw paw and mangoes along with coconut,lychee and grape bubblegum,the mouthfeel is just under medium bodied and a touch light with tastes of pineapple,mangoes,lychee,paw paw,boiled candy and finished with a bittersweet mix of lemon sherbet and kiwi fruit,overall its nice and tasty without being memorable and prob would not buy again.
458 characters
The Sinner Series - Sloth from Amager Bryghus
3.88
out of
5
based on
38
ratings.