Double Chocolate Stout
| The Brew Keeper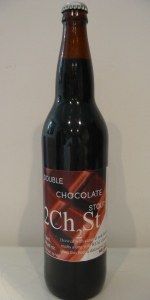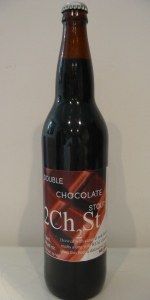 BEER INFO
Brewed by:
The Brew Keeper
Ohio
,
United States
brewkeeper.com
Style:
American Stout
Alcohol by volume (ABV):
7.50%
Availability:
Year-round
Notes / Commercial Description:
No notes at this time.
Added by AltBock on 12-26-2007
This beer is retired; no longer brewed.
HISTOGRAM
Ratings: 9 | Reviews: 9
Reviews by stingrayvr6:
2.03
/5
rDev
-42.3%
look: 3.5 | smell: 3 | taste: 1.5 | feel: 2 | overall: 1.5
Had this a second time, despite my bad experience with it before. Whatever I remembered of it, it was worse. It looks fine with nice color and has a malty and chocolaty smell. However, the taste is like stale chocolate milk. Chocolate juice even. Not beery enough and much too sweet for me. Something was fairly nauseating and I was compelled to place it back on the bar, unfinished. If you like the prospect of a very sweet beer, try it, otherwise stay away.
459 characters
More User Reviews:
3.97
/5
rDev
+12.8%
look: 3.5 | smell: 4 | taste: 4 | feel: 4 | overall: 4
Poured from a 22oz bottle. The label is the calling card of a small operation. I'm happy to support them though.
A: Dark reddish brown - almost black. Fizzy brown one finger head that fizzled to nothing quite quickly. It's a headless still blackness with red mahogany on the edges. No lacing at all. The final pour delivered a more desirable head - fluffier and better retention. It even developed some spotty lacing. Strange.
S: Really nice. Deep dark chocolate and coffee. Some anise. A hint of plum or some other dark fruit. The second pour gave off a strange staleness - not particularly pleasant but quickly died off with the head.
T: First sip: Very chocolatey but the carbonation definitively got in the way - too much tongue tingle. On further inspection... nice bready malt backbone with a deep chocolate and slight coffee sourness. The chocolate is believable - not artificial tasting. There is a hint of dark fruit that provides a nice tang finish. The aftertaste is a nice coffee and chocolate dryness. Chocolate intensifies at the end in a good way.
M: Initially, I would have said that this beer is on the light side of medium body. I expected it to be fuller. The carbonation as stated is way too fizzy and active on the tongue and palette. After the last pour, the body became fuller - very unexpected. The combination of this and the carbonation fizzling out made it a really nice creamy mouthfeel. Hard to keep up with the changes in this brew!
D: It's a really flavorful and enjoyable brew. I'd recommend giving it a try. I think the poor carbonation really messed with this beer. When the carbonation settled down, it all came together and worked really well. Give it a chance and don't give up on it if it fizzes up on you at first. I'd be happy to have another. Right now actually!
Don't know why it is an American Double / Imperial Stout. Other than having double in the name, it doesn't seem to have much in common with others in that style. Doesn't seem big enough and is certainly not in the ABV range. I'm not a style expert, so I'll let someone else make the call.
2,098 characters
3.55
/5
rDev
+0.9%
look: 3.5 | smell: 3.5 | taste: 3.5 | feel: 4 | overall: 3.5
Enjoyed on tap at the brewpub. A lot of American chocolate apparent here,as opposed to higher quality and less sweet Belgian chocolate, an average plus mouthfeel. Stout is secondary. This is a reasonably tasty, though sweet stout, but I could not have too much of it. Probably become popular though.
299 characters
2.18
/5
rDev
-38.1%
look: 3.5 | smell: 3 | taste: 2 | feel: 2.5 | overall: 1
pours nice and dark with transparent brown edges and a nearly black middle. head is non-existent, even with an aggressive pour, and the few bubbles that do appear dont last; they are light brown, for anyone who cares. the smell is less than enticing, though it does have its [small] merits.dark chocolate, cocao, perhaps some alcohol. not very complex, and nothing that is really noteworthy.
ummm. roasty, smokey, and sweet, all of which are over-done. makes it taste like burnt cardboard with a chocolate sweetness in the finish/aftertaste. after sipping, i breathe, and i breathe cardboard as a dragon breathes fire. dull, mundane, a overly roasted stout with merely hints of what it claims to be: chocolate; but even the chocolate has taken a turn for the worse. this beer is a mess, and though it is worthy only of the kitchen sink, i will drink it because it is my final beer for the night.
mouthfeel is decent on account of its body and minimal carbonation, but as the flavor lingers on the palate by virtue of its oily-ness, the only thing your mouth "feels" is the need to get this one over with.
drinkability amounts to "no more! please, no more!"
1,159 characters
3.23
/5
rDev
-8.2%
look: 4 | smell: 3.5 | taste: 3 | feel: 3.5 | overall: 3
A - Pours very dard, thin head, tight soapy lacing.
S - Not very pronounced, but a little citric chocolate.
T - Try citric acid. Quite sour and it messes up the taste for me. I am sorry, can't really get past it.
M - Medium body, but geez, out of whack.
D - Obviously, too sour for me. It sounded really good, but the one component obliterates everything else.
364 characters
4.5
/5
rDev
+27.8%
look: 4 | smell: 4 | taste: 5 | feel: 4 | overall: 4.5
S: Nothing like a stout. Almost like a champaign. Fruit and alcohol buried in a faint chocolate and malty goodness.
A: No light. Coffee in the glass, slight lace, small, thin carbonation like champaign.
M: Like nothing I've had before which is like most of the Mad Brewer beers at the Brew Keeper. Like a chocolate bar, only not thick or overly sweet. Smooth going down with chocolate remainder.
T: It starts like champaign, with a bitter impression like bittersweet chocolate. Burnt malt mixes well with no alcohol taste really. There is a slight raspberry note to this, complete, flavorful, the best I've had.
D: This beer, for fans of stouts, demands to be drank. Last of the night because it's big, heavy and has a high ABV. Pure enjoyment for me. A work of brewing art. A lower rating because in the bottle it misses the freshness that you get from the tap.
EDIT: Review moved over from Bedford Heights location
925 characters
4.47
/5
rDev
+27%
look: 4 | smell: 4.5 | taste: 4.5 | feel: 4.5 | overall: 4.5
I had this Brew Keeper/Mad Brewer offering on-tap at the brewpub and from a growler, but I'm going to do the review from growler. When I ordered this beer from my growler, they put a homemade label that shows a picture of a chocolate bar. Below that picture is a mini paragraph describing the beer, and it lists the ABV at 7.5%.
Appearance: I decided to pour this into a standard American pint glass. What came out of the growler looked almost like I was pouring a thick black motor oil into a pint glass, instead of pouring it into an engine. It had a quarter of an inch head of tan colored foam with good retention that left behind a handful of tan rings and a few streaks of tan lace around the glass.
Smell: It had a great thick aroma of bitter dark chocolate, dark roasted malts, and a hint of caramel. That was just fine by itself, but it it's swirled around, a surprise aroma emerges. What came out was the smell of ripe chocolate covered bananas. Where in the hell did that come from? I don't care where that came from. It was quite a surprise and a good surprise at that.
Taste: After the dark oily appearance and the dark roasted aroma, I wonder what it's going to taste like? Fruity and hoppy? Nope! Just like everything else, it was filled with dark and roasted flavors. It was filled with roasted malts, bitter dark chocolate, roasted coffee beans, a dab of sweet caramel, cherries, and then this big dark and roasted taste ended with bitter roasted hops.
Mouthfeel: It had a thick and full bodied mouthfeel that contained a long lasting aftertaste of bitter roasted coffee beans, dark chocolate, and dark chocolate. The aftertaste is so long lasting, that you need to drink a gallon of water or chew a stick of mint gum to get that aftertaste out of your mouth.
Drinkability: It was great on tap at the brewpub and it's still great coming from a growler that a day old. Would I order this again? I sure as hell would! It's nothing short of being a great dark and roasted brewpub beer. A must try at the Brew Keeper.
2,045 characters
3.62
/5
rDev
+2.8%
look: 3.5 | smell: 4 | taste: 3.5 | feel: 3.5 | overall: 3.5
Double chocolate brown with generous cherry and orange highlights along the edges. The smallish cap is the color of wet sand and isn't exactly loaded with character. Nor is it very sticky, as it leaves the glass virtually untouched while it slowly shrinks.
The aroma is roasted malty, with a chocolatiness that isn't that much more pronounced than in beers that don't add chocolate. This one adds 'REAL chocolate' according to the label. Still, it's appealing and makes me want to start drinking, so the above score is well-earned.
For some reason, I still haven't had a really good porter or stout from The Brew Keeper. Although Double Chocolate Stout is a more than passable effort, it's too sour and isn't big enough or rich enough for the style. Maybe it will become good beer over the next 18-20 ounces, but I'm not holding my breath.
Flavors include dark caramel, bittersweet chocolate (more sweet than bitter), and tangy dark fruit. DCS almost tastes like a milk stout with a splash of sour milk added just before bottling. Coffee is pretty much a no-show. This isn't bad beer, but it can't hold a candle to the best American double stouts.
Likewise, the mouthfeel simply doesn't have the necessary heft for the style. It feels more like a 5.0% stout due to the lack of creaminess. The fact that the carbonation stays the hell out of the way keeps the score from falling lower.
Unfortunately, Double Chocolate Stout is not going to be on my list of repeat purchases the next time I visit The Brew Keeper (if I do, that is). With Southern Tier Choklat and Hoppin Frog B.O.R.I.S. available in Ohio, there's no reason for me to spend the coin on this one again.
1,671 characters
4.17
/5
rDev
+18.5%
look: 3.5 | smell: 4 | taste: 4.5 | feel: 4 | overall: 4
Live review. Poured from a 22 oz. bomber into my Cooperstown Beverage Trail pint glass. Purchased for $6.99 at Miles Farmer's Market in Solon about 2 months ago. No observed "best by" or "freshness date" found by me on label or the bottle. 7.5% ABV.
A Nice dark body under a brief but creamy medium brown head. The head dissipated within a minute to a trace around the top.
S Dark roast malt and chocolate, as advertised. I think that I can smell a smoothness. It certainly is interesting, inviting.
T Nice dark roast malt (and I guess caramel malt as well) along with big doses of chocolate. I think that this is an excellent local brewery's offering.
M Nice, smooth bigness as I had hoped for.
D I will finish the bomber with no problem.
Notes: I think that it stacks right up there with some bigger brewery's Chocolate stouts. I think that sgoodship is right...there is little that suggests that this should be a "Double/Imperial Stout." I think that it should simply be a Stout.
988 characters
Double Chocolate Stout from The Brew Keeper
Beer rating:
3.52
out of
5
with
9
ratings