Anger Management
| The Brew Keeper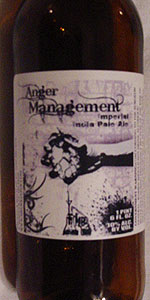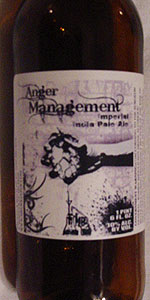 BEER INFO
Brewed by:
The Brew Keeper
Ohio
,
United States
brewkeeper.com
Style:
American Imperial IPA
Alcohol by volume (ABV):
10.50%
Availability:
Rotating
Notes / Commercial Description:
No notes at this time.
Added by Sammy on 09-24-2008
This beer is retired; no longer brewed.
HISTOGRAM
Ratings: 10 | Reviews: 10
Reviews by AltBock:
3.49
/5
rDev
-2%
look: 4.5 | smell: 3 | taste: 3.5 | feel: 4 | overall: 3.5
12 oz bottled version that has a cheap colorless computer generated label of an arm reaching out and squeezing an over grown hop bud into a beaker set. In the lower right hand corner is a splat of paint with the ABV% in it. To the far left of the label is the address of the brewery and to the right is the Government warning. Brew Keeper never dates their bottles. I wish they did, but they don't.
When poured into a small Great Lakes Snifter, I found out that Anger Management was one of the darkest DIPAs that I've seen so far. It was so dark that from a distance, it looked to be a dark mahogany brown color. But when I held it up to the light, it was more of a dark amber with a small tint of blood orange blended into it. On top was a thick and creamy 3/4 of an inch egg shell white head of foam. This sucker had excellent retention! It receded a little bit, but it never left the beer standing by itself in the cold. When it did recede, it left behind a bunch of creamy spots and streaks of lace. It was a little dark for the style, but damn if it didn't have a great head of foam on it.
Do you know how some Double/Imperial IPAs are chock full of hopped up citrus goodness? Well, this wasn't one of those. Brew Keeper's version was lightly hoppy with grassy hops, a hint of bitter grapefruit, a splash of lemon peel, a subtle whiff of pine, and then it finishes up with toasted malts that had a tea leaf like quality to them. To me it was a little lackluster because it was just a little bit of this and a little bit of that. Not bad, but not all that good either.
This +10% ABV beer started off with a quick flash of toasted malts and then it got down to business. This hop punch isn't as strong as you think it might be. It was a little on the mild side of hop punches. This mild hop punch was filled with grassy hops, bitter grapefruit, and a splash of pine. I thought this hop punch could have used more citrus fruits and less grassy hops. This hop punch doesn't last long and then it finishes up with more toasted malts. It seemed like this DIPA liked the malts more than it did the hops.
10% ABV? Where was it? I know they're not lying, but I couldn't taste it or feel it. It was so sneaky that I could drink two of these bad boys and still not feel it. This medium bodied DIPA had a good level of carbonation and a quick hoppy aftertaste. This hoppy aftertaste contained grassy hops, bitter grapefruit, and a touch of toasted malts. I hate to say it, but this was the only time that the hops over shadowed the toasted malts.
If you're looking for a true DIPA hop bomb, then you should look in another direction. If you're looking for a sneaky little bastard that's not overly hopped and malty, then you should try Anger Management. It's not what I was expecting, but in the end, it's another good IPA from the Brew Keeper. I would like love to try this beer fresh on tap at the brewpub to see if it's better than the bottled version.
2,953 characters
More User Reviews:
3.45
/5
rDev
-3.1%
look: 3.5 | smell: 3.5 | taste: 4 | feel: 2 | overall: 3
22oz. brown bottle, purchased at Rozi's in Lakewood/Cleveland, poured into a snifter.
A: Pours a dark bronzish orange with not much light making it's way through. Very short head on a rather hard pour. What forms stays for awhile but just a few dots of lacing.
S: Some muted hops. Muted but resinous, suggesting what's to come. Late/dry hopped with Amarillo I'd guess. Sweet malts that aren't too thick. Some Alcohol in the back.
T/M: Decent bitterness level. Enough to stand up to my pulled pork. Good citrus with plenty of pine and resin that's backed by a good alcohol twang. Warming alcohol. Malts are again sweet with more of the alcohol. Body is about medium or so and it majorly lacks carbonation making it feel thinner than it short and maybe a sense of being watered down. Finishes with a bit of alcohol and some lasting bitterness.
D: Average. The lack of carbonation really hurts it. 10% isn't too high for the style but definitely packs a punch.
961 characters
3.44
/5
rDev
-3.4%
look: 4 | smell: 2.5 | taste: 3.5 | feel: 4 | overall: 4
Enjoyed at the brewpub. Smelled malt not hops, some mustiness, perhaps all due to bleaching of the glass. Real high IBU. White lace following moderate white head on golden. Above average mouthfeel. Another off-centred for the style, but Average DIPA all the same.
263 characters

3.38
/5
rDev
-5.1%
look: 4 | smell: 3.5 | taste: 3.5 | feel: 3 | overall: 3
12 oz bottle into a tulip glass.
Pours a deep, clear ruby, with 2 stiff fingers of light tan colored head. Solid frothy retention on this, leading to a massive latticework of creamy looking lacing. The aroma is dankly herbal, with a spicy earthiness to it. Strong toasted caramel malts and tangy citrus add a sticky smelling undercurrent here to the nose.
The taste is earthy and spicy hop bitterness, with herbal and citrus character mixing in with the sweet breadiness of the malts, to impart a slick tang. Fair amount of intenseness to this finish, being full of spice and dryness. The mouthfeel is medium bodied, with a mellow creaminess to the carbonatin, which sits on top of a much sleeker and thick feel underneath. Alcohol warmth is there, mingling with the strong spice and bitterness of this. The less carbonated and thicker parts of the body are making this a little tough to go down.
This was decent, but there just didn't seem to be enough of the right type of hop presence to make up for the thickness of the sweetness and alcohol. OK but I wish that this could have held my attention for longer.
1,117 characters
3.78
/5
rDev
+6.2%
look: 4 | smell: 3.5 | taste: 4 | feel: 4 | overall: 3.5
Appearance- Hazy, deep red-amber with light tan head. Great, sticky lacing all over the glass.
Smell- Fragrant, citrus/pine hop aromas. Light notes of bready malts to balance. Some grapefruit.
Taste- Sticky, sweet malts balance well with powerful grassy hops.
Mouthfeel- Medium-full body with good carbonation.
Drinkability- Nothing is overpowering here, resulting in an unusually good drinker for a DIPA
408 characters
3.47
/5
rDev
-2.5%
look: 3 | smell: 3.5 | taste: 3.5 | feel: 3.5 | overall: 3.5
22oz bottle acquired in trade miketd (thanks!).
Poured a deep and muddy amber color (almost brown) with a very small sized off white head. Aromas of floral hops, earthy, citrus (rinds), and toasted caramel. Tastes of citrus, pine, earhty, and caramel. Softer body with the alcohol content well hidden. More sweet than bitter.
326 characters

3.8
/5
rDev
+6.7%
look: 4 | smell: 4 | taste: 4 | feel: 3 | overall: 3.5
Appearance - a tawny, caramel brew, a nice finger of manila foam on top. A thick high-water ring of lace plants itself pretty quickly as the head settles to a thin but full cover. Decent clarity, due in part no doubt to a serious layer of sediment in the bottle.
Aroma - hops are citrusy, heavy smelling, and syrupy. The malts have a general caramel smell.
Taste - caramel malts are sweet. Hop bitterness follows but has an element of citrus and malt roast. A little medicinal but there is a nice array of flavors here. Good belly warmth on the swallow from the 10% abv. Ends with a dry juicy hit of orange and a roasty reprise of malt.
Mouthfeel - not the big thick body of an imperial. This allows the carbonation to take over a little more than it should, like an IPA.
Drinkability - a 10% imperial shouldn't be this sessionable, but these slipped away quickly.
868 characters
3.07
/5
rDev
-13.8%
look: 3 | smell: 3.5 | taste: 3 | feel: 3.5 | overall: 2.5
Very dark brown for a DIPA. Also cloudy. Dense, off-white head that fell quickly to a very thin coat with a small collar and no lace.
Heavy malt forward aroma, dried fruits, molasses. There is also a resinous, piney hop aroma.
Really not that good. Like the aroma. Very sweet malt forward with a resinous piney hop bitterness and a sour and bitter finish.
Medium to full body, creamy.
Amzingly,this beer has so many qualities of the Stone 13th I drank last night but this one is not even as good as that one, which was not that great.
Thanks For Reading
559 characters
4.6
/5
rDev
+29.2%
look: 4 | smell: 4 | taste: 5 | feel: 4 | overall: 5
A: Darkest brown with no head but sticky lace. The amber reads like a pale ale, but seems like a brown ale.
S: Floral hops with a malt that seems strong. Again, really deceiving in that as a double IPA, you'd expect all hops, but this is the Mad Brewer we're talking about!
M: Thick and creamy, a beer that is chewable. Hops aftertaste with a nice malt remainder. Slight raisin and sweet grapefruit at the back.
T: Nothing overpowering. Everything overpowering. A mix in the book as really good. Hops, grapefruit hops over all, offset by a malty mix were you find the alcohol. What we have here is a balanced hop bomb that really delivers for malty beer fans too. Great mix.
D: Another big winner in my book. Each time it's back on tap, I have it every time.
765 characters
3.15
/5
rDev
-11.5%
look: 3.5 | smell: 3.5 | taste: 3 | feel: 3 | overall: 3
22oz bottle, no date, from goryshkewch--thanks George! Also, my label states only 10% ABV. Clear copper auburn with a one finger beige head, fading to a thick ring and thin film. 3-4. Atypical aroma--lots of lemon/lime and fresh pineapple notes--way tangy and a bit astringent. A mix of cracker and earthy caramel malts round this out with a fair amount of alcohol. 7 Flavor continues to mimic the aroma, though there's quite a bit more sweet caramel malts. Semi-dry finish with bitterness peaking only around a 3-4, and the alcohol is only noticeable as a warming in my belly. 7 Big full body with low carbonation. 3 As unique as this is, I'm not sure that it's my thing. 13
675 characters
Anger Management from The Brew Keeper
Beer rating:
3.56
out of
5
with
10
ratings